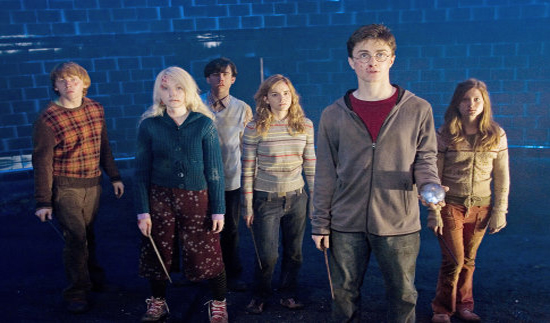 In case you haven't heard, the latest
Harry Potter
film opens this Wednesday. Since we're
total dorks
big kids at heart, we're hoping to find ourselves in line for the midnight screening. However, it's bound to be chilly, so I thought it would be nice to pack a flask or two of warm delicious drinks — specifically warm, frothy butterbeer (if you have to ask what that is, then either do yourself a favor and start at book one, or run as fast as you can to the next post). If you'd like to whip up your own batch of butterbeer (we've got two versions — hot and cold), read more.
Image Source
Hot Butterbeer
From Elanor Isolda at The Leaky Lounge
1 litre cream soda
2-3 tbsp butter
2-3 tbsp brown sugar
200ml single cream
4 or 5 Werther's Originals
Put the cream soda in a pan to boil.
Melt the butter and sugar together until the sugar has dissolved.
Pour the butter and sugar mixture into the pan of boiling cream soda (make sure the soda is boiling, or the butter and sugar will solidify).
Add the cream.
Add the Werther's Originals and stir continuously until they melt.
Serve hot.
You can also add a couple of shots of Butterscotch Schnapps for that extra kick!
Cold Butterbeer
From Britta Blvd
1 cup butterscotch schnapps
7 cups cream soda (almost one 2 liter bottle)
Carefully mix just before serving, adding the schnapps to the soda then stirring gently to mix well, or the fizz will dissipate too soon.
Serve in beer mugs and enjoy!