Best Ecard Sites and Card Apps
Send a Quick Greeting With One of These 19 Ecard Sites and Card Apps
Handwritten cards are always appreciated, but if you've forgotten to pick up a batch for the holidays, sending an ecard today might be your last hope for sending well wishes this season. Let your friends and family know you're thinking about them by shooting off a few ecards today (or whenever you get the urge to say hello).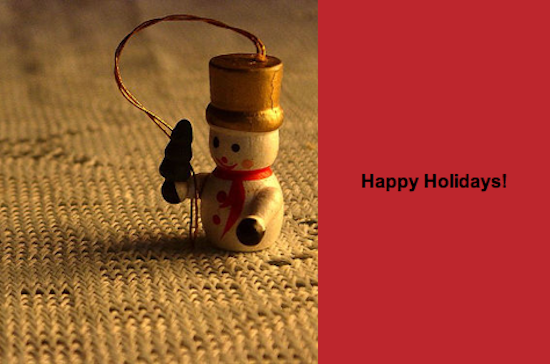 For the rest of my ecard suggestions (there are lots!), after the break.
Carded — The site has video cards for all "those small and embarrassing real-life moments that, until now, nobody made greeting cards for," and they are fantastically funny.
Postcard Express — If you have an iPhone, check out the Postcard Express app. You can take a picture at whatever fabulously exotic location you're at, and then you add your message and the email address of the recipient. It'll even geo-tag your photo/postcard for you.
From a Birdie — Send a message from a little birdie (or a whole flock!). You can add photos to your cards, and there aren't any size restrictions.
FlyGreetings — These are cute, no-fuss ecards. Where else can you find cards that say things like "Let's Get a Mani" or "You're Preggers, Congrats!"?! With a tagline of "free does not have to be cheap or cheesy," FlyGreetings cards are classy, so you don't have to worry about weird flash animation or corny songs playing when your friend sees the card.
Card Karma — Why send premade ecards dripping with sarcasm and snarkiness, or awful flash animations of weird, dancing animals?! Make your own beautiful ecards on Card Karma where you can use your own images or pick from millions of Flickr photos and Youtube videos. It's 100 percent free and ad-free. Help out your friends and family by making creative ecards they can share.
One Penny Post — Take a photo, type up a message to go with it, then have someone else print it up and post it. One Penny Post ships internationally from either Australia, the US, or the UK (depending on where you do the ordering from), and each postcard costs $2.50.
Hazel Mail — This simple site allows you to combine a digital picture with a personalized message and will send out a postcard for you for the flat postage fee of $1.50.
Postcard FM — Standard ecards are pretty generic, Someecards can be clever but a bit snarky, and neither option is what you really want to send to people: personal. Postcard FM delivers clever, easily personalized and fun. You get to put together any picture and any song (just upload each file), slap in a message and an email address, and your recipients get a custom card for free. Just make sure the song you upload is the radio edit if grandma is on the mailing list.
Moo — You may know Moo best for its customizable business cards, but did you know they also take your pics and turn them into fun holiday cards?
Sincerely Ink — The company behind Postagram launched an iPhone/iPad and Android app called Sincerely Ink that lets you create stylish and whimsical holiday cards for your entire contact list. You can even upload your contact's info, and they'll ship out all your cards for you.
Red Stamp — With Red Stamp, you can email, text, post, or send a paper card to your recipient. Three cheers for options and low prices — printing and mailing services start at $2 a card, postage included.
Shutterfly — Shutterfly knows photos, but they also know holiday cards. There are a ton of designs and card types to choose from — folded, flat, photo, and stationery — and all are reasonably priced.
Vistaprint — Get 10 holiday cards for $6 and up through Vistaprint. Choose your design, photo, layout, and font online, but you'll have to do the mailing yourself.
Cards — Apple's Cards app works with the photos already uploaded to your phone. Select your image and card type, and Cards will send your holiday greetings to your contact. Designs are simple, but totally classic.
Love using Instagram to capture memories on the go? Then send your friends and family an Instagram postcard with Postagram. The app is free and each postcard is just $1. Postagrams are printed and sent out within days, so you have plenty of time to snap some pics with you and mom together before sending one out.