Arugula and Baby Artichoke Salad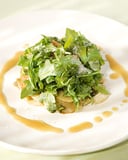 Ingredients
For artichokes:
2 lemons
8 baby artichokes, trimmed
1 tablespoon extra-virgin olive oil
Fine sea salt and freshly ground pepper
1/4 cup plus 2 tablespoons white wine
2 tablespoons pistachios
Pinch of freshly grated Parmesan cheese
For croutons
2 tablespoons butter
Sourdough bread, crusts removed, cut into 24 cubes (1 inch each)
Coarse salt and freshly ground peppe
For salad:
8 ounces arugula, washed and dried
2 tablespoons pistachios, chopped
Fine sea salt and freshly ground black pepper
2 tablespoons Sherry Vinaigrette, recipe below
1 ounce Parmesan cheese, shaved
Directions
Make artichokes: fill a medium bowl with cold water. Squeeze the juice of two lemons into the water and add the lemon halves.
Thinly slice artichokes lengthwise using a mandoline, placing them in lemon water as you slice. Heat oil in a medium skillet over medium-high heat. Drain artichokes and pat dry. Season with salt and pepper and add to skillet; cook, stirring until golden.
Add wine and cook until almost evaporated, about 30 seconds. Add pistachios and sprinkle with Parmesan.
Make croutons: heat butter in a large skillet over medium-high heat. Add bread and cook, stirring, until golden brown and toasted; season with salt and pepper.
Transfer to a paper-towel-lined plate to drain. Let cool.
Place arugula, pistachios, and croutons in a large bowl; season with salt and pepper.
Drizzle with vinaigrette and toss gently to combine.
Place place some of the artichokes in the center of a serving plate. Top with salad. Garnish with remaining artichokes and Parmesan. Serve immediately.
Serves 4.
1 tablespoon Dijon mustard
3 tablespoons sherry-wine vinegar
1/2 tablespoon red-wine vinegar
1/4 cup extra-virgin olive oil
1/4 cup olive oil
1/4 cup canola oil
Fine sea salt and freshly ground white pepper
In a medium bowl, whisk together mustard and vinegars until frothy. Continue mixing vinegars with an immersion blender while slowly pouring in each oil; season with salt and pepper.
Transfer vinaigrette to a tightly sealed jar and keep refrigerated until ready to use. Mix well before using.
Makes 1 cup.
Information
Category

Greens , Salads