Asparagus and Black Bean Salad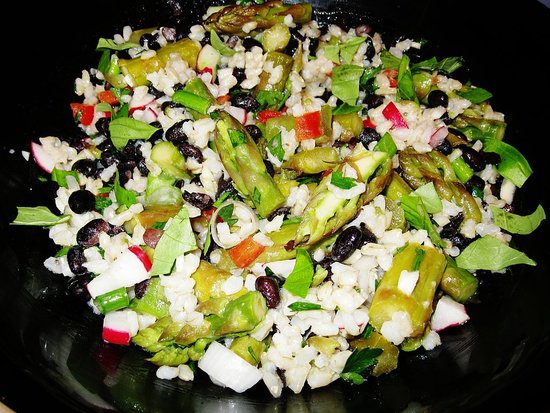 Veggies from the farmers market and brown rice and black beans make the colors in this salad POP! Bring to a family brunch, to work for lunch, or a light dinner.
Asparagus and Black Bean Salad
Original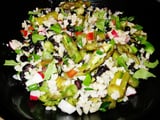 Ingredients
1/2 c brown rice
1/2 c dry black beans (or use canned-probably 1.5 cups)
1 bunch asparagus
3 radishes
3 spring onions
1/2 red bell pepper
Dressing:
Juice from half a lemon
1 tablespoon olive oil
2 garlic cloves, minced
fresh parsley, chopped
Directions
If using dry beans: soak overnight in cold water, and then cook for 2 hours.
Steam brown rice. I use an electric steamer and add 1 cup water into the bowl with the rice. Steam for 45 minutes and then let it sit for 10-15 minutes until all water gets absorbed. Transfer to your serving bowl. Steam asparagus and chop into bite size pieces and add to rice. Wash and chop the rest of the veggies and add to the bowl. Make dressing by combining all ingredients together in a bowl. When beans are done cooking, drain and rinse them well with cold water and add to bowl. Pour dressing over salad, mix well and serve. I also added 2 fresh basil leaves to my salad. Just because ;)
Information
Category

Salads