Black Bean and Sweet Potato Burgers
This is a variation of my standard black bean burger recipe with some substitutions to make them both vegan and gluten free. This recipe was orginially posted on my healthy living blog, Eating Bird Food.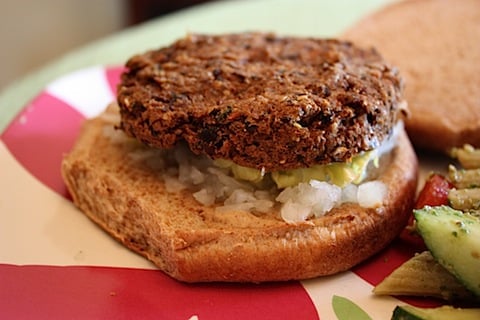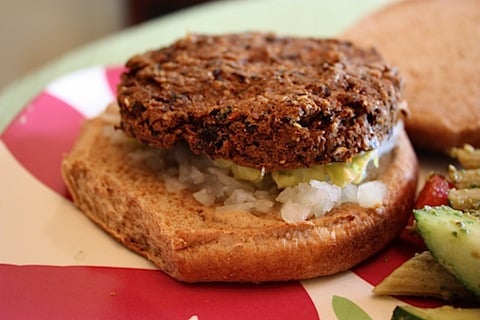 Black Bean and Sweet Potato Burgers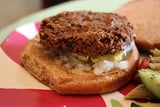 Ingredients
* 1/2 cup chopped onion
* 2 cloves garlic
* 1/4 cup fresh basil
* 15 ounce can of black beans, rinsed and drained
* 1/2 sweet potato, chopped into 1/2 inch pieces and boiled for 7-8 minutes until soft
* 1/2 cup Mary's Gluten Free Cracker Crumbs (or bread crumbs)
* 2.5 T ground flax, 3 T water, whisked (or 1 egg)
* 1/2 teaspoon chili powder
* 1/2 teaspoon cumin
* sriracha sauce, to taste
* sea salt, to taste
* whole wheat Buns
Directions
Heat a skillet with non-stick spray. Once warm add the onion and garlic in to the skillet and cook until they are limp and start to brown a bit. Put the cooked onion mixture into a food processor or blender. Add the basil and pulse several times. Add the beans and potato chunks and pulse five or six times. The beans should be broken up but there should still be some small chunks. Don't over process, as you want your bean burgers to be a little chunky.
Transfer the veggie and bean mixture into large bowl and stir in the crumbs and other remaining ingredients and form into five patties. (If the mixture is too wet to work with add extra crumbs.)
In the same skillet, heat on medium, spray non-stick spray and add the patties, cook each side until browned, about 6-7 minutes total OR you can bake them on 375° for about 25 minutes, flipping once.
Information
Category

Main Dishes

Cuisine

North American