Cheese and Pickle Sandwich
The key to Britain's famed cheese and pickle sandwich is the Branston Pickle, a chutney-like condiment made with diced veggies and spices. This is a no-brainer sandwich that lets you use up the rest of the cheddar in your fridge.
Cheese and Pickle Sandwich
From YumSugar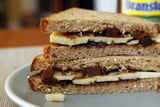 Ingredients
2 tablespoons Branston Pickle
2 slices of bread
1 ounce of cheddar cheese, thickly sliced
Directions
Spread about a tablespoon of Branston Pickle on one side of each slice of bread (or more to taste).
Lay the cheddar slices atop the pickle on one slice of the bread.
Place the second slice of bread over the cheese, pickle-side down, and slice into two diagonal pieces.
Serves 1.