You might think onions would need to be coated in flour before frying to make them crispy, but that's not necessarily true. Here's a little method (patent pending) that gives you not only crunchy onions, but onions that will stay that way for quite a while, even overnight, if stored in an airtight container lined with paper towels. It works great with shallots, too.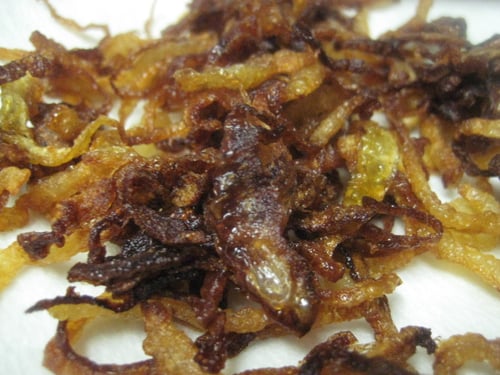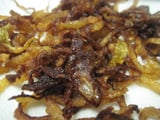 Ingredients
1 large yellow onion, sliced into very thin rings, 1/3- to 1/8-inch thick
2 cups canola oil
Directions
Place onion rings and oil in a small sauce pot. (Don't worry if the rings break apart; it won't ruin the final product.)
Bring to a boil over high heat, and then reduce heat to a very low simmer. The heat releases the onion's natural sugars, and in essence, causes them to melt.
Turn the onions with a fork every thirty seconds or so, and cook until they turn golden brown, 12 to 15 minutes*. Adjust the heat if needed to maintain a low simmer.
Remove the onions from the oil and arrange in a single layer on paper towels. (At this point the onions won't yet be crispy, but I promise you that after a few minutes, as the caramelized sugars cool and harden, the onions will become deliciously crisp.)
Makes about 1/2 cup, enough for 2 Schlow Burgers.
*When I made these onions, it took them a lot longer than 15 minutes to turn golden brown.
Information
Category

Other, Condiments/Sauces