(makes 36 to 48) Just try it! Dolmades (actually) are a very famous and delicious traditional greek food...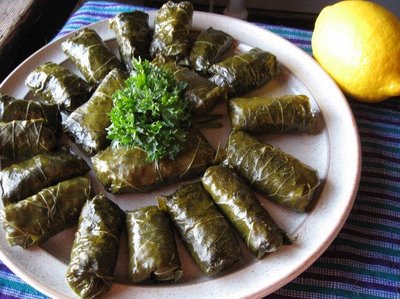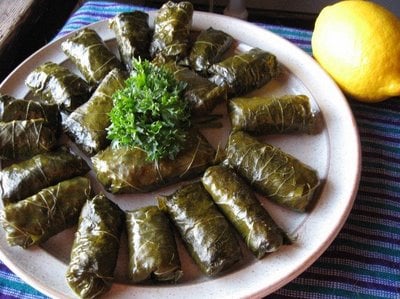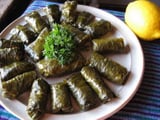 Ingredients
1 jar grape leaves, about 48, rinsed
1 large onion, chopped
1/3 cup olive oil
1 cup short-grain white rice
1/4 cup chopped flat-leaf parsley
2 tablespoons chopped fresh dill or 1 1/2 teaspoons dried dil
1/2 teaspoon salt
1/2 teaspoon ground black pepper
1/3 cup pine nuts
1/3 cup dried currants
2 cups water
6 tablespoons fresh lemon juice
1 1/2 cups chicken stock
Directions
Scald the grape leaves with hot water and drain. Cut off the stems from the leaves and pat each leaf dry with paper towels. In a large skillet, saut the onion in 2 tablespoons olive oil until golden. Add the rice, parsley, dill, salt, pepper, pine nuts, currants, and 1 cup of the water. Cover and simmer 10 minutes, or until the liquid is absorbed. Remove from heat and let cool. When cool, place 1 teaspoon of the rice mixture in the center of each leaf (shiny surface down), fold sides and top in like an envelope, and roll up. Do not roll too tightly as rice will expand. Arrange rolls in layers in a large saucepan, sprinkle with lemon juice and the remaining oil. Combine the stock and water and pour over the rolls. Weight them with a baking dish, cover the pan, and simmer 35 minutes, or until the rice is tender. Let cool in the pan and chill until serving time.
Serve them on a plate with lemon wedges.
Information
Category

Other, Appetizers

Cuisine

Greek