Easy Butternut Squash Recipe
Pumpkin Parmesan Butternut Squash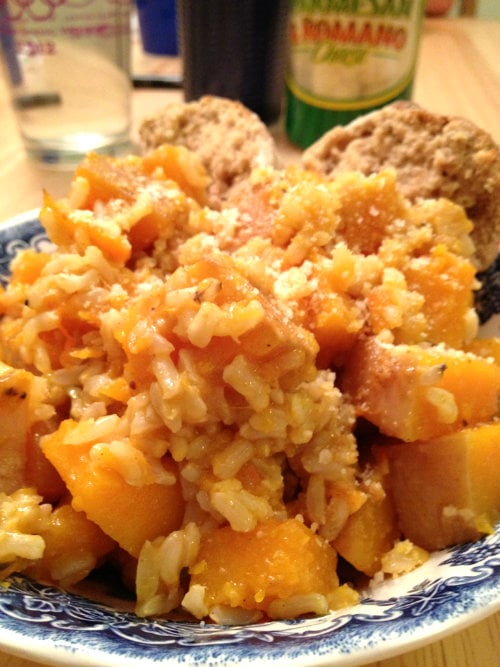 OK, so can you tell? I'm a total slave to these "mosh" dishes now.
I've been Blogging about food and coming up with my own recipes for almost a year now (Say What?!), and in that time I've started to develop my own style of cooking and recipe concocting. Well, let me just tell you, I'm getting close to five star, French cuisine status here. No really.
Because this is my style: I open the fridge and pull out a few things that might work well together. Then, I throw everything in a pan with some oil and carefully picked spices and flavorings, and I cross my fingers and hope for the best.
So far, this has worked out well. Miraculously, nothing I've made has come out tasting terrible. But, I know that I still have a lot to learn about cooking and with time my "style" will hopefully progress to a more sophisticated state. Sophisticated, but still simple. Always simple. Because my recipes are all about putting together the best, most healthy dish possible, in the shortest amount of time.
For now, I give you another "mish-mosh" type dish. This one incorporates some sweet and savory flavors, like a hint of maple, mixed with pumpkin and Parmesan. And yes, those were all flavors I had "just lying around in my fridge." Uhh, hello! It's fall people.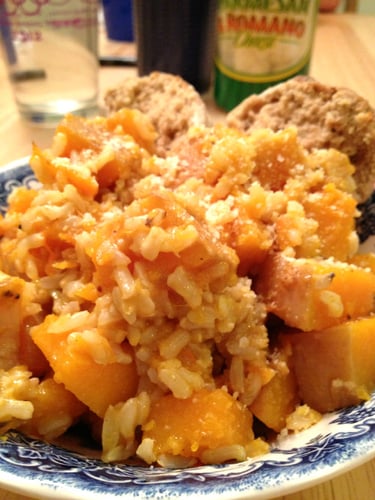 Pumpkin Parmesean Butternut Squash
The Hungry Runner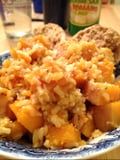 Ingredients
1 & 1/2 cups butternut squash, cubed
1 cup spiced brown rice, cooked (I spiced mine with cumin and turmeric)
3 T olive oil
3 cloves garlic, minced
2/3 cup vegetable broth
3 (generous) T pumpkin
2 T Maple Syrup
Parmesan cheese
cinnamon
nutmeg
cumin
Directions
1. In a large frying pan, heat 2 tablespoon of the olive oil. When oil is warm, add the minced garlic to the pan and saute until fragrant.
2. Pour in half of the vegetable broth and the pumpkin and stir. Bring mixture to a boil, then simmer for 1-2 minutes, stirring frequently.
3. Add the squash cubes to the pan, stir. Sprinkle the squash with a few dashes of cinnamon, nutmeg, and cumin.
4. Add in the maple syrup and stir.
5. Saute the squash cubes on medium heat until they are soft and tender (about 15-20minutes), then add the cooked brown rice and stir everything together until it is well mixed. If most of the moisture has been absorbed, add the other 1/2 cup vegetable broth and continue to cook on medium heat until absorbed.
4. Sprinkle rice and squash with a few more dashes of nutmeg and chilli powder. Heat entire mixture on low for another 3-5 minutes.
5. Optional (but recommended): Serve with sweet potato fries.
Information
Category

Other, Main Dishes