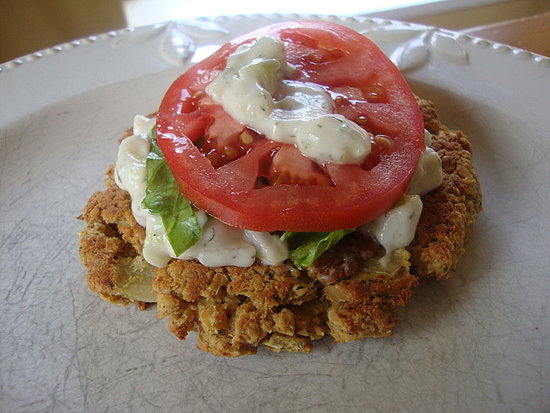 This recipe is another winner from The Vegan Table. You can serve these on buns, pita pockets, or open-faced like I did. Either way, I think you'll enjoy the well-blended flavors of the patty as well as the cucumber sauce—an ideal combination.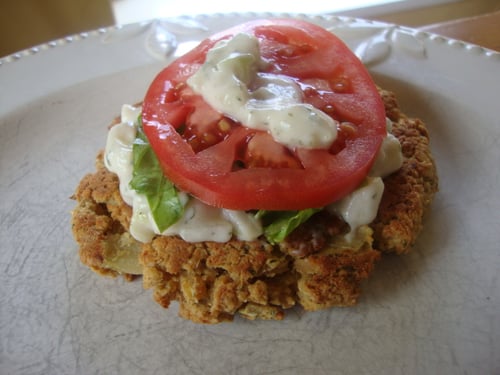 Falafel Burgers
The Vegan Table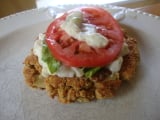 Ingredients
1 can chickpeas (garbanzo beans), drained and rinsed
1 yellow onion, diced
3 cloves garlic, minced
1/4 C fresh parsley, chopped
2 Tbs tahini
1-1/2 to 2 tsp cumin
1 tsp coriander
1/2 tsp salt
1/8 tsp black pepper
1/4 tsp cayenne pepper
1 tsp lemon juice
1 tsp baking powder
1 C bread crumbs (I used panko)
For falafel sauce:
1 container (6-oz) plain nondairy yogurt
1-2 Tbs tahini (I used 1-1/2)
1/2 cucumber, peeled and finely chopped
1 tsp dried dill
Optional ingredients:
hamburger buns or rolls, pita bread, tomato slices, lettuce
Directions
I recommend making the sauce first since it has to chill for 30 minutes. I could have made it while the patties baked, but that's when I cleaned up the kitchen and set the table, etc. To prepare the sauce, combine all of the sauce ingredients in a small bowl and chill for 30 minutes.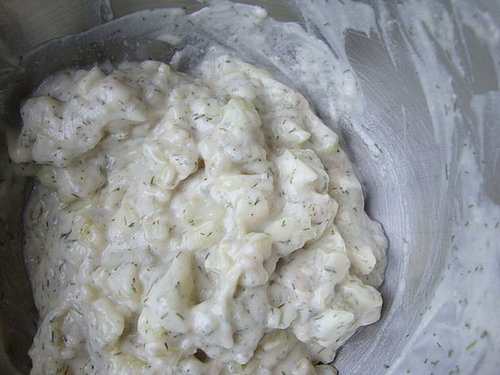 Preheat oven to 400. Pulse a few times the chickpeas in the food processor until thick and pasty; transfer to a medium-sized bowl. Add the onion, garlic, parsley, tahini, cumin, corriander, salt, pepper, cayenne pepper, lemon juice, and baking powder. (I actually left the beans in the food processor and added the other ingredients and pulsed a few times to just mix them in a little–easier than using a spoon. Then I transferred to a bowl and mixed it more). Slowly add the bread crumbs—using more or less—until the mixture holds together well.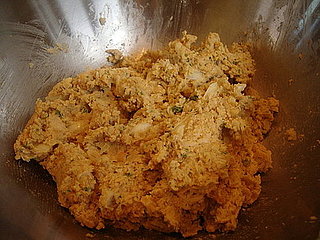 Shape into patties and place on a nonstick baking sheet. I used foil that I lightly sprayed with cooking spray. I also made 5 patties, but the recipe says you can get 8-10 patties.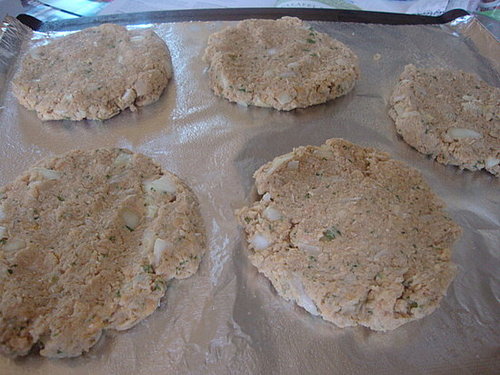 Bake for 10-12 minutes until golden brown on the bottom. Don't expect the tops to get brown—they won't. Flip over and bake for another 10-12 minutes. Serve with some falafel sauce, tomato, and lettuce on bun, pita, or open-face. Enjoy!
Information
Category

Main Dishes, Beans