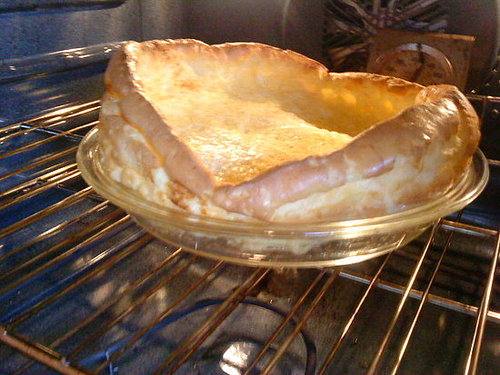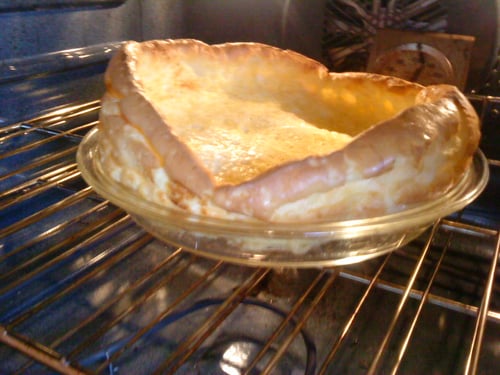 German Pancakes
My Mother-in-law got this recipe from The Original Pancake, in Portland Oregon. Her family ate there and her mother loved them so they asked for the recipe.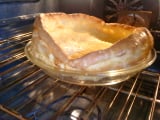 Ingredients
1 Tablespoon Butter or Margarine
3 eggs
1/2 cup milk
1/2 cup flour
1/2 teaspoon salt
1 teaspoon sugar
Directions
Place rack in bottom section of oven. Preheat oven to 425 degrees and place butter or margarine in a pyrex pie pan (8 inch will make thicker pancake, 9 inch will be thinner) and set aside while oven is heating. Once it's to temperature, place pan in oven to heat while you mix up the batter. If using butter watch carefully so it doesn't burn.
In a small mixing bowl add the rest of the ingredients and whisk together (there will still be small lumps). After pan is hot and butter/margarine is melted pour batter into hot pan while it is still on bottom oven rack.
Cook at 425 for 10-14 minutes. Watch through the glass door but don't open. It will start to look like this: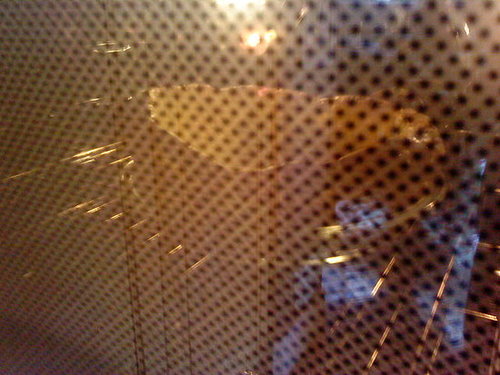 Then turn down to 350 degrees and bake an additional 8-10 minutes depending on how brown and firm you like it. It think it's best not to over cook it (the egg flavor becomes too strong).
Remove from oven and place directly on table for best affect (have everyone sitting so they can see it before it falls and have all the toppings ready). Slice into fourths.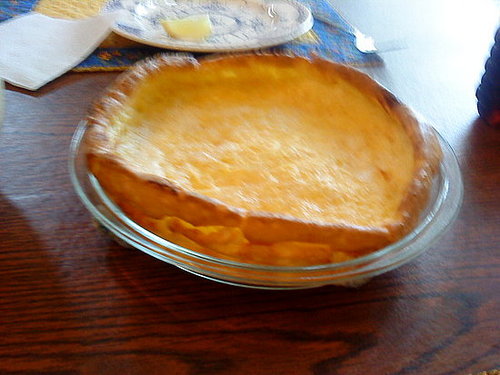 Spread with additional butter, if you like, then a squeeze of lemon and a dusting of powdered sugar. Serve with fruit and syrup on the side. Our favorite is sliced fresh peaches (peeled first). I don't use much syrup because the fruit flavor is the best. You can use any fruit you like.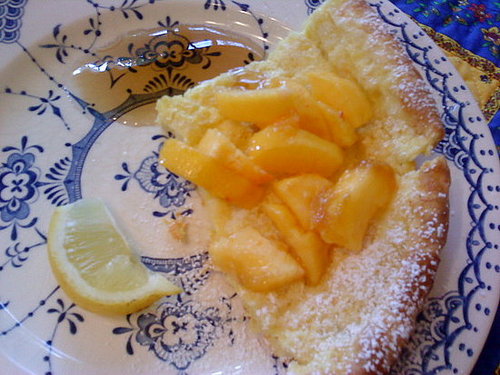 One recipe serves 2 people (if they are not big eaters). When making more I use a separate mixing bowl per batch so I know exactly how much batter to pour into each pan. I can only cook two at a time in one oven, so I can only serve 4 or 5 at a time. If you have two ovens you can do more. I have also seen recipes on-line where it is baked in a large cast iron skillet but I haven't tried that yet.
Information
Category

Breakfast/Brunch, Pancakes/Waffles