Manchego Pizza With Chorizo and Shrimp
Manchego Pizza With Chorizo and Shrimp
Modified from Food and Wine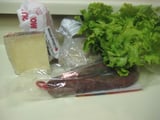 Ingredients
1 large ball of refrigerated pizza dough
2 tablespoons extra-virgin olive oil, plus more for brushing
1 large garlic clove, minced
1/2 head escarole, cut into 1-inch pieces (4 cups)
Salt and freshly ground pepper
6 ounces Manchego cheese, shredded (2 cups)
1/2 pound medium shrimp—shelled, deveined and halved lengthwise
1 1/2 ounces firm chorizo, thinly sliced
Directions
Preheat the oven to 500°F. If you have one, set your pizza stone on the bottom of the oven to heat for at least 30 minutes.
On a floured work surface, divide the dough in half and roll each half into a ball. Roll out 1 disk of dough to an 11-inch round. Transfer to a floured pizza peel or other baking sheet.

Prepare the toppings: In a large skillet, heat the olive oil. Add the garlic and cook over moderate heat until golden, about 1 minute. Add the escarole and cook, tossing, until wilted, about 2 minutes. Season with salt and pepper.

Lightly brush the edge of the dough with olive oil. Scatter half of the Manchego over the dough, leaving a 1/2-inch border at the edge, then top with half of the shrimp, chorizo and escarole.

Slide the pizza onto the hot stone (or baking sheet) and bake for 10-15 minutes, or until the crust is browned on the bottom, the shrimp is cooked through and the other toppings are sizzling. Cut the pizza into wedges and serve immediately. Repeat with the remaining dough and toppings.
Serves 4.*
*When I made this pizza, I halved the recipe.
Information
Category

Main Dishes, Pizza

Cuisine

Spanish/Portuguese