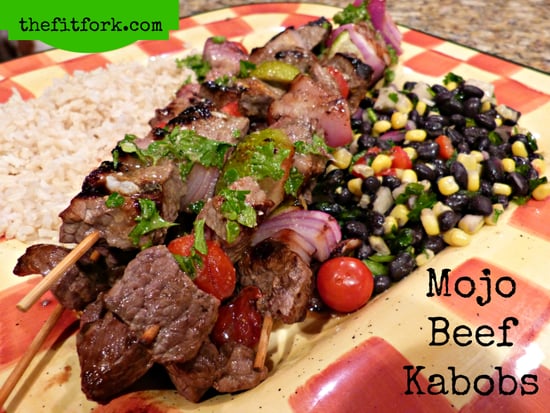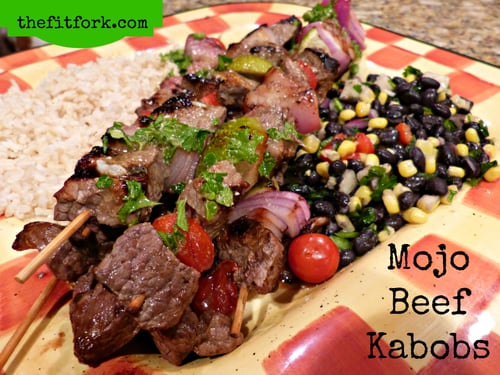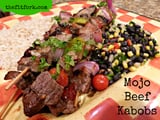 Ingredients
1 lb. boneless beef top sirloin steak, cut 1-inch thick
1 tsp. coarse grind black pepper
1 large lime, cut into 8 wedges
1 small red onion, cut into 8 thin wedges
1 container grape or cherry tomatoes (about 10 oz.)
Mojo Sauce
1/4 cup fresh orange juice
1/4 cup fresh lime juice
3 Tbsp. finely chopped fresh oregano
3 Tbsp. olive oil
2 Tbsp. finely chopped fresh parsley
1 tsp. ground cumin
1 tsp. minced garlic
3/4 tsp. salt
Whisk Mojo Sauce ingredients in small bowl. Set aside.
Directions
Cut beef steak into 1-1/4 inch pieces; season with pepper.
Alternately thread beef with lime and onion wedges evenly onto four 12-inch skewers. You can thread tomatoes with beef skewers or make separate tomato skewers depending on how well-done you like the tomatoes (they cook fast).
Place kabobs on grill over medium, ash-covered coals. Grill tomato kabobs, uncovered, about 2-4 minutes or until slightly softened, turning occasionally. Grill beef kabobs, uncovered, about 8 to 10 minutes for medium-rare to medium doneness, turning occasionally. Or, cook on inside grill pan over medium-high heat for about the same length of time.
Remove from heat source at let rest for 5 minutes. Serve kabobs drizzled with sauce.
Serves 6.
Information
Category

Main Dishes