Mulan's Mu Shu Pork
Mulan's Mu Shu Pork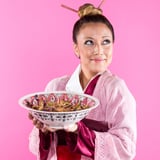 Ingredients
For the marinade:
1 teaspoon sesame oil
1/4 cup rice wine vinegar
1/2 cup hoisin sauce
6 cloves garlic, minced
2 tablespoons oyster sauce
2 tablespoons soy sauce
1/2 teaspoon black pepper
For the mu shu pork:
1 pound boneless pork chops
3 tablespoons vegetable oil
2 eggs
1 cup green cabbage, shredded
1 cup red cabbage, shredded
1/2 cup carrots, shredded
8 ounces shiitake mushrooms, sliced
1/4 cup green onions, diced
Toasted sesame seeds
Thinly sliced green onions
Flour tortillas
Directions
To make marinade: In a bowl, whisk together sesame oil, rice wine vinegar, hoisin sauce, garlic, oyster sauce, soy sauce, and black pepper until combined. Set aside.
To make mu shu pork: Use your sword or a knife to slice pork into thin pieces. Separate half of the marinade into a bowl and add the pork. Toss to coat and let sit for at least 5 minutes to marinate.
While the meat is marinating, in a large sauté pan or wok, heat 2 teaspoons oil over medium heat. Add eggs and scramble lightly. Remove eggs from heat.
Return the pan to the stove and increase the heat to high. Add 1 more tablespoon oil and add the marinated pork to the pan. Sauté for 3 to 4 minutes, or until the pork is tender and cooked through. Transfer the pork to a separate plate and set aside.
Into the wok, add the remaining oil, cabbage, carrots, mushrooms, and green onions. Cook until the cabbage begins to wilt and soften. Add the reserved marinade and toss to combine. Cook for an additional 2 minutes. Add back in the eggs and the pork and toss to combine. Place onto a serving platter and garnish with sesame seeds and thinly sliced green onions.
Serve warm with flour tortillas.
Information
Category

Main Dishes, Pork

Yield

Serves: 4 to 6

Total Time

29 minutes, 59 seconds