I was reminded to post this after seeing the recent polenta pizza recipe. This recipe is from Moosewood Cookbook and its my FAVORITE. I have some pictures but not of the final product :(
Tip: Have all the veggies washed and cut before you begin or you might feel panicked later on.
Polenta Pie
Moosewood Cookbook by Mollie Katzen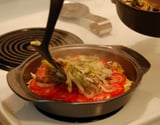 Ingredients
CRUST:
1 1/2 cups coarse cornmeal
1 teaspoon salt
1 1/2 cups cold water
2 cups boiling water (in a saucepan)
A little olive oil
FILLING:
1 tablespoon olive oil
1 small onion, thinly sliced
1/2 cup thinly sliced bell pepper
10 mushrooms, sliced
1 small zucchini, thinly sliced
5 to 6 medium cloves garlic, thinly sliced
2 teaspoons dried (or 2 tablespoons minced fresh) basil
1/2 teaspoon dried oregano
Freshly ground black pepper
1/4 pound mozzarella, grated
2 small (or 1 medium-sized) ripe tomato, sliced
Directions
1. Combine cornmeal, salt, and cold water in a small bowl. Have the boiling water on the stove in a saucepan, and add the cornmeal mixture, whisking. Cook about 10 minutes over low heat, stirring frequently, It will get very thick. Remove from heat, and let cool until handleable.
2. Preheat the oven to 375°F. Oil a 10-inch pie pan. Add the polenta, and use a rubber spatula and/or wet hands to form it into a smooth, thick crust over the bottom and sides of the pan. Brush the surface with olive oil, and bake uncovered for 45 minutes.


3. While the crust bakes, heat 1 tablespoon olive oil in a medium-sized skillet. Add the onion, and saute for 5 to 8 minutes, or until it begins to soften. Add the bell pepper, mushroom,s and zucchini, and saute until everything is tender, but not too soft. (Use your own judgment. There are no rules!) Stir in the garlic, herbs, and some black pepper, and saute just a few minutes more.


4. Turn up the oven to broiling temperature. Sprinkle half the cheese onto the bottom of the baked crust (OK if the crust is still hot), and add the tomato slices. Spread the sauteed mixture over the tomatoes, and sprinkle the remaining cheese on top. Broil until brown (about 5 minutes) and serve hot.
4 servings (one 10 inch pie)
Information
Category

Main Dishes, Pizza

Cuisine

Other