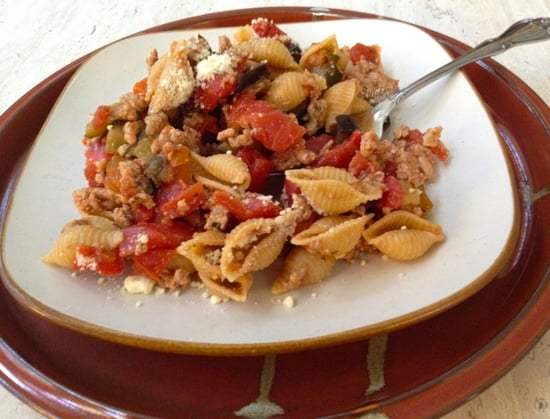 …with ground turkey and whole wheat shells.
My mom recently started working…a lot. Growing up, she was the kind of Mom that had a wonderful, homemade meal on the table most nights- she is a great cook and her and my dad both like to have nutritious, home cooked meals. But, life sometimes gets in the way of that…they both get up super early and then head out the door for the day. By the time she gets home at 6:00- the last thing she wants to do is think about what to make for dinner….so I offered to deliver a bunch of meals to her house yesterday so that her and my dad have easy, healthy lunch and dinner options for the week.
Most of the recipes this week will be things that I made for my parents…they are simple, nutritions, and a great balance of carbs, protein, and fresh veggies. They are all easy to make ahead and keep in your fridge to eat for the week.
This Roasted Vegetable Ragu is warm and comforting. The lean turkey and nutty whole wheat pasta complete the meal in a simple, super easy way!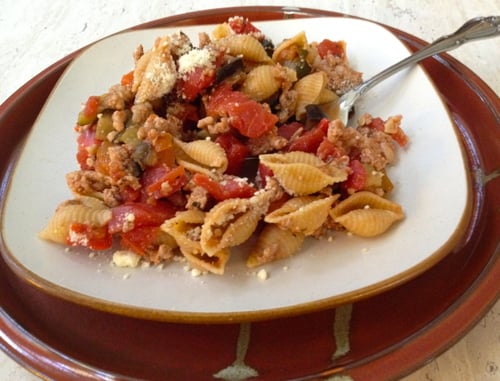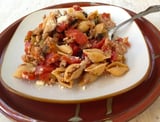 Ingredients
Roasted Vegetable Ragu
serves 4
2 C zucchini, cut into 1/2″ squares
2 C eggplant, cut into 1/2 " squares
1 C red bell pepper, cut into 1/2″ squares
3 cloves garlic, minced
1 t sea salt
1 t dried basil
1/2 t dried oregano
1/2 C chicken stock
24 oz can of chopped tomatoes
1/2 of a box of whole wheat pasta shells
1 pound of ground turkey breast
1/4 C parmesan cheese
Directions
Preheat the oven to 450 degrees. Spray a large glass baking dish with cooking spray. Place the zucchini, eggplant, and red pepper in one layer on the bottom of the baking dish. Toss the veggies in the salt, basil and oregano and roast for 35 minutes.
Remove the dish from the oven and pour in the chicken stock and chopped tomatoes. Combine everything well and then place the veggies back in the oven for another 30 minutes.
In a medium pot, cook your whole wheat shells, al dente. In a separate pan, brown your turkey breast…season with salt and pepper.
Once the shells, turkey, and veggies are cooked, toss them all together, sprinkle with cheese and serve! This dish does great with a field green salad and balsamic vinaigrette.
Information
Category

Main Dishes