Spicy Peanut Noodles in Cucumber Cups
I made these little buddies for a tapas night with my friends. You will have a LOT of leftover noodles. To make use of my extra noodles, I fried up some tofu and onions, microwaved a cubed sweet potato, squirted a little extra lime in, mixed it all together and had Sweet Potato Peanut Pasta. Bonus: two meals in one!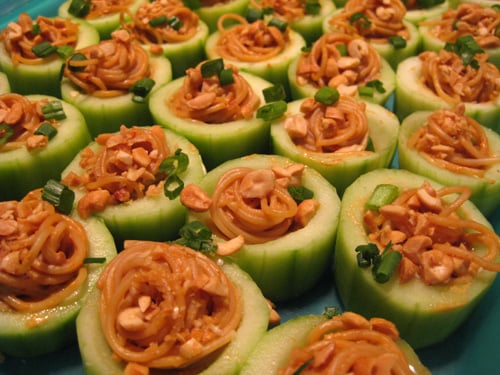 Spicy Peanut Noodles in Cucumber Cups
Martha Stewart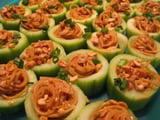 Ingredients
1 large garlic clove
1 3/4-inch piece ginger, peeled and halved
3 teaspoons red-chile paste
1/2 cup best-quality smooth peanut butter
3 tablespoons soy sauce
3 1/2 tablespoons sugar
4 1/2 tablespoons peanut oil
Juice of 1 lime
6 ounces vermicelli, or capellini
3 1/2 Japanese, or 6 Kirby cucumbers, peeled
1/4 cup roasted peanuts, finely chopped
2 scallions, thinly sliced
Directions
1. In a food processor, pulse garlic and ginger until finely chopped. Add chile paste, peanut butter, soy sauce, sugar, peanut oil, lime juice, and 4 tablespoons water; purée until smooth. Set aside.
2. Bring a large stockpot of salted water to a boil. Add noodles; cook until al dente, following label directions. Drain in a colander; rinse with cold water. In a large bowl, toss noodles with 1 cup peanut sauce. Set aside.
3. Cut cucumbers into thirty-six 3/4-inch rounds; scoop out the seeds with a melon baller, forming deep cups. Dab some peanut sauce on the bottom of a cucumber cup. Using a small cocktail fork, twirl a few noodles together, and place in cup. Garnish with chopped peanuts and scallions. Repeat with remaining cucumber cups.
Information
Category

Appetizers, Finger Foods

Cuisine

Other Asian