Sweet Strawberry Ice Cream + Chocolate Sauce
Enjoy coconut ice cream at the fraction of the cost of the store bought stuff. Best part is, you don't even need an ice cream maker! This sweet dessert is packed with strawberry flavor with just a hint of coconut and best enjoyed with a spoonful of chocolate sauce.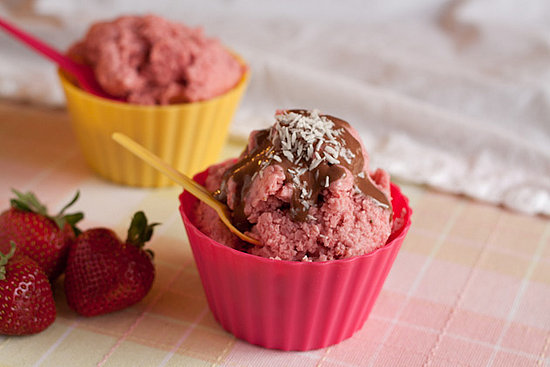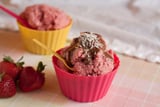 Ingredients
Ice cream
* 1 16 oz. can of lite coconut milk
* 1 cup strawberries
* 1/2 tsp pure vanilla extract
* pinch white stevia*
Optional toppings: chocolate sauce (below), coconut, walnuts, almonds, dried fruit, flax…
*note: if you don't like stevia, replace with 4 medjool dates or 2 tbsp of agave nectar and blend with the rest of the ingredients.
Chocolate sauce:
* 2 tbsp full fat coconut cream – use the thick cream from the top of the can
* 2 tsp cacao powder
* 1 tsp coconut oil
* pinch white stevia
*note: if you don't like stevia, replace with 1/2 tsp agave nectar or other sweetener
Directions
To make the ice cream:
Combine all ingredients in blender until smooth.
Pour into 2 freezer safe bowls and place in the freezer for at total of 1.5-2 hours, removing every 30 minutes to whisk so that it doesn't set into an ice cube.
When it gets to a soft serve ice cream consistency it's done!
To make the sauce:
Combine all ingredients in a small bowl and pour over top ice cream
Information
Category

Desserts, Ice cream