These vegan, gluten-free cabbage cups are even better than traditional lettuce cups!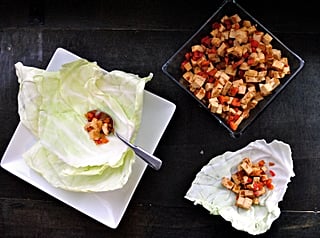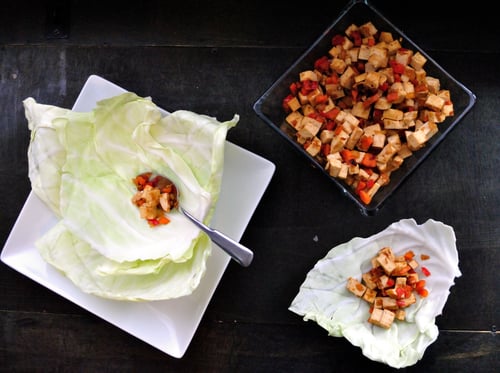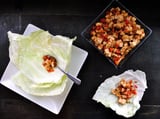 Ingredients
1/2 block extra firm tofu, cut into small cubes
1/4 yellow onion, small diced
1 large carrot or 2 medium carrots, small diced
1/2 red bell pepper, small diced
2 garlic cloves, grated
1 inch piece of fresh ginger, grated
1/4 cup gluten-free tamari
1 tsp. olive oil (or a few drops of a sesame oil would be nice!)
1 tsp. sriracha – adjust this to your heat preference
salt + pepper
cabbage leaves (green, red, or Napa work) or lettuce leaves, for serving
Directions
1. Cut the tofu into very small cubes. It may seem tedious, but just think of it as an opprotunity to work on your knife skills. I did about 1/4 inch cubes. Set ingredients aside.
2. Grate ginger and garlic over a large bowl or tupperware container. Add tamari, oil, and sriracha. Whisk to combine. Add tofu to container – I like to use a rectangular glass storage container with a lid so that I can shake everything up and ensure that it is coated – if you're just using a bowl, give everything a gentle toss to ensure the sauce coats the tofu. and let marinate in the fridge for about 30 minutes. Longer would be fine as well.
3. While the tofu is marinating, separate your cabbage or lettuce leaves and prep the rest of your ingredients. Remember, smaller is better!
4. Heat a large non-stick skillet over high heat. You want the pan to be super hot.
5. Once the pan is hot, add a few drops of sesame oil or canola oil (not olive oil – the smoke point is too low) and give it a swirl. Then carefully add onions. Saute for a few seconds until they begin to turn translucent. Add carrots and bell peppers and saute for another 30 seconds until they just begin to soften.
6. Add tofu, with marinade, and saute until most of the sauce has become very thick and is mostly absorbed. Shut off heat.
7. Serve with cabbage or lettuce leaves.
Information
Category

Vegetables, Appetizers