Vegan Avocado Quinoa Recipe
Rainbow Chard, Avocado, Asparagus Quinoa with Orange Champagne Vinaigrette
After seeing FitSugar's recent post about Vegan Avocado dishes, I kept thinking about a recent dinner I made. It was more of a fluke since I was just using everything in my fridge, but to my surprise the resulting dish is delicious! It was pretty easy to make and even better the next day, when I took it work for lunch. I waited for everything to cool since I wasn't in the mood for a hot meal but I imagine warm would be just as good! Next time, I will add some fresh herbs too like basil.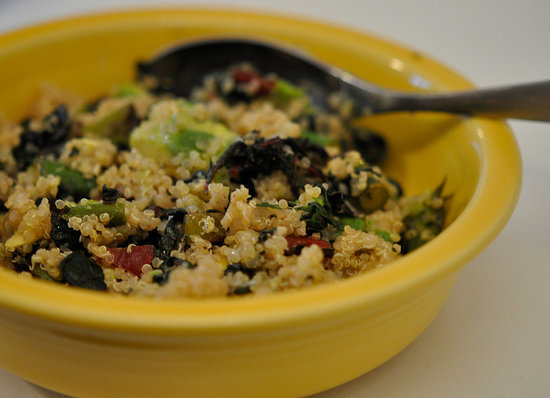 Recipe
1 cup of quinoa
1 bunch of rainbow chard, roughly chopped
1 bunch of asparagus, roughly chopped
1 tablespoon quality olive oil
1 ripe avocado, sliced into bite size pieces
salt
1/8 cup quality olive oil, I used orange infused
1-2 tablespoons of champagne vinegar, any vinegar would work
Directions: Cook the quinoa. Saute the asparagus and rainbow chard in one tablespoon olive oil until cooked. In a small glass or jar mix the olive oil and vinegar together. Once everything is ready mix the quinoa, asparagus, chard, and vinaigrette in a large bowl with the avocado. Season with salt and enjoy!
Makes about 4-6 servings.