Vegan Blueberry Scone Recipe
Vegan, Whole Wheat Blueberry Scone Muffins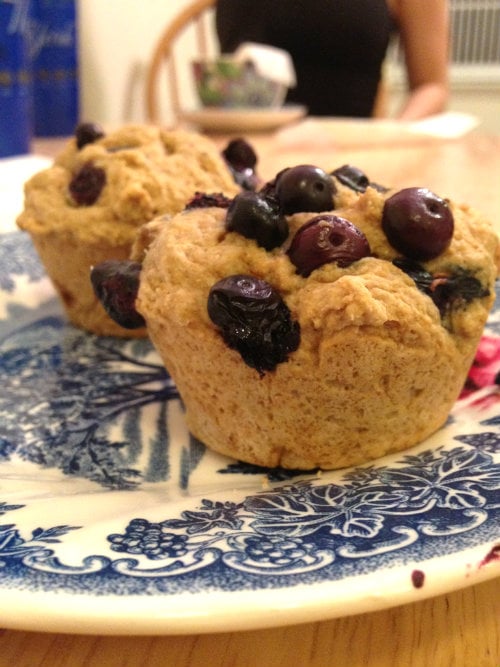 Do you love scones but don't feel like expending the energy to mold them into pretty triangles? Or, like Katie and myself, do you not have a baking sheet with which to lay out said triangles?
Then you need a "Scuffin!" Which is a scone baked in a muffin tin. Fall weather always makes me crave a hot cup of earl grey tea and a blueberry scone, but I find it so hard to rationalize paying $2.35 for a "medium" scone at a coffee shop and $1.75 for a cup of tea when I can buy a 1/2 a pint of blueberries for two bucks on the street and bake NINE scones with the ingredients we have in our kitchen.
Which means, Katie and I can each have four, yes people F-O-U-R nights of evening tea and a blueberry scone for the price of one! (And between you and me, these scuffins are much better than anything Starbucks has to offer in the scone department).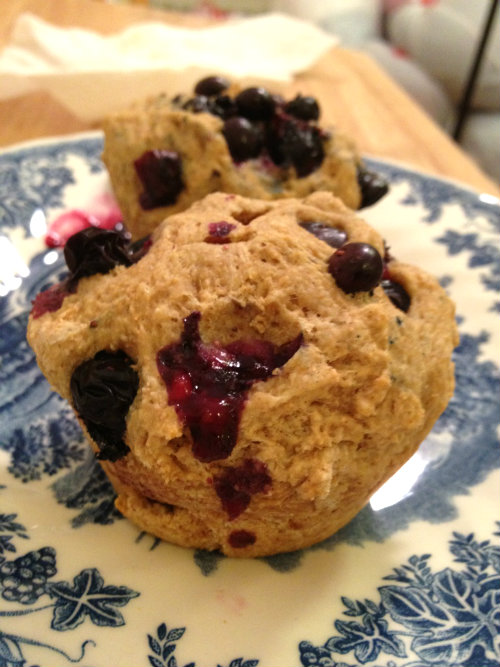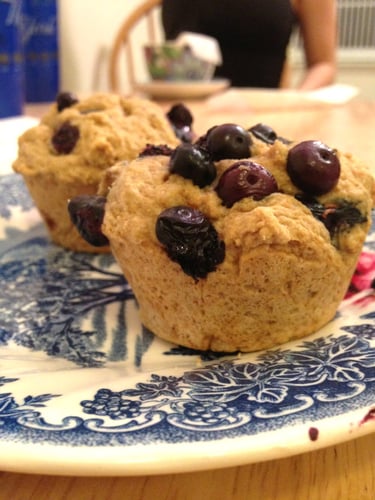 Vegan, Whole Wheat Blueberry Scone Muffins
The Hungry Runner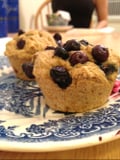 Ingredients
1 and 3/4 c. whole wheat flour
1/2 cup brown sugar
2 1/2 tsp baking powder
1/2 tsp baking soda
1/2 tsp plus 1/8 tsp salt
3 T coconut oil
2/3 cup milk of choice (Almond milk)
1 T white vinegar or lemon juice
BLUEBERRIES!
Directions
1. Preheat oven to 375 degrees F and Grease your muffin pan.
2. In a large bowl mic together all the dry ingredients.
3. In a smaller bowl, mix the vinegar and milk. Let sit for at least 5 minutes.
4.  Add milk/vinegar mixture and oil to the dry ingredients. Mix lightly, just until everything comes together. Transfer the dough to a tray, and knead a few times until it's not sticky. (Sprinkle with more flour if needed.)
5. Scoop 1/4C of batter into greased muffin slots. Press blueberries onto tops of each "scuffin."
6. Bake 14-15 minutes.
**Note: because I like the blueberries evenly distributed among my scuffins and because I like them on the top of my scones, I put the blueberries on last on the tops of the scuffin globs, but you can mix them right in the dough if you so desire.
Information
Category

Desserts