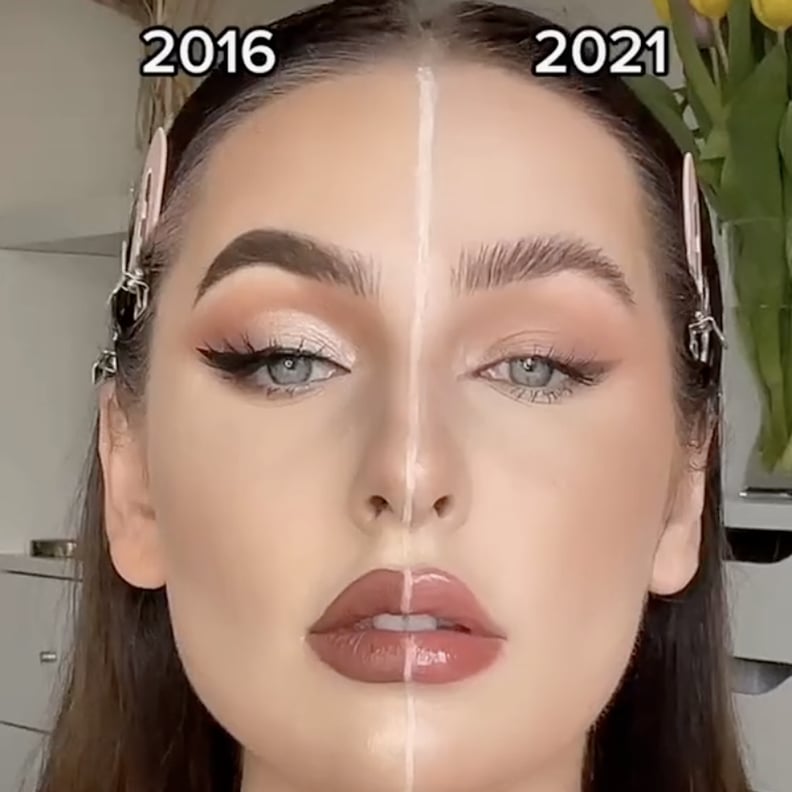 It's normal for beauty trends to come and go, but when we think about all the makeup looks that were wildly popular five years ago versus now, it's hard to believe how much has changed. It's a good thing we have TikTok, though, because the newest challenge all over the app is the #2016vs2021 Challenge, and it revisits a handful of the makeup trends that were popular in 2016 and compares them with the ones we can't get enough of today.
The challenge is as simple as it sounds: it sees beauty creators dividing their faces and comparing in real time what 2016's biggest trends look like next to 2021's. Five years ago, we all quickly became fans of contouring, baking, block brows, bold lashes, and everything in between, though as everyone who's participated in the #2016vs2021 Challenge has pointed out, these days most of us are all about keeping things minimal with skin tints that leave us with dewy finishes as opposed to full-coverage foundation, soap brows in favor of block brows, and lip glosses and stains over matte liquid lipsticks.
While we're definitely not knocking the boldness of beauty trends past, we're loving this challenge mostly because of the clear differences we've seen in the side-by-sides. Whether you're Team 2016 or you're backing today's makeup trends all the way, look ahead to see some of the best videos from the #2016vs2021 Challenge we've seen on TikTok.