Source: POPSUGAR Photography / Sarah Lipoff

Mornings can be tough. We partnered with Elizabeth Arden to put together a wake-up routine inspired by NEW SUPERSTART Skin Renewal Booster that you'll want to start immediately.
Ensuring a good day involves a lot more than just getting a solid night's sleep (although that is crucial). What you do in the morning can have just a big of an impact as logging those eight hours of shut eye. If you're finding that you could use an extra boost when your 7 a.m. alarm goes off, we rounded up four ideas that can help you get going (coffee excluded, of course).
Drink a full glass of water
Not only will you hydrate your cells, you'll feel more alert and energized. Plus, a full glass of H20 can help your body flush out toxins.
Stretch in bed
Before you get up, spend a few minutes loosening up your muscles. Do a Spinal Twist or a Happy Baby stretch to warm up your back and hip flexors. No one enjoys morning body aches.
Boost your skincare routine
Keep Elizabeth Arden's SUPERSTART Skin Renewal Booster close by every morning. The product contains a probiotic complex, which helps to boost your skin's natural defenses while restoring the healthy look of skin's surface layer (plus, SUPERSTART increases the effectiveness of your other skincare products). The refreshing scent is sure to lift your mood, and your skin will thank you.
Write in your journal
As soon as you've stretched and started to wake up, write down a daily affirmation that will help you focus on the positive goals of the day. That way, if blunders come up (think transportation frustrations), you'll be more inclined to let them slide.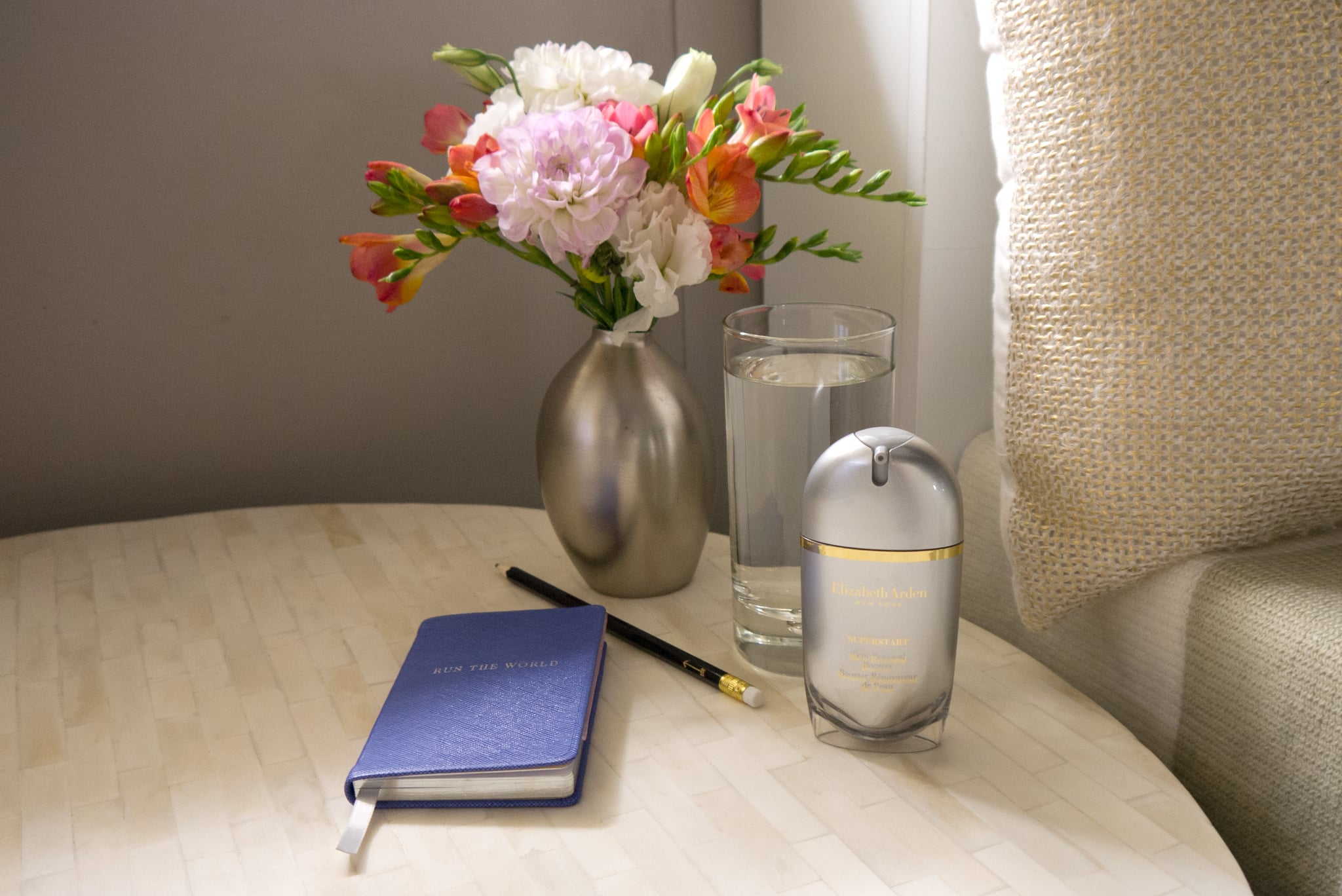 More from Elizabeth Arden

Image Source: POPSUGAR Photography / Sarah Lipoff