Cardi B Stomach Hair at the Grammy Awards
Haters Shamed Cardi B For Stomach Hair, and I'm Never Going on the Internet Again
ICYMI, Cardi B gave a kickass performance of "Finesse" with Bruno Mars at the 2018 Grammy Awards. She wore a multicolored Moschino getup, which slightly resembled that amazing rainbow parachute you played with in elementary school gym class. Cardi looked like a modern-day In Living Color episode, and I never want to go back to real life again after seeing her work it.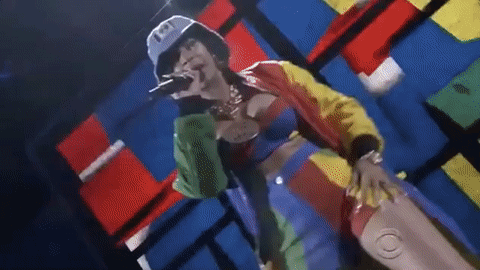 Image Source: CBS
That should be the end of the story. Unfortunately, certain haters on the internet decided to attack Cardi for a reason that will make your eyes roll back so far into your head that you may faint. When Moschino posted a picture of Cardi in all her glory, some people decided to call her out for having stomach hair. All together now: sigh.
As one person put it: "She needs to shave that stomach." Another one wrote, "She better shave that stomach hair before modeling." This shaming is so disappointing, because (a little bit louder for the folks in the back) some women have body hair, and that's totally OK. We'll let Cardi herself respond to the people who decide to call her out for it: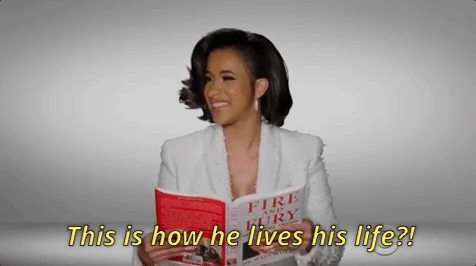 Image Source: CBS
Luckily, many people also came to Cardi's defense. As one person wrote, "Girl slay." Another quoted her collab with Bruno: "Baby girl was definitely dripping in finesse with that jacket." Agreed!
This isn't the first time in 2018 that a woman has sported body hair like it's NBD (because truly, it isn't!). If you recall, on New Year's Eve, Lourdes Leon showed off her armpit hair on Instagram. Girlfriend rocked the look.
We're not here to say that a woman should be hairy or completely hairless — it's a personal choice. But if you need any further proof that Cardi B looked like an absolute angel at the 2018 Grammys, let us hit you with that visual proof: