Dr Lancer Skincare Review
I Tried Kim Kardashian's Skin Care Routine — and This Is What Happened
It wasn't until I saw the far side of thirty that I started to really worry about my skin. I considered Botox, booked an appointment, and then cancelled it at the last minute. Six months later, I did the exact same thing.
Despite my more adventurous impulses, I had to come to terms with my dedication to the needle-free philosophy of preventative moisturizing. For almost 20 years, I've followed the skin care advice my mother gave me when I was too young to fully grasp the wisdom of her words.
"Moisturize every night before bed," she said. "And when you apply the product to your skin, rub up toward your forehead — never pull your skin down." Our brands of choice have always been from the drugstore, the thick stuff best applied to the face with a trowel.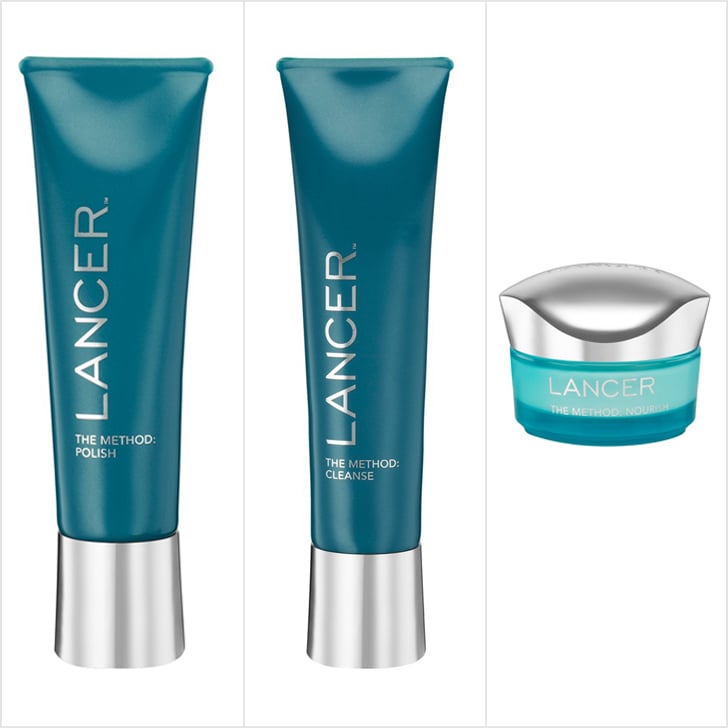 Image Source: Lancer Skincare
But then this whole being-over-30 thing happened. My skin didn't fall into full disrepair; my years of dedicated moisturizing were paying off. But in nooks and crannies around my face, little lines — they were wrinkles, if I'm being honest — began to materialize.
I realized I needed to kick my skin care regimen into high gear. That's when Lauren Levinson, POPSUGAR's senior beauty editor, approached me with a solution: try the Lancer Method.
This was an intriguing prospect. Of course I'd heard of the Dr. Harold Lancer Method, because Kim Kardashian swears by it. I'm by no means a Kardashian devotee, but I'd have to be living under a rock (or not working at POPSUGAR) not to know her and her sisters' preferred beauty brands. Kim has Instagrammed about how seeing Dr. Lancer makes her "feel younger" every time she visits his practice. She's also shared his wisdom on her official app.
"Kim's skin looks amazing," I thought. "Ergo, I will try this."
In the name of better skin, I upended two decades of dedication to my regular moisturizing routine. I decided to follow Dr. Lancer's so-called "Method" to the letter for one full week. The three-step process includes the twice-daily use of an exfoliator, The Method: Polish ($75), a cleanser, The Method: Cleanse ($50), and a moisturizer, The Method: Nourish ($125). All three products are available for normal or sensitive skin. I, falling into the latter category, went with his more gentle formulation.
I dove in. My first impressions were not great: the three-step process took considerably more time than I'd been used to spending on my skin care routine. I tried to remember Kim Kardashian's lineless, smooth visage. "This will all be worth it," I told myself.
The first day was the hardest. I wasn't used to spending so much time doing facial maintenance. I'm embarrassed to admit that my back actually hurt from bending over the sink and taking the time to carefully exfoliate and cleanse my complexion.
But the products were indulgent and made all my effort worthwhile. The exfoliator was full of chunky granules I could feel sloughing off dull skin cells. The silky, rich formula of the cleanser was so indulgent, I had to restrain myself from using too much. Step three, applying the smooth, milky-white moisturizer, was especially satisfying as I could complete it without straining my back.
After just a few days, the results were clear: my skin looked good. My newly Method-ed face was radiant. I feel like I'm bragging, but my skin felt tighter and brighter already. I had the glow one usually gets after a facial all the time. I even stopped wearing makeup! After all, when your complexion looks this good, hiding it seems almost criminal.
Having such beautiful skin practically gave me a high. I marched into work on day four and announced to our beauty editors that I'm never going back to my old ways. I would officially beg, borrow, or steal to be able to afford Dr. Lancer's skin care for the rest of my life.
Originally setting out to do the Method for just one full week, I became an addict. In fact, I'm currently rounding the corner of my third week. I now have to confront the sad but true fact that those three game-changing bottles will not last forever. The experiment has made me reflect on a number of issues, including whether or not I'll ever attempt to replicate the Kardashian lifestyle again in other ways. (Right now, the answer is a firm no — contouring is too time-consuming.)
I liken my foray into luxury skin care as trading my starter car for a Rolls-Royce. It will be hard to go back to my old "method" of more budget-friendly habits. Maybe it's time to return the favor . . . and share some newly gleaned wisdom with my mom.