Fenty Beauty Gift Card at Sephora
Your Wildest Thoughts Have Come True: You Can Get FREE Fenty Products!
No big deal or anything, but pretty much all your dreams have come true: there's a possibility you can get free Fenty products. All you have to do is call up your ride or die — be they a friend, sibling, significant other, parent, or that girl who bailed on plans last week by texting you "I owe you one!" Whoever you choose, find a person who loves you and wants you to be happy, then let them know that Sephora is now selling limited-edition Fenty gift cards.
Yup, not only has Rihanna completely revolutionized the beauty industry with her 40 shades of foundation, but she's also made your grandma's penchant for buying you random gift cards cool. That's because this is the easiest way to get free Fenty we'll probably ever know.
Here's what to do: Stop everything. Tweet, text, email, snail mail, or carrier pigeon this exact news to your favorite person:
Give this limited-edition gift card to a @FentyBeauty fan—they can redeem it for the upcoming holiday collection 🎁: https://t.co/uNiMkqeas0. pic.twitter.com/BzZz2uzVv9

— Sephora (@Sephora) September 28, 2017
In the name of love, that kind soul will go to Sephora.com and design a gift card — specifically this one, which can be used for Fenty products. Then, that person can choose how much money they'll put as the amount. So cross your fingers and pray that they're feeling generous or a little tipsy — whichever would allow for them to add an extra zero to the gift card's amount.
Once you have used your golden ticket, you'll be able to purchase everything you can from the Holiday Collection — at no cost to you! Remember, you basically owe your Fenty savior whatever they want for the rest of their natural life. Or, at least, a nice thoughtful note thanking them for aiding your Fenty addiction.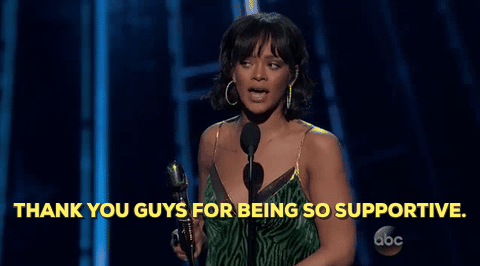 Image Source: ABC