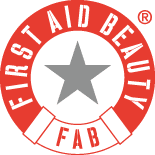 There are some beauty products you like. And then there are some beauty products you love so much, you want to learn everything you can about them. We've partnered with First Aid Beauty to share everything you've ever wanted to know about the product that helps you feel FAB in your own skin.
"Holy grail" isn't a term we use lightly here at POPSUGAR to describe beauty products. For us to consider something holy grail, it needs to be a product we truly can't live without — one we use everyday, purchase (and repurchase) with our hard-earned money, and repeatedly recommend to all our friends like a broken record. So when we say the First Aid Beauty Ultra Repair Cream ($32) is a holy grail in our cabinet, we really mean it. Not only does it work to hydrate your skin, but it also helps to heal it, one of the many reasons it's reached cult status among industry insiders, including our own editors, and beauty enthusiasts alike.
When First Aid Beauty's multicity 10th birthday bash tour stopped in LA recently, I had the chance to learn even more about the product that started it all a decade ago. From its surprising versatility to its reputation for relieving skin conditions like eczema, find out everything I learned about this be-all and end-all of moisturizers. Be warned: you might just love it even more than you already do.
1. There's Isn't Just *One* Thing People Love About the Cream
Blame it on the beauty reporter in me, but anytime I test or write about a product, I need to know its most compelling attribute. Is it the texture? The ingredients? For the Ultra Repair Cream, I was surprised to learn from the brand that there isn't just "one thing" that customers rave about — it's everything. From its nourishing ingredients to its rich, quick-absorbing formula, people really do love the whole package and how all the elements of the cream work together to provide intense hydration.
2. Four Jars Are Sold Every Minute
In the US, four units of Ultra Repair Cream are sold every minute of every day! Yup, it's that popular.
3. You Can Use It From Head to Toe
Most people use two moisturizers: one formulated for use on your face and another one for your body. But with the Ultra Repair Cream, you get the convenience of both in one gentle yet effective formula. It can help soothe, protect, and strengthen the skin on your face and everywhere else on your body. Here are just a few ways I learned you can use the cream: to help relieve skin rashes, to help soothe wind- and sunburns, to relieve itching and discomfort on a growing baby bump, and to heal cracked hands, heels, and elbows. Basically, it works anywhere your skin is irritated!
4. It's Star Ingredient Is FDA-Monographed For Eczema
From shea butter to allantoin to the FAB Antioxidant Booster with licorice root, the cream boasts an impressive roster of strictly clean ingredients, but that's not all it has going for it. Its key ingredient, colloidal oatmeal, is FDA-monographed, which is just a fancy way of saying that it's approved for over-the-counter use on skin conditions like eczema (it's also great for keratosis pilaris when used in conjunction with an exfoliator like FAB's new KP Bump Eraser Body Scrub).