Fresh Beauty Lotus Youth Preserve Rescue Mask Review
Fresh Beauty Has a New Mask — and It Actually Works in Just 5 Minutes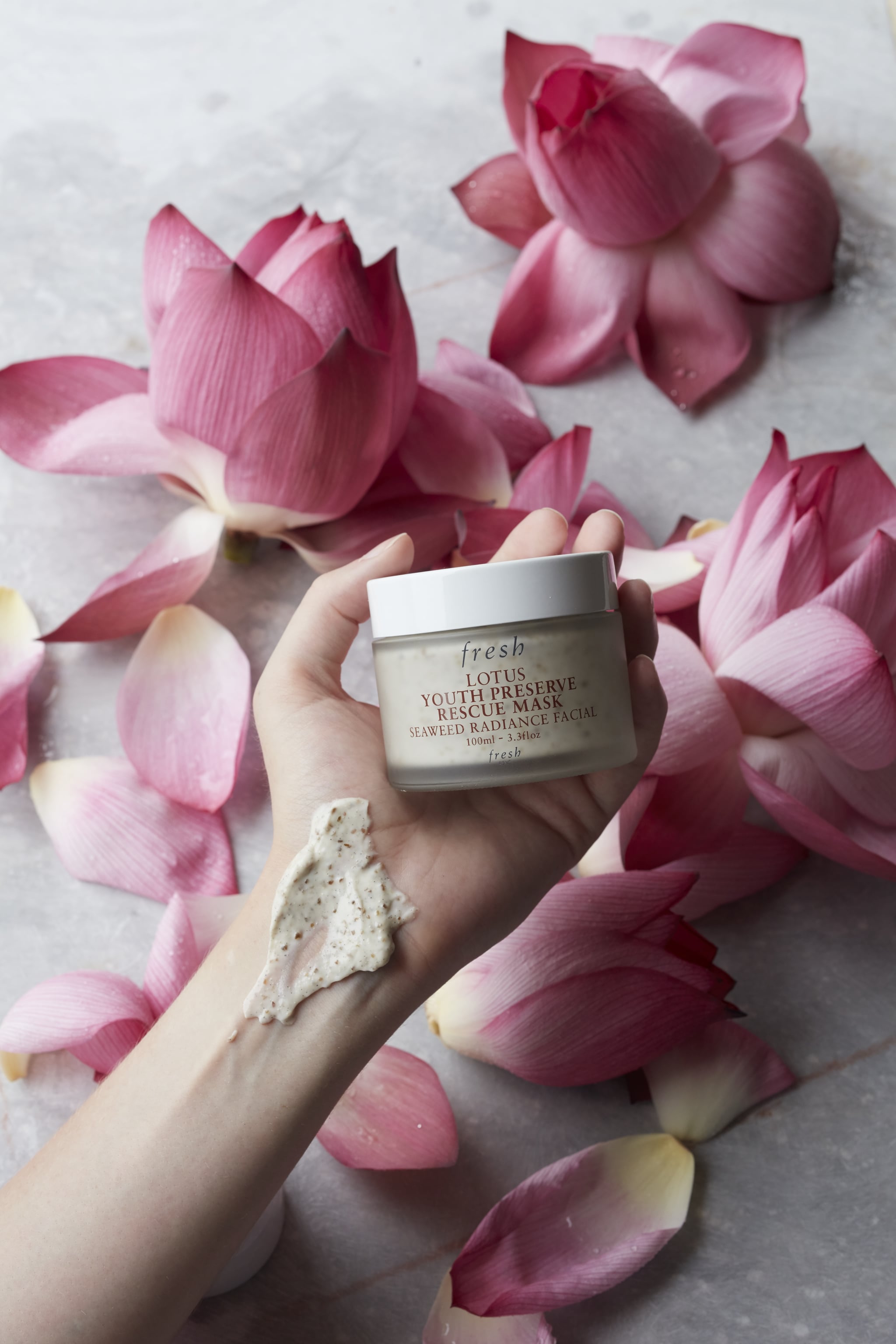 Image Source: Chris Baker
When someone tells me a skincare product "instantly" works, I often roll my eyes. I'm of the camp that believes your skin is your largest organ and mostly reflects what is going on internally. What I mean is: how is your gut health? Are you sleeping enough? Skin creams, serums, and the like can only go so far.
That said, using products to target dark spots or improve tone will work over time. But in five minutes? Hmm.
So when Fresh Beauty invited me on a trip to Cambodia to learn about its newest launch, the Lotus Youth Preserve Rescue Mask, I was excited (OMG! Angkor Wat!). But I didn't know how I would honestly feel about a mask that claims to work in just five minutes.
The odds were good in that I was already a fan of Fresh products. If you haven't tried any of its cult classics — such as the Soy Face Cleanser, Sugar Face Polish, and Sugar Lip Treatment — you're seriously missing out on some of the most beloved products at Sephora. The brand does have quite a few masks — did it really need another one?
Well, it sure did! Because the Lotus Youth Preserve Rescue Mask is freakin' awesome. I sincerely love it, and I'm going to tell you why.
First of all, it contains a rock-star lineup of ingredients starring lotus flowers. I visited the gorgeous lotus farm in Cambodia where the flowers are harvested and learned how versatile these pretty plants are. During my week in Siem Reap, I ate fried lotus chips, bathed in lotus petals, and even wore one of the massive leafs on my head as a DIY sunhat.
"I was originally inspired by the lotus because it's one of the world's oldest plants and has amazing longevity — a single plant can live for a thousand years!" Fresh cofounder Lev Glazman told POPSUGAR. "Various parts of the lotus have been used in traditional herbal medicine for centuries, and clinical tests show this ingredient has high levels of polyphenols, powerful antioxidants."
In the mask, there are little lotus seeds infused in the creamy gel-like base. These are used to detox and exfoliate the skin. There is also lotus flower extract in it, which is known to offer antiaging benefits.
Glazman also refers to the formula as a mermaid mask, because it contains other aquatic ingredients. "Because lotus lives in water, I really wanted to go under the sea and explore the benefits of marine plants and extracts," he explained. "We used red algae to create a fine exfoliating powder that gently refines the texture of the skin, mineral-rich kombu seaweed flakes, and sea fennel extract from a wild coastal plant to help smooth for a supple complexion."
As I mentioned, the mask works in just five minutes. And it actually works. I like to apply it before a shower, because the cooling cucumber-scented formula helps me to wake up. I can brush my teeth or shave my legs, and by the time five minutes have passed, it's ready to be removed. The next step is to massage the lotus seeds into your skin, taking off any dead cells. This is the part I like to do in the shower since it can get a little messy.
After, my skin looks significantly brighter and feels smoother. I'm personally not a fan of doing acid peels or using cleansing brushes at home, because my skin is sensitive and both can be irritating. Using gentle scrubs has routinely been my go-to exfoliating method, so I like that the Youth Preserve Rescue Mask takes care of that while also combating any dehydration. The formula feels buttery and nourishing.
"We call this mask a five-minute facial in a jar because it addresses dullness, rough texture, dryness, and restores your skin's youthful radiance — all in one step," Glazman said. "We didn't have a multibenefit mask in the collection that could deliver all these benefits in just five minutes. By cocooning and gently buffing the skin, this mask restores your youthful radiance — and the experience of using it feels like you've been whisked off on an exotic escape." He recommends using it to recover from a hectic work day, long flight, or late night out.
There's more: Fresh partnered with MDFL meditation instructor Jackie Stewart on a series of videos you can do for five minutes to relax while using the mask. You can try it out here.
"Skin care is all about taking time for yourself," Glazman added. "It forces you to slow down, even if just for a few minutes. I use this mask to rescue my skin from dullness and congestion in a highly effective and quick way. And while I'm doing it, I tune out everything to be present in the moment and really focus on enjoying the whole experience — the pleasure of the scent, the coolness on my skin. It's almost like a mini meditation."
Attempting to meditate more (or, like, at all!) is one of my New Year's resolutions, so props to Fresh for making this an easier goal to meet. If I can get better skin and a calmer mind in five minutes, I am so in.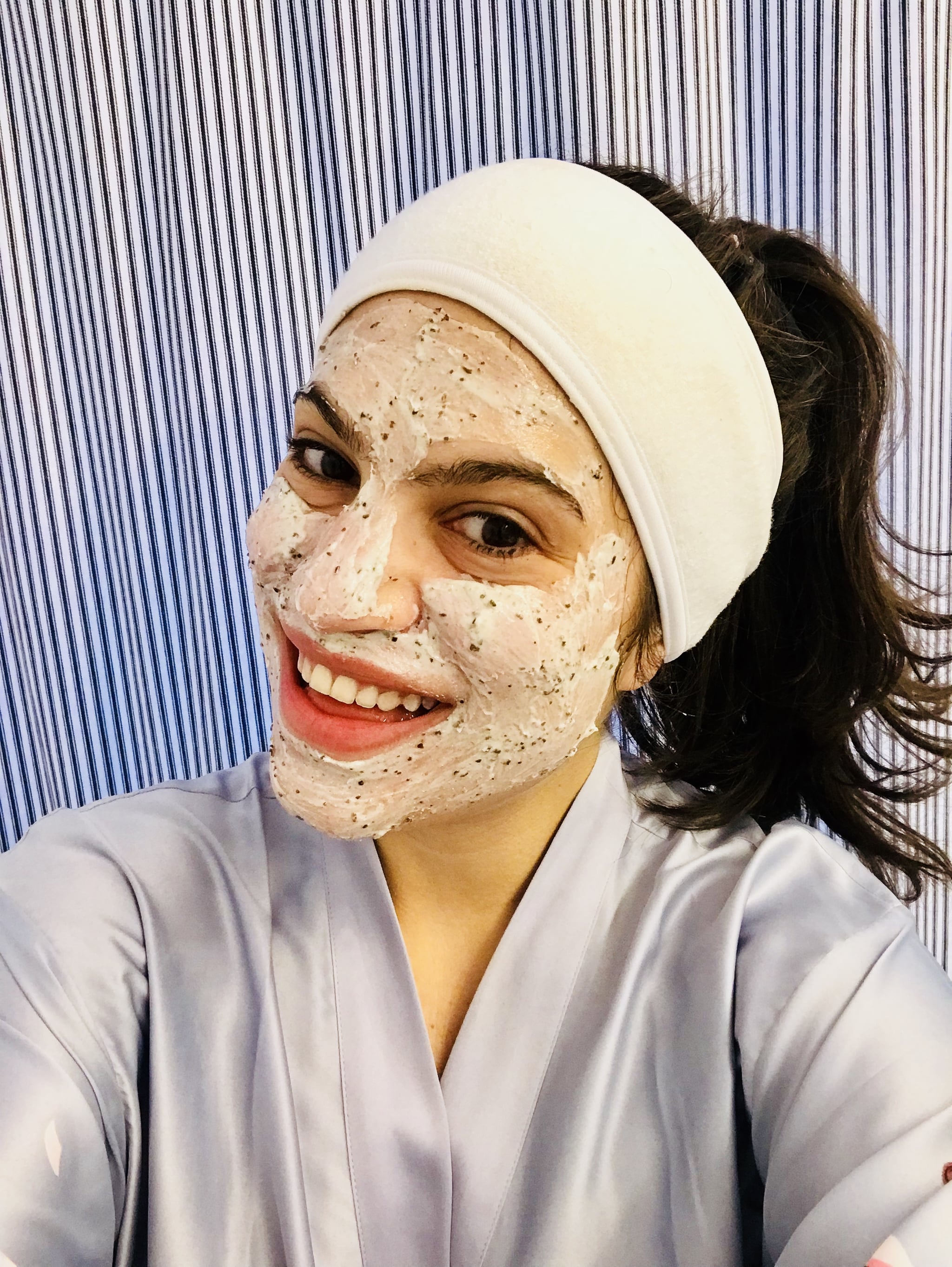 Image Source: POPSUGAR Photography / Lauren Levinson