Gwen Stefani Urban Decay Collaboration | Review
Gwen Stefani Is Urban Decay's First-Ever Celebrity Collaborator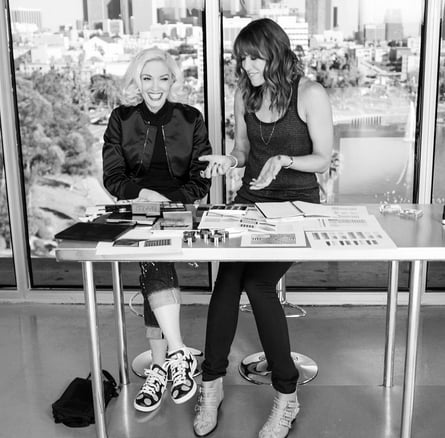 Source: Instagram user UDWende
Leave it to Gwen Stefani to pull off a "first" for Urban Decay. The singer-songwriter, fashion designer, reality television judge, and all-around badass is the beauty brand's first-ever celebrity collaborator. The announcement is enough to cause makeup mavens to lose their minds, but just wait until you see what she has in store!
On the day of the official announcement, a small group of editors was invited to get all the exclusive details about the upcoming collaboration and speak with Wende Zomnir, chief creative officer and founding partner of Urban Decay. For any brand, Gwen would be an obvious choice for a collaboration, but how did the partnership finally come to fruition?
"So here's the Gwen story. I'm living in Laguna and living on the beach in this shack. Literally a shack. And I remember hearing the song 'I'm Just a Girl,' and she's on the cover of some local music magazine, and I remember thinking, 'That girl's so cool. I wish I could work with that girl someday. She's so rad!' Then I met her a couple of times, so I'd been in touch with her in and out . . . It was never really the right time. It took 20 years, 19 years, but it happened. And it's cool because she's also from Orange County, so we have a lot of the same influences in terms of style and beauty . . . and brows! We had a lot to share," Wende said.
Wende went on to elaborate about Gwen's love affair with makeup: she knows what products are used on her, and "she doesn't leave the house without it," said Wende. Anyone can tell from just looking at Gwen's signature red lips, bleached blond retro hair, and signature cat eye that the musician loves makeup and is a beauty icon in her own right.
After ogling what the UDxGwen collaboration has in store for us this year, I watched No Doubt perform at the inaugural Kaaboo Music Festival in Del Mar, CA. On stage, Gwen addressed the crowd: "This is one of my favorite songs I have ever written," she said before diving into "Magic's in the Makeup," a ballad that depicts the conflicting feeling of what's expected of her versus what she really wants out of life. (Note: if you're hitting 28 or 29, do yourself a favor and listen to Return of Saturn in full, and thank me later.)
Later, she brought out her makeup artist and hairstylist, Gregory Arlt and Robert Vetica, who were both celebrating their birthdays. "I love these guys!" she yelled before jumping into Gregory's arms and wrapping her legs around him. Perhaps the fashion designer was always meant to create makeup.
Source: Instagram user GwenStefani
Though I can't yet disclose what the collection entails, I can tell you it may be my favorite collaboration from Urban Decay ever! And it will be available just in time for the holidays, on Nov. 22 — so you need not wait too, too long. As soon as we can, we will share more details for you on the very awesome, totally rad partnership in the coming weeks. (So watch this space!)