How to Air-Dry Your Hair
Too Hot to Blow-Dry? 6 Tips For Air-Drying Your Hair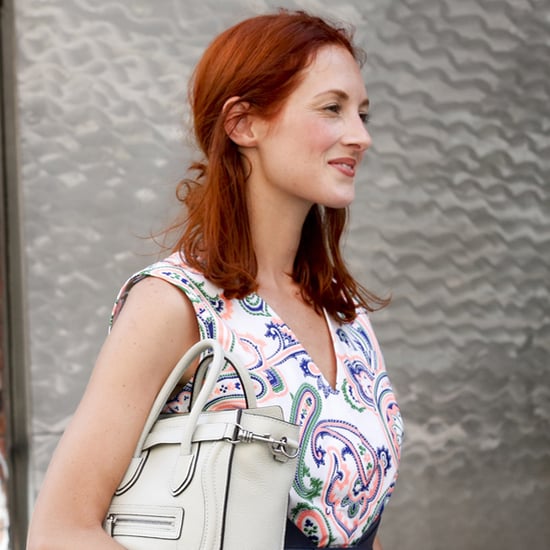 There's more to air-drying your hair than just sitting around waiting for it to, well, dry. While you could just wash, towel off, and wait, there are a few tips to making your hair dry a lot faster without frizzy or limp results, making air-drying all the more appealing. Whether you don't always have the time to blow-dry or maybe you're concerned about heat damage, check out these tips for air-drying your hair successfully.
Find the right towel: Not all towels are created equal. Save time by using an ultra-absorbent towel to remove excess moisture. Try the Aquis Microfiber Hair Towel ($17) that's also soft enough to not damage your hair.
Comb it out: Since wet hair is fragile hair, protect your tresses from breakage by using a wide-toothed comb to gently detangle. Then, apply a serum to tame frizz if needed. Paul Mitchell Super Skinny Serum ($23), for instance, is formulated to smooth hair while also speeding up drying time.
Steer clear of crunchy hair: To prevent a crunchy "wet-hair" look, a light gel or airy mousse can help provide body and movement without weighing the hair down. For wavy or curly hair, a curling cream or medium-hold gel can lend structure with soft hold. Tip: because your hair will be damp when you apply product, you might find you will actually use more. Again, just remember that you can always add on, but it's harder to take away.
Fluff it up: In lieu of using heat to create your style, your hands will act as your tool. With your fingertips, fluff and lift hair at the roots to speed up drying time. Flip your hair upside down and tousle every so often to encourage airflow. To enhance volume, consider parting your hair on the opposite side, combing it back over once your hair has dried completely. For those with curly locks, use your fingers to twist individual curl strands into place.
Enhance your texture: For subtle waves, there are lots of options. Braiding, sponge or rag rolling, a twisted bun, or strategically placed pin curls are just a few ways you can enhance your hair's texture in a natural way.
Keep in mind: Straight or fine hair tends to dry faster, while thick or curly hair often takes a little longer. Even the shampoo and conditioner you use, along with the weather, play a role. But for a soft, shiny mane and a freed-up schedule, you'll undoubtedly be satisfied with your no-electricity results.