How to Give a Man a Massage
How to Give Your Man an A+ Massage This Valentine's Day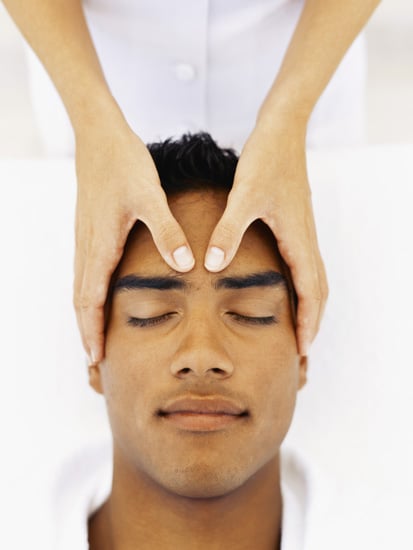 Ever noticed that your man starts to melt when you scratch his head or perks up when you put on a certain perfume? Believe it or not, there are certain touches and techniques men gravitate toward more than woman — at least, that's what Stacey Parks, the spa director of Spa Claremont in Berkeley, CA, confirmed. Generally speaking, when it comes to spa treatments, whether it be at home or at the spa, guys tend to like everything with a little extra spice. That's why we've rounded up a few ways to add some excitement to your man's Valentine's Day.
To stimulate the senses: Don't load up your guy with a bevy of fragranced products. "It's easier to do a treatment that doesn't have a lot of scent to it or something that's a little bit more stimulating, like mint," explains Stacey.
To relax the senses: "Men especially carry a lot of tension in their upper back and their neck, so I would suggest a massage with an oil that has more of a pine scent, something that's a little bit more spicy," Stacey suggests. "Scalp massages can [also] be very beneficial," she advises. (Learn how to give a great neck and head massage here.)
Get tough: "I find that gentlemen are always attracted to a more vigorous massage rather than the aromatherapy and more relaxing massages," she says. Tip: if your massage skills could use some help, rub on an aggressive salt or sugar scrub instead.