How to Style Sideswept Bangs | MIMI
This Hair Hack Will Transform Your Look Without a Salon Visit
French girls really know how to style effortlessly chic hair, and MIMI is showing us how to achieve the look in a few easy steps.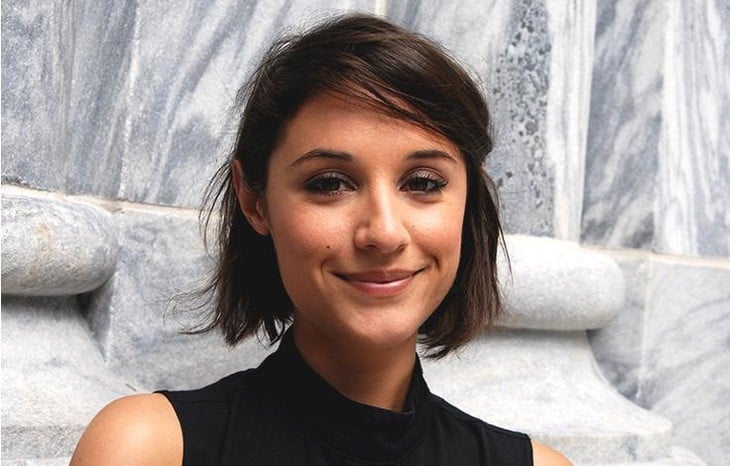 A few weeks ago I was perusing Elle France when I stumbled upon "la mèche écolière". I had to try it. I have a choppy lob and sometimes it can feel like I get into a styling rut. Tousled, parted to the side, textured. It's the usual recipe.
So, to shake things up, I decided to add this school-girl, swept over my forehead, but still tousled look to my weekly routine. Firstly, let me just say, I got a resounding two thumbs way up from everyone in the office. All day long, I felt like I had refreshed my hairstyle, without actually changing my cut— a couple of bobby pins and a whole new me. No complaints here.
Here's how I got the look:
After washing my hair and letting it air dry 75% of the way, I added some SHOW Beauty Divine Thickening Lotion ($63) and rough dried my hair. Then I went over any frizzies I had at the front with a flat iron. Next up, R+CO Rockaway Salt Spray ($25), which I applied liberally and scrunched for some texture (I don't like it when my hair looks overly perfect). Then I parted my hair to the side as normal, and swooped the front section across my forehead and tucked behind my ears. Lastly, I added some pins, noodled with the swoop a little until it looked elegantly disheveled, added a touch more salt spray and fini!
More from MIMI:
French Girls Are Clashing Their Makeup
How to Achieve the Clumpy Lashes Look
Lancome's New Shadow Palette Is the Only One You'll Need