Innisfree Super Volcanic Pore Clay Mask Spot Treatment
Redditors Insist This Mask Cures Acne Overnight — but Not the Way You're Using It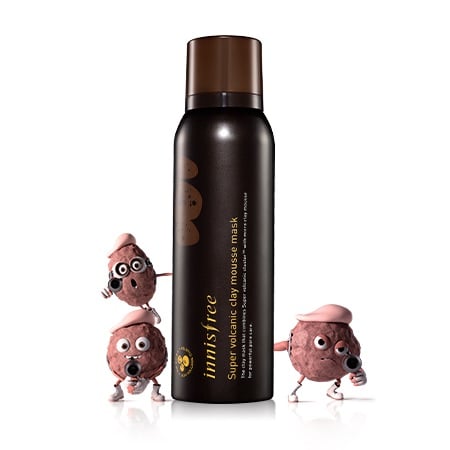 When I first used Innisfree Super Volcanic Clay Mousse Mask ($19), I almost wept tears of joy over my bathroom sink. That's because the foamy K-beauty formula was one of the fastest-acting pore cleaners I'd ever used. And I've tried a lot of them.
I actually detest the two words "pore cleaner" almost as much as my first most hated phrase, "U up?" In my experience, it's something brands will slap on a label in an effort to attract buzz. In fact, a few months ago, I threw out all of the self-described "pore cleaners" in my possession. But Innisfree stayed, because it's the rare mask that lets me indulge in an entire cheese plate and have my face pull through unscathed.
So yeah, you could say I'm a fan. But even I was shocked to discover that I might be using the product entirely wrong. I didn't realize this was possible, as my method of applying is an exact copy of the label's instructions. Like most masks, I apply it to my face, wait 20-30 minutes (or more, if I get caught up in an episode of This Is Us), and wash it off in the shower.
Innisfree is the rare mask that lets me indulge in an entire cheese plate and have my face pull through unscathed.
But according to a post on the Asian Beauty Reddit page, Super Volcanic works as an overnight, zit-killing spot treatment. In fact, the person who discovered this even hinted that it works as well as the granddaddy of all spot treatments, Mario Badescu's famed Drying Lotion ($17). Those are fighting words, I know.
For now, I'll keep both brands' offerings in my medicine cabinet (Badescu was the first antiacne product that actually worked on my 16-year-old face, so nothing but respect for my president). But the Redditor's evidence is compelling. "I used a cotton bud to swab [Innisfree], and placed it on the areas where I had acne, making sure to cover the perimeter of the whole [pimple]," they wrote. "I woke up this morning and the bigger pimples had come to a head and the redness was gone, while the smaller pimples just disappeared!!"
And according to the post's comments, other skincare junkies have tried this bootleg spot treatment to similar positive results. The Redditor went on to clarify an important point: they admitted to having to glob "a thick layer" of the mask on their pimple, "so it wouldn't dissolve" before bed. That means this method will probably use up more of your precious mousse than applying it as a mask normally would, but hey, we'll do some desperate things to get rid of a pimple.