Jackie Cruz Orange is the New Black Season 6 Beauty Secrets
Jackie Cruz From OITNB Explains Why You Won't See Any Makeup Tutorials in Season 6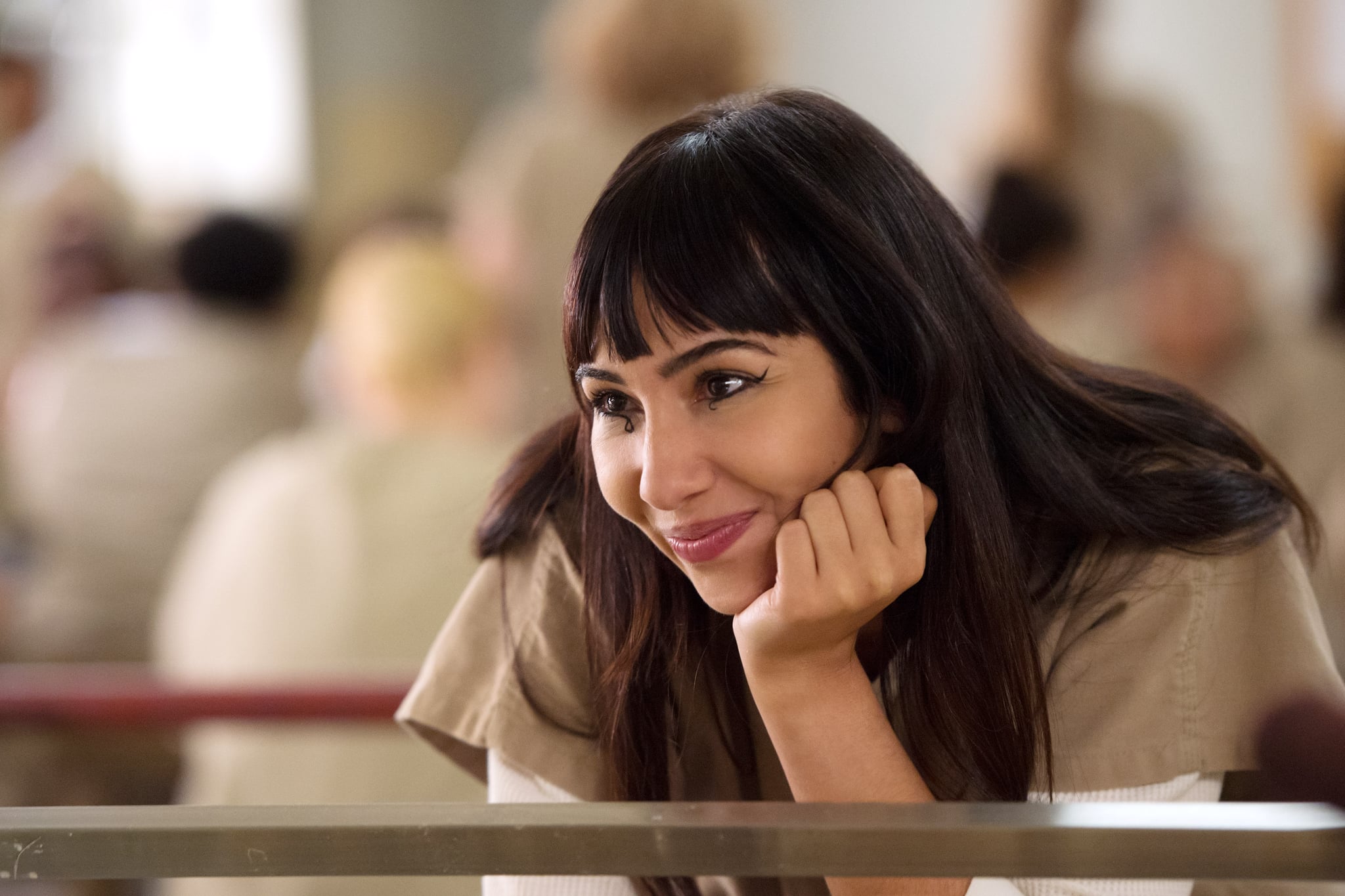 In the bleak, dimly lit world that is Litchfield Penitentiary, where getting shanked in the shower is about as likely a forecast as eating moldy baloney for lunch and the used-panty market not only exists but thrives, it's not at all staggering that inmates are constantly seeking new forms of escapism. For Marisol "Flaca" Gonzales in Netflix's Orange is the New Black, that often involves makeup.

For starters, the character's cat-eye skills are uncanny. ("What're you gonna wow them with," chef Gloria Mendoza once asked Flaca, "your eyeliner skills, or your smarts about how many words rhyme with 'bleak' in emo songs?") So we asked Jackie Cruz, the Dominican-American actress who plays her, to take a break from promoting the show's newly released sixth season and her single La Hora Loca to spill the exact liner she uses both on and off set, the fate of those "Flaritza" makeup tutorials, and why some women in Litchfield don't drink the Kool-Aid sold in commissary — they wear it on their lips.
How the OITNB Makeup Team Make Actresses Look "Terrible"
Part of OITNB's initial appeal was that its cast of inmates actually looked like they were in prison, unrealistic Hollywood glam need not apply. "[The show's makeup artists] definitely don't make us up at all," she said. " In this new season, my character is barely wearing any makeup. Maybe they'll cover up a pimple, but they love it when we look terrible. They want it to look authentic."
That's why this show is so important. It's not about beauty; it's about the talent. We got hired because we're good, not because of the way we look.
And if you didn't wake up looking rundown from a corrupt prison system? Cruz says the team adds a little makeup to ensure you do. "Sometimes they give you dark eye bags — just look at Laura Gomez's character [Blanca Flores]. She doesn't really look like that without makeup. They add that in. It's TV. If your character is bruised, they'll put some purple eye shadow on you to make it look real."
That tired look, after all, is how Cruz landed the job in the first place. "Before I got this role, I was working two jobs," she said. "I got no sleep, had bags under my eyes, and was so skinny because I didn't have money to eat much. I auditioned with no makeup on, which was really scary for me going in there raw like that. I thought, Hollywood is all about beauty. Even though the show is about prison, it's still TV. But that's why this show is so important. It's not about beauty; it's about the talent. We got hired because we're good, not because of the way we look."
The Brilliant Beauty Hacks Women in Prison Really Use
When Flaca and her BFF-behind-bars Maritza Ramos decided to film their own makeshift beauty tutorials, their premise was simple: explore the real-deal DIY tactics that incarcerated women employ IRL — most ingredients of which can be found in commissary. (Like the vlog that utilized kitchen spices, for example.)

"[Producers] showed us what women really do use in prison for makeup," Cruz said. "It was really cool and interesting to see how creative these women get. They use coffee beans for contour, burnt pencil ends for eyeliner, and Kool-Aid for lipstick, eye shadow, and blush. When we created the tutorials, we were really using those things on camera. It was real."
The 1 Product OITNB's Makeup Team Use on Inmates Every Season
The show's makeup artists must have picked up some inspiration from all those prison tattoos: "We've been using the Kat Von D Tattoo Liner ($20) since the beginning," said Cruz, adding that it's the one product she'll often use off set, too. "It's an ink tattoo liner that they use all the time. Now I have one in every color."
Why You Won't See Much Makeup in Season 6
No matter how big a hit Flaca's makeup tutorials with Ramos are, there is just more important sh*t happening in the upcoming season that inmates have to worry about. "Beauty is out the door at this point," Cruz said. "This season, my character barely wears any makeup at all. That's just not what this season is about. There are crazier things happening that we need to focus on — like how we're under maximum security right now. It's worse than ever before."
Image Sources:
Netflix
and Photo courtesy of Jackie Cruz