Joan Smalls Beauty Tips
Joan Smalls Reveals Her Secrets to Confidently Wearing Bold Lipstick
As POPSUGAR editors, we independently select and write about stuff we love and think you'll like too. If you buy a product we have recommended, we may receive affiliate commission, which in turn supports our work.
Estée Lauder has been the foundation of women's beauty arsenals for decades. Allure sat down with Joan Smalls and makeup artist Sir John to get the inside scoop.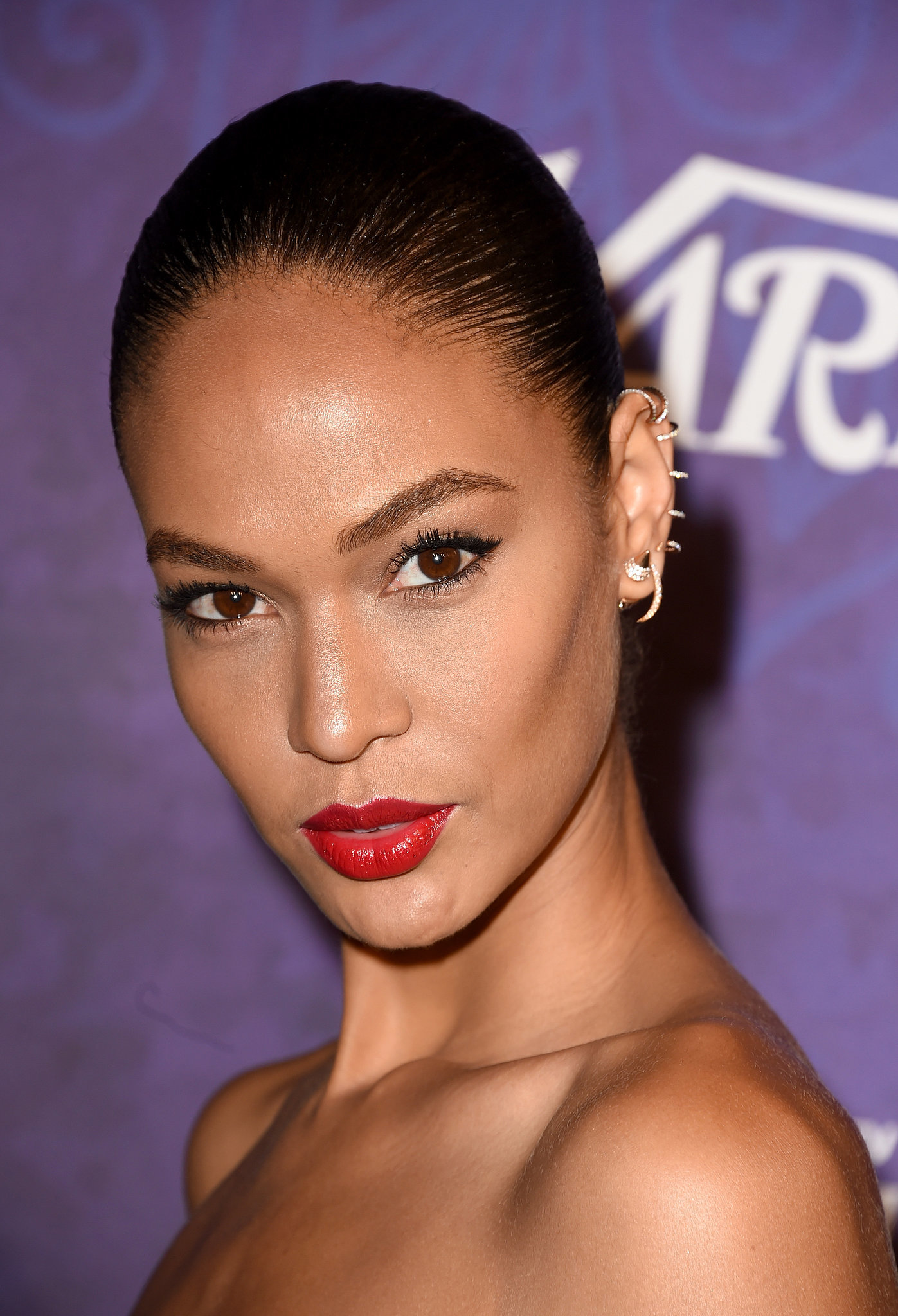 If you've visited Estée Lauder's revamped website recently, you've probably noticed the "Estée Edit." No, it's not a new makeup collection or skin care line; it's the brand's new blog, featuring makeup how-tos, recipes, horoscopes, and interviews with style icons, fashion influencers, and Lauder's long list of beautiful brand spokesmodels. Tomorrow on the Edit, model-of-the-moment Joan Smalls makes an appearance in a gorgeous photo shoot by street style blogger Garance Doré. In the article, the two talk about the day and nighttime eye looks created on Smalls by makeup artist Sir John, who used Lauder's new Pure Color Envy EyeShadow Palettes, which launch this fall. I got to sit down with Smalls (a major makeup junkie) and Sir John (a major makeup artist) to geek out over all things beauty.
Sir John, please tell me your secret to creating those gorgeous olive green smoky eyes on Joan.
SJ: "I started by lining her lower lashes and covering her lids with a deep-green eyeliner pencil. It creates a sticky base, giving the powder shadow something to grab on to so it stays in place longer. It doesn't have to match the shadow you're using exactly, but it should be in the same color family; I actually prefer to use a jewel-tone pencil so it gives the shadow more depth on top. Next, I brushed bronzer along the creases of the eyes and blended it beyond the brow bone. What this does is it brings back dimension and shape to the eyes. It also gives you a guideline for where to apply your eye shadow — don't go beyond the bronzer. I then used an olive-green shade form Estée Lauder's Fierce Safari eye shadow palette and applied it on her lids with a stiff, short brush, switching to a softer, fluffier brush to blend out the edges. Then I finished with mascara, of course."
What's another of your best smoky-eye tips?
SJ: "Always have a clean blending brush handy, and make sure it's soft and fluffy. It's like your Magic Eraser. When you're done applying your shadow, use it to neaten things up and fade the edges into nothingness. If you see any lines, you've failed."
What makeup look are you loving for evening these days?
SJ: "Skin! And not just on the face, skin head to toe. That's your best accessory. It doesn't matter if you're pale or dark; if you have radiant skin, you can wear less makeup — you can wear less in general. My favorite thing to do for evening makeup right now is illuminate and play up the skin, for sure."
What about you, Joan? What's your favorite evening makeup look right now?
JS: "You know, I always go with either an eye or a lip, and lately I've been rocking a lot of red lipstick. I like red lipstick because it can be worn in so many different ways. It can be either supermatte or superglossy; it can be precisely applied; or it can be softer, like it was painted on."
I once read that you're a huge makeup junkie. Has that always been the case?
JS: "Oh yeah, since I was a little kid. My sister is much older than me, so she started experimenting with makeup, and I would help her. On myself, I was fearless and a little too creative with my eye makeup. I would do a cat eye, but I would do it in three colors: pastel blue, purple, and pink. For me, makeup is fun and a form of self-expression. And sometimes it's like a meditation — if you have the patience. I know some people hate putting on makeup, but if I have the time to meticulously blend and buff, I actually like the alone time."
What was your first beauty product ever?
JS: "Probably liquid liner, haha."
And holy bold lipstick! You've been experimenting with a lot of different lipstick shades these days. Do you have a favorite?
JS: "I did a black lip at one point. I was wearing a really simple dress, and I felt kind of goth and I thought it would be fun to try black lipstick. I did my makeup myself that night, and it was one of my favorite looks."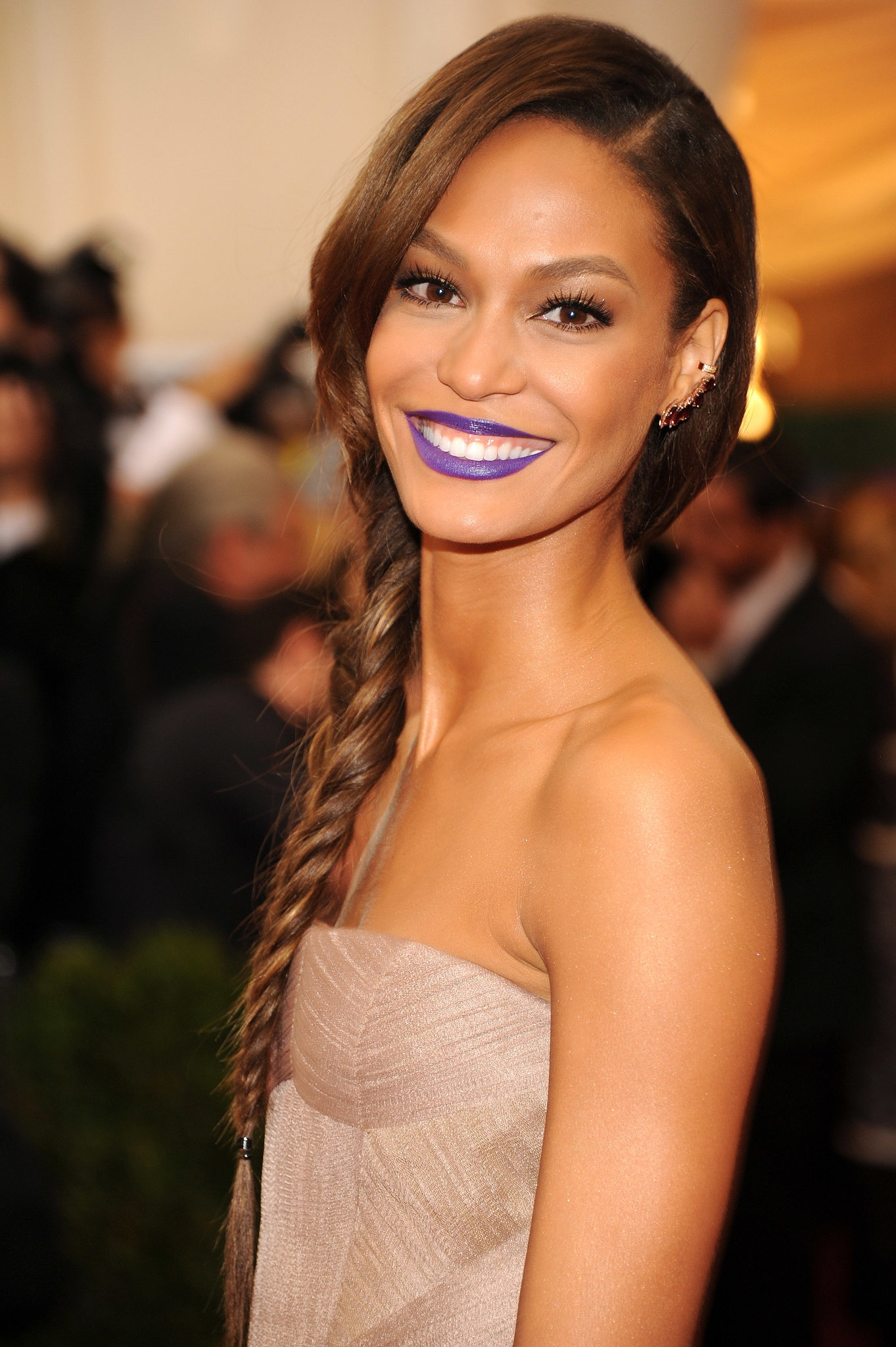 Do you have any tips for pulling off crazy makeup colors?
JS: "I always say if you're not feeling supercomfortable, try it out before you go out in public. Put it on at home, see how you feel, and take a picture. The picture is important — see how it looks in photographs, and then make your decision."
What about you, Sir John? Any tips for making crazy makeup shades look pretty?
SJ: "My advice is that if you have a bold color on your lips or on your eyes, the rest of your look should be very simple. Don't overdo it: tie your hair back; keep your skin looking fresh. Make everything clean, don't use too much color, and keep your bold color matte, not shiny or glossy. That's my personal taste. I think it just looks much more sophisticated that way."
Joan, you've been wearing your hair in a natural style to a lot of events lately. Any particular reason you're making the switch?
JS: "Well, it's been Summer, and when it's Summer, I love wearing my hair naturally. It's one of the few times of the year when I can wear my hair how I want, so it's nice to feel comfortable. Plus, I feel beautiful when I wear my hair naturally, and it reminds me of being home in Puerto Rico."
Do you have any special hair care tips?
JS: "Growing up, my mother had a different hair texture than I did, and she's going to hate me for this, but she was never that knowledgeable about my hair texture. She would comb it, of course, and treat it as much as she could, but she couldn't control the curls. So at a really young age, I had to learn how to take care of my hair. I always make sure to deep-condition my hair with a mask. But instead of leaving it in for five minutes, I leave it in the whole day. I comb it through my hair and put my hair in a bun. My other tip is to leave conditioner in your hair, then add a bit of gel so it holds the curl and you get the conditioning benefits."
If you had to pick, what's your favorite beauty product right now?
JS: "I use Estée Lauder's Re-Nutriv Ultimate Lift Age-Correcting Serum. It has a little glimmer to it — these little gold specks that are super, supertiny. So when I'm doing my day makeup, I'll drop a little of the serum in my palm and use my finger to apply it like a highlighter — underneath my brow bone, on top of my cheekbones. It's amazing. You should definitely get a bottle and try it out."
Now I can't end without asking: how was it working with Beyoncé?
JS: "That woman is incredible. She is so talented, but the one thing that blew my mind is how humble and kind she is. She is so dedicated and gives so much of herself, and I think that's something beautiful and really rare. Being in the business for so long, that's something to look up to. I was superexcited to work with her on the video — and it was one of my best-kept secrets ever."
More from Allure:
6 Beauty Looks From the VMAs We Love
The Stars That Stepped Up Their Beauty Game For Riccardo Tisci's Birthday
Stunning Beauty Moments from the Met Gala Estee Lauder Re-Nutriv Ultimate Lift Age-Correcting Serum, 1.0 oz.
Buy Now