POPSUGAR
/ sponsored by /
Sally Beauty
Learning to Love My Natural Hair
It All Started With a Prom Haircut — How I Learned to Love My Kinky, Curly, Frizzy Hair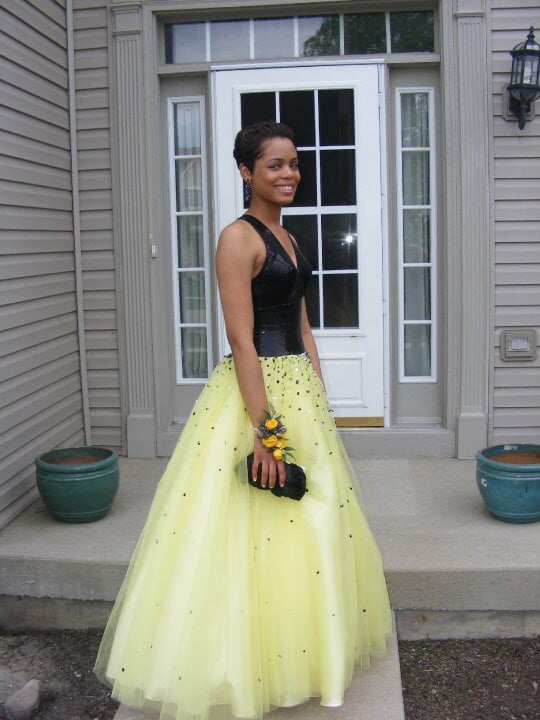 It was the day of senior prom. We got to leave school early so we could head to the barbershops, beauty salons, and makeup counters to prepare for the evening. We had to look perfect for the hundreds of photos we'd be taking throughout the night (that is not an exaggeration, by the way).
My mother and I had spent days online sending each other pics of possible hairstyles that would look right with my one-of-a-kind ballgown before we agreed on a fancy updo that would require me to wear extensions in my hair for the very first time. I was so anxious and excited to channel my inner Beyoncé and give the fiercest of hair flips with this new length, and it was finally time as I sat in the chair of my longtime stylist. She always rocked the cutest 'dos, so I had faith in her capabilities.
That day, she had a bomb short cut that was giving me Rihanna in the "Take a Bow" video vibes, and I was really digging it, so much so that I began to think of something I'd never thought of before: something totally against the grain for me (someone who, for the most part, played it pretty safe when it came to style). I thought to myself, "you know what would really WOW them at the dance? What if I just chopped it all off." I discussed this last-minute big idea with my mom noting, "It's just hair," and we agreed we wanted to move forward with it. After more than 10 years of relaxing my hair to get it as straight and smooth as possible, my stylist would be cutting off my neck-length hair to a tiny pixie that made me feel like Halle Berry in the '90s (definitely not the worst feeling you could have).
I am strong and beautiful and enduring, and my hair is the perfect representation of that.
In the moment, it didn't feel like some liberating experience. It was exciting, yes. But I didn't necessarily see it as some defining moment in my journey toward self. It was just something different. But that something different really made an impact on my road to self-discovery and realizing who I really am. After the cut, I grew out my relaxer to discover beautiful waves that would eventually transform into gorgeous spirals. At this point, I was attending an acclaimed university, taking many African American studies courses, and learning more about my lineage and, in turn, myself. It was almost as if as my self-discovery was blossoming, so, too, were the billowing curls growing from my head. As I watered myself and discovered more and more who I was, my hair grew stronger, healthier, and fiercer than ever before.
Throughout the process, I've tried many different colors, from blond to purple to red, and styles, including fro hawks, pineapples, poofs, and more, and have grown more confident and in love with myself as I've realized that while "it's just hair," it's my hair, and it's a representation of me. It's an expression of who I am, and it's art. There have been rough moments when detangling was a little too difficult and I couldn't get my curls as defined as I'd like that I considered chopping it all off. I've definitely compared my curls to others, thinking, "Why can't mine be that loose and shiny? I just wish it would grow more quickly. Why isn't it at my shoulders yet?" But that's all been a part of the journey. I am strong and beautiful and enduring, and my hair is the perfect representation of that.
I learned to love my natural hair on accident. There was no "aha!" moment for me. No conscious decision to "big chop." It sort of just happened. And I'm so happy that it did, because in growing out my natural hair, I've learned to love every kink, curl, and tangle . . . I've decided to embrace the frizz, realizing that no matter how short or long or flat or full it gets, it is beautiful because it's naturally me.
Image Source: Shannon Powell