Makeup Storage | Allure
How to Store Your Makeup Like a Kardashian
Do you keep up with the Kardashians? Allure shares where to get the enviable makeup storage the sisters can't live without.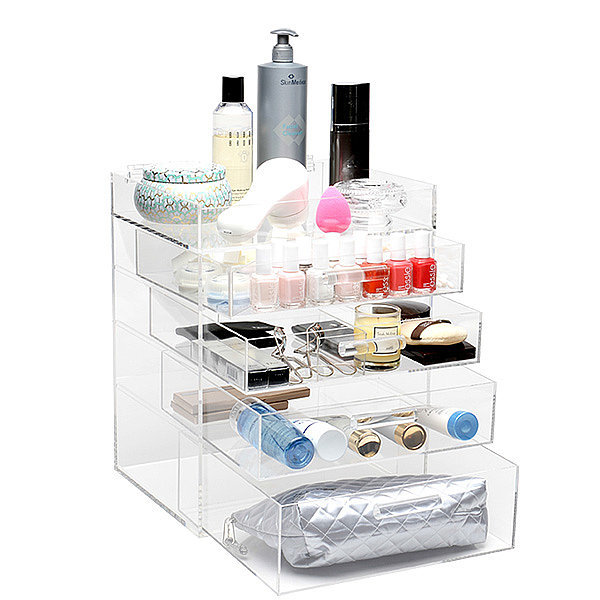 Gone are the days when a simple pouch was all you needed to organize your makeup. Beauty products are now proudly displayed atop vanities, desks, and dressers and in all kinds of bins, boxes, and dishes. (Don't take my word for it: you can watch thousands of "makeup collection" videos on YouTube if you need proof.) And if you've ever tuned in to an episode of Keeping Up With the Kardashians, then you're familiar with the glory that is the acrylic makeup drawer. The famous sisters each have a stack of clear drawers in their drool-worthy bathrooms. Even mama Kris has one in her black-and-white marble haven. Well, we've found a way for you (or at least your beauty products) to live like a Kardashian. (You're welcome.)
Behold the Glambox. These beauties are made from lucite acrylic, which means they look as pristine as glass but are much more durable. And they can hold so much makeup. Seriously, it's like some kind of storage voodoo — you can just keep packing in the products.
The Glambox isn't cheap, so if you're after the Kardashian look minus the Kardashian price tag, check out Muji's selection of acrylic cases. They come in a variety of shapes and sizes and still give you that sleek, organized look. Although they don't offer anything quite as massive as the Glambox, you can probably justify picking up a few.
Finally, for those of you who like a little color in your life, Poppin's organization trays are screaming your name. They come in a million (OK, 16) colors and a ton of different shapes and are stackable, like Legos. You're bound to find a shade to match any decor, and they're highly customizable, so they will fit any space.
More from Allure:
Kim Kardashian's Beauty Evolution
Kendall Jenner Rocks Sparkling Shadow on the Chanel Runway
Why Kendall Jenner's New Hairstyle Is Perfect