Olivia Wilde Beauty Tips 2013
Olivia Wilde Reveals the Secrets to Being a Beauty Babe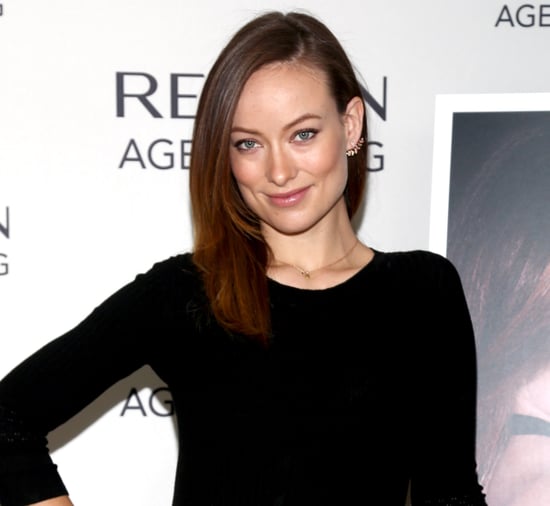 Not only is Olivia Wilde a totally hot A-lister in Hollywood, but she also has the easy-breezy personality to match. Sigh. When we met up with her this morning at the Soho Trump Hotel in NYC, she was poised and relaxed (and sporting the cutest baby bump) while she answered all our burning beauty questions about antiaging, wearing eyeliner like a pro, and being a MILF (seriously). The fiancée of Jason Sudeikis was there to help promote Revlon's newest Age Defying collection, which includes a foundation, concealer, wrinkle filler, and CC cream, all of which will be available at drugstores and Revlon.com.
Between laughing about Olivia's biggest beauty blunder (she once smeared lipstick all over her face during a premiere) and picking her brain about switching to eco products during pregnancy, we learned that Olivia really is one cool chick. Read on to see for yourself!
POPSUGAR: What's your favorite product in the new Age Defying collection?
Olivia Wilde: The CC cream is great because it's a product that does many things at once, which is always my favorite, because it [helps with] time management. I love something that's simple and effective. It's smoothing, moisturizing, and it has SPF, so you're good to go with that — which I think is always the goal.
PS: What's your approach to antiaging?
OW: I think as you get older, you just learn to take care of yourself more. I never rely fully on a product to make me magically look perfect. I think it's about sleep and water and taking care of yourself.
PS: How many hours of sleep do you get a night?
OW: In my dreams? I get like seven hours. I don't think that happens often.
PS: How much water do you drink?
OW: I try to keep water with me all day long. I feel like if I have it, then I'll drink it. But if I don't have it, then it's out of sight, out of mind — I'll forget. The goal is to drink a couple of liters a day. Sometimes I try to make it a little more interesting for myself by creating lemon water, but I'm not a perfect health guru. I just realize that if I'm going to age without stressing about it, then I just have to take steps throughout the day and night to help that out. Even if you do all that, you're still going to need something to put on your skin.
PS: So how have you changed your beauty routine since getting pregnant? Have you jumped on the eco-beauty train?
OW: I've always been interested in using products that are a little less harsh. I probably use fewer products now. I've discovered some great companies for things like deodorant. There's an amazing company out of Brooklyn called Soapwalla. I have been looking for 10 years for a natural deodorant, because I think it's crazy how much crap is in a regular deodorant. I've tried them all, and they never work. Soapwalla is a deodorant cream, and I swear to god, it works.
Really, I've just been being the best, healthy version of myself in whatever ways I can. It's funny that oftentimes, being pregnant is the first time we actually think about what we're eating, drinking, and putting on our skin. It's the first time we actually really stop and think, "Is this good or bad?" Which, of course, we should be doing our whole lives. But suddenly, when it's not about us and it's about a little person, we're way more conscientious. I've been learning a lot!
PS: Do you want to be a MILF?
OW: [Laughs] Who doesn't?! My mom is.
PS: Really? So is she your beauty icon?
OW: I mean, I feel weird saying my mom's a MILF, but I'll say she's a fox. She's really a very beautiful woman who has always has taken really good care of herself. She's a great source of inspiration for my sister and I.
PS: What's the best beauty advice she's given you?
OW: From a young age, she was like, "Make sure you moisturize!" She grew up in California, baking in the sun, so she would always say, "Do not sunbathe!" But, of course, you sunbathe, because you're young and you're like, "I want to be golden brown." But once I realized that it was not possible in my gene pool to be golden brown, I stopped trying.
PS: You have an olive complexion.
OW: Thanks . . . I think that's just the LA driving arm [laughs]. I have one slightly more tan arm from driving.
PS: Do you have a favorite moisturizer?
OW: I really like the Dr. Hauschka Rose Day Cream ($43) for Winter, especially for days like this. Actually, Gucci Westman is the one that turned me on to it from working with Revlon. No matter how great your makeup is, if you don't prep well, your skin isn't going to be as healthy or as glow-y as it could be.
PS: So you're one of the hot girls in Hollywood. We want to know the beauty secrets of being the woman of men's dreams.
OW: When you get older, you start to learn what really works for you. So, some girls are really good with lipstick. All they need to wear is lipstick, and they're good to go for the whole night. I love lipstick. I wish I could be that girl, but it always ends up in my teeth, on my face. I was at a premiere recently in Toronto where I wore this bright fuchsia Revlon lipstick, and because I was so nervous during the film, I was sitting with my face smashed against my palm. Then I put my palm on my forehead and then on my cheek, and after the film got let out — thank god my makeup artist was one of my dates — but she was like, "What is on your face!?" I literally had makeup on my neck, my forehead, and just everywhere. So that's why I can't really be that cool, chic girl who just smears on lipstick. I like eyeliner. I think that's my jam.
PS: Do you have a technique to doing your eyeliner?
OW: I feel like you go all the way around. I do sometimes. But sometimes I just do the top, a little cat eye or a little wing on the corner. During the daytime, I will do a little mascara and a thin line on top with a little wing on the corner.