Pit Liquor Whiskey Deodorant
Whiskey-Scented Deodorant Exists, and It Might Just Cure Stinky Pits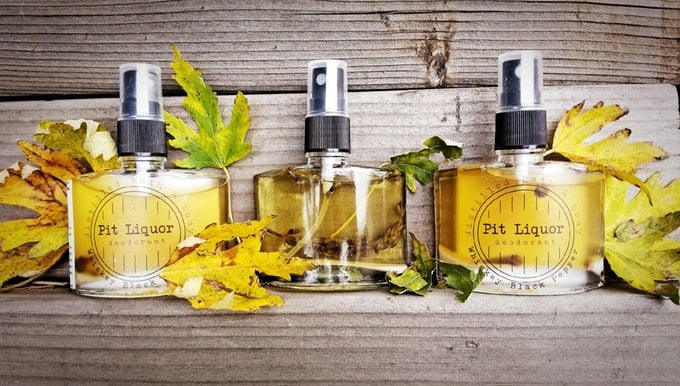 As a sweaty lady, I often commiserate with other musky women on how the heck to make our pits smell less. A common cliche in such circles is the complaint of having "tried everything" to minimal results. But maybe you haven't tried it all. For instance, have you ever rubbed whiskey on your pits? One couple in (where else?) Colorado are trying to get women to start rubbing the alcohol-based Pit Liquor under their arms. According to founders Erica and Jason Feucht, it actually works.
The Feuchts have taken to Kickstarter to ask all of us to back what they call an "organic, crazy-effective deodorant made from whiskey, vodka, and other entirely edible, entirely body-friendly ingredients."
While this spray deodorant may be made up of edible components, as a spoiler, it will not get you drunk. Much like hand sanitizer (which also has an alcohol base), Pit Liquor supposedly "kills bacteria and keeps your pits natural," which leads to less underarm odor in the long term.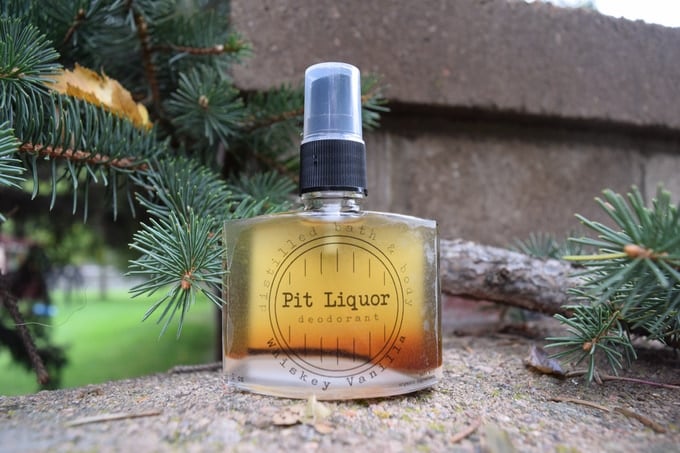 This boozy antiperspirant comes in three fragrances: Whiskey Lavender, Whiskey Vanilla, and Whiskey Black Pepper. But it won't make you reek of a college party. The Feuchts claim that rigorous testing went into this product. Testers said that the spray smells strong after the first spritz, but quickly becomes undetectable. According to the Kickstarter, "No one complained about the smell."
And although it's made from actual booze, Pit Liquor has a pretty unlikely backstory. As Erica put it, "We formulated this deodorant while I was pregnant and we could no longer stand the toxic slurry of regular deodorant or the inaction of many natural deodorants . . . In a moment of desperation, I threw some hand sanitizer on my pits, and viola! An idea was born."
According to the Kickstarter campaign, you can douse your pits in whiskey come February. A 3.4-ounce spray bottle (meant to last three months) will cost $12, but you can get one for $11 should you decide to donate that amount to the startup. Bottoms up!