Too Faced Clover Palette
The Too Faced Puppy-Themed Clover Palette Is Here, and Damn Is It Cute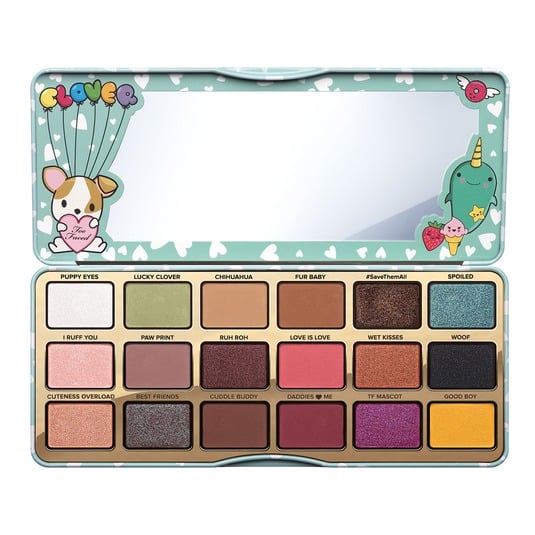 Too Faced cofounder and flying unicorn Jerrod Blandino may be hot off the heels of opening a much-hyped NYC pop-up shop, teasing Mermaid Tears Lipstick, and creating a scandalously named glitter face mask, but apparently he's still found time in his day to quietly launch another eye shadow palette. If you need a little pick-me-up, you're about to get it, because Too Faced has finally dropped its year-in-the-making Clover Palette.
If you recall, back in December 2016, Jerrod announced that he would be releasing a pack of powders named after his beloved chihuahua, Clover. And as of Oct. 20, the bundle has officially hit Too Faced's website.
Here's what you need to know about this puppy: It's limited edition, contains 18 pans, and features a mix of matte and shimmer shades. Since this is a Too Faced release, of course everything looks bright and festive.
While we wouldn't necessarily call this a holiday-themed release — the colors are mostly pink and what we traditionally associate with Winter — the eye-catching shades definitely came to slay party season. We love "Spoiled," a faded mermaid blue; "TF Mascot," a metallic fuchsia; and "Ruh Roh," a shimmering chocolate-brown.
Plus, the tin container is adorned with an assortment of friendly critters such as the star of the show himself, Clover, a smiling narwhal, cuddly bunny, cute black cat, and a friendly anthropomorphic toast (because why not!?).
While we would love to just straight-up be Clover (who can be seen on Instagram spending his dog days lying out on cabanas — ruff life!), merely owning this palette would be good enough for us. You can snatch up your own Clover Eye Shadow Palette ($49) on Too Faced's website while supplies last. Go, fetch!