Urban Decay Perversion Mascara Review
Think Your Mascara Can't Amp Up Your Sex Appeal? Think Again!
As POPSUGAR editors, we independently select and write about stuff we love and think you'll like too. POPSUGAR has affiliate and advertising partnerships so we get revenue from sharing this content and from your purchase.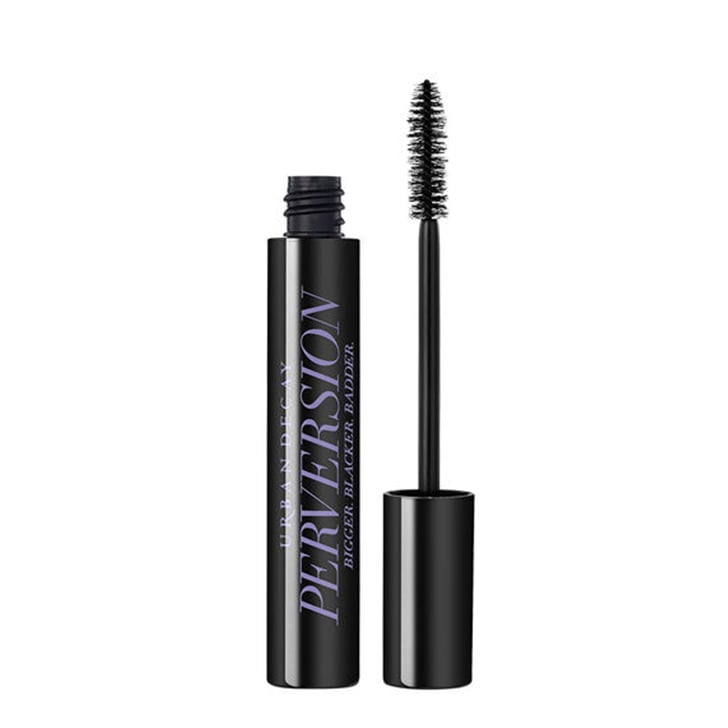 It's fair to say that, a few weeks ago, all hell had broken loose in the beauty world. With previews of Urban Decay's Perversion mascara ($22) making the rounds, editors and reporters alike were clamoring to get their hands on this piece of beauty gold. And now it's available to everyone!
I attended the party for Perversion last week in LA, ahead of its launch on Thursday, eager to give this self-proclaimed naughty mascara a go. Anyone who knows me knows that mascara is my desert island item. I have three tubes in my purse as we speak. (It's my prerogative!) I have fairly long lashes, but I need mascara to thicken them up and make them stand out. So when a product suggests that it "glides on and gets you sexy in one stroke. Yet it won't quit until you say when," I figure it's worth experimenting with.
The mascara states that it'll leave you clump-free, whether you just applied two coats before work or you're reapplying after a long day. So I applied two coats before heading to the studio.
First impressions
It passed my personal mascara test: each lash was individually coated, they look fluffy and soft, and the wand isn't too fat. I am a believer that the wand is more important than the mascara itself, but I have to give it to Urban Decay — this formula changed my mind. It's creamy and hydrating, but it doesn't weigh my lashes down. When a mascara is too wet, it can clump up several lashes at a time, giving you that spidery look. No bueno. And if it's too dry, it will flake in just a few minutes. I haven't experienced either issue with this one.
Back to the wand, though: the tube is rather large, so you expect the wand to be the same. I detest fat wands (seriously, this isn't a pun) because they don't reach all the fine details of my lash line, like the inner and outer corners and my bottom lashes. This wand is slim but still has the fiber bristles that coat each and every lash. Just what I look for in a mascara!
Second go-around
So here I am at 4 p.m. when I reapplied:

(I clearly got our director of photography to help me out this time!)
I'm the hardest person to please with mascara, because I like my lashes to look good enough to elicit comments. And you know what? If that's a crime, lock me up. But guess what else? IT WORKED! Two of my co-workers asked me if I starting using Latisse, one asked if I had on falsies, and when I posted a photo on Instagram, I was asked if I had extensions. And that was after my initial application in the morning. In the afternoon, when I went to freshen up, I was preparing to go into the restroom and remove all my eye makeup because I knew the extra coats would clump up my lashes in an instant. But it didn't. Truly. It was remarkable, actually.
The verdict
Will I be seeing this mascara again? Will I swipe right? Will I give this mascara a rose? Yes, yes I will. It definitely has me crushing hard, and I will be seeing it again.
Mascara tip: if you notice your lashes don't look fluttery or full, it's because you have moisture on your lashes, either from a day cream or your foundation application.