American Idol's Makeup Artist Gave Us an Inside Look at the Beauty Moments Backstage
As POPSUGAR editors, we independently select and write about stuff we love and think you'll like too. If you buy a product we have recommended, we may receive affiliate commission, which in turn supports our work.
The singers on American Idol always sound amazing, which we know is a product of pure talent plus coaching from the A-lister judges, but it's hard not to notice how great they always look, too. From the hair and the makeup down to the manicures — there's never a thing out of place.
Every week, as the contestants take to the stage to perform a new song, they debut a new look to match, and it's all thanks to the show's glam teams. They're responsible for getting them camera-ready. "We have a department head meeting where we all are looking at the staging, the lighting, what they're going to be singing, ideas for their wardrobe, and that sort of a thing," Tonia Green, makeup department head for the show, told POPSUGAR. "So, we can see the whole concept come together and [think about] what's going to work with it on our end to be able to make it a whole package."
With 18 seasons wrapped, and the 19th concluding on May 23, Green has completed countless star-worthy makeovers and is sharing all of American Idol's best-kept backstage beauty secrets ahead.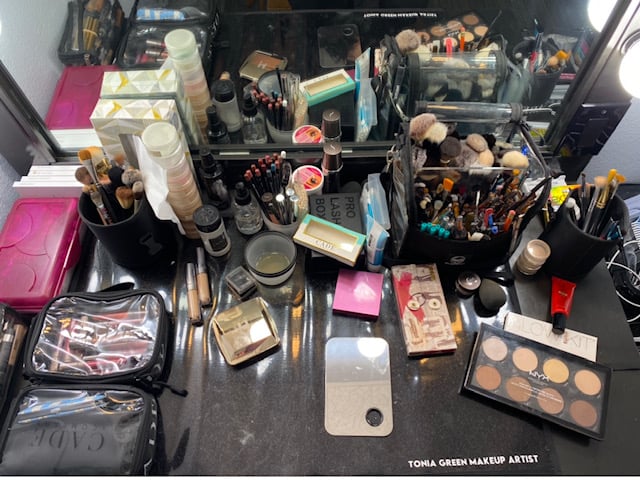 The Most Popular Makeup Products Used on American Idol
Like any makeup artist, Green has her go-to products that live in her kit. The first necessity: foundation, specifically the RCMA Vincent Kehoe Foundation Palette ($72). "That's a great standard foundation that always reads well. It comes in a palette where there's a big selection, [which allows you] to scoop them out, mix them up, and custom-blend their color," she said. For concealer, she loves Tarte Shape Tape Concealer ($27) and Veil Cosmetics Complexion Fix Oil-Free Concealer ($40).
"I also love Hourglass," said Green. "It has the Ambient Lighting Palette ($64), which has just enough shimmer to create a glow, but without it coming out really glittery and almost sweaty-looking." Something that is very important on stage.
The multitasking hero that she recently discovered is the Danessa Myricks Colorfix 24-Hour Cream Color ($18). She explained it's "so pigmented" and can be used on the cheeks, eyes, and lips. "We need products that have staying power because we're not able to touch the singers up," said Green. "And they're in and out of their masks."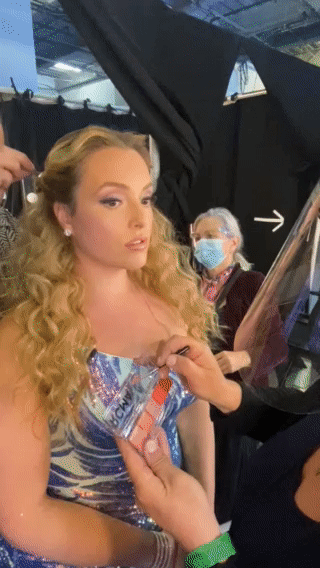 The Secret to Getting Flawless-Looking Skin on Camera
Flawless-looking skin is always a challenge to achieve (partly because, frankly, it doesn't exist), but add high-definition cameras and close-up angles, and it becomes nearly impossible. The key isn't to use full-coverage products all over the face but instead apply lots of layers strategically.
"It's [about] building and putting things where they need to be," said Green. "I do a base and smooth things out, and then if I want to build my contour, I'll build where it needs to be. I always want to see a little bit of their skin coming through."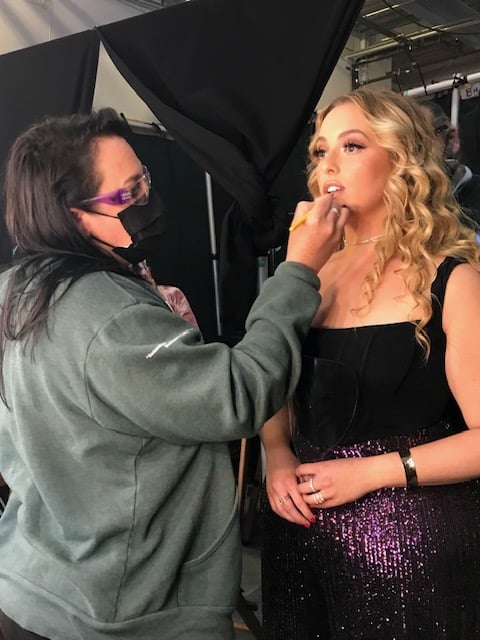 The Lip Stain That Stays Put With Face Masks
Similar to our own personal makeup routines, stain lipsticks have been replaced with long-wearing, budge-proof formulas to keep the color from transferring to the inside of a face mask. Her favorite: the Lime Crime Velvetines Liquid Lipstick ($12), which goes "on like a lipstick and sets like a stain."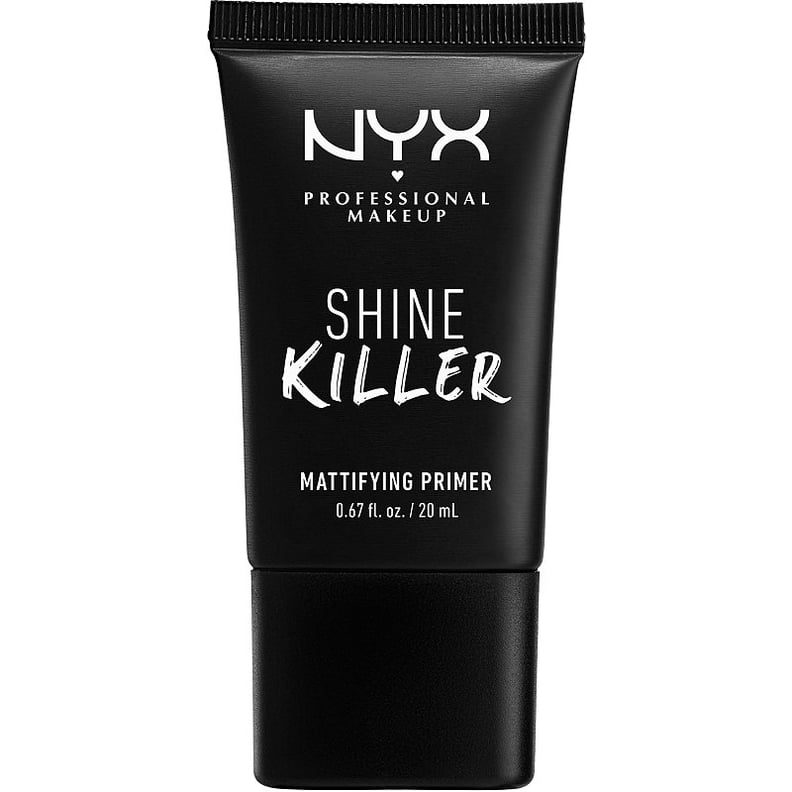 The One Makeup Product That Keeps Shine Away
If you thought it was easy to get shiny on a normal day, imagine being up on stage under hot lights while singing your heart out — and yet, the contestants' makeup never actually looks it. The secret: NYX Professional Makeup Shine Killer Charcoal Infused Mattifying Primer ($14). "That's been a lifesaver lately," said Green. "It cuts down the amount of touch-ups you have to do."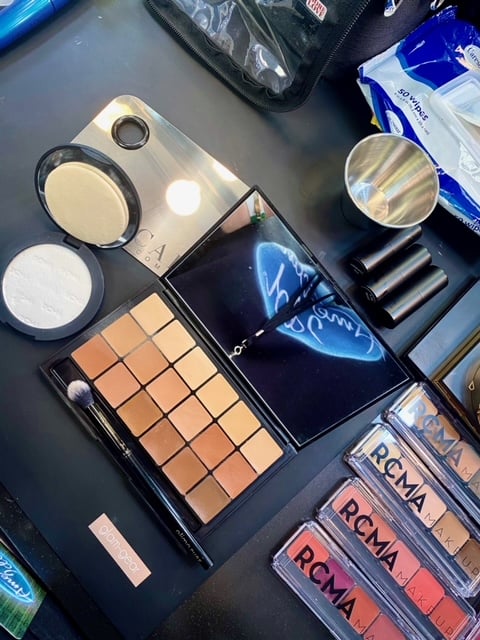 The Products Used on the Men of American Idol
The biggest struggle Green faces daily is making the singers' faces look smooth without the makeup being visible to the viewer. That goes for judge Lionel Richie, too, whose makeup Green is responsible for. "You know, everybody's got discoloration in their skin, and we want them to look polished," she said. Instead of covering up the men, she likes to say she "corrects."
She relies on the Shine Killer to keep their skin matte and the RCMA palette combined with the KohGenDo Manifanshi Aqua Foundation ($77). "It reads like skin and just melts away and diffuses."
The Beauty Treatments That Make Artists Hate on American Idol
"Spray tan Sundays" may be a thing for contestants on Dancing With the Stars, but on American Idol, they'd prefer to go without. Green actually calls them her "worst enemy" for a few reasons. "Even though a bronzed body is amazing, the process of having to maintain it is not," she said. She cites the color changing as it wears, hands and face never staying as tan as the body, and unpredictable fading patterns as her main pain-points. "I would prefer to put body makeup on them," Green said. MAC Studio Radiance Face and Body Foundation ($33) is her go-to.
Also on that list of beauty treatments the American Idol makeup artists hate is lash extensions. "Number one, the maintenance; number two, they hold us back from being able to switch up the looks," said Green. "If you're dealing with the lash extensions, you're kind of married to what's there." Green uses something else instead — you want the eyes to pop, after all — and that something is fake lashes, like the Cammy Nguyen 3D-2 Strip Lash ($15).