Ariana Grande Had to Keep R.E.M. Beauty a Secret For 2 Years: "It Was So Hard"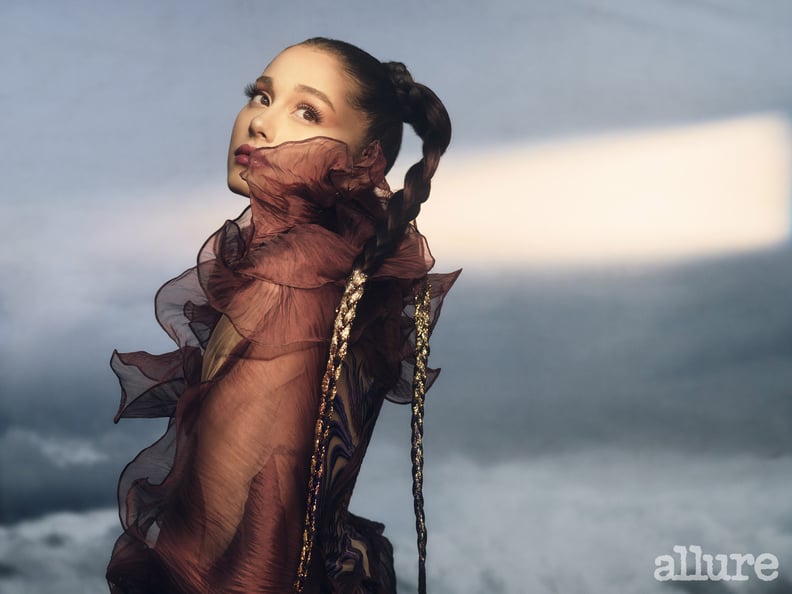 Allure | Zoey Grossman
Allure | Zoey Grossman
Update: Ariana Grande is slowly revealing more details about her new beauty brand, r.e.m. Beauty. After weeks of internet sleuthing that resulted in the digging up of a trademark and an empty Instagram page, the Positions singer finally confirmed our suspicions about what she's launching via Instagram on Sept. 9 — but little did we know that the brand itself has been two years in the making and she's testing out the initial products right before our eyes.
"Coveting the secret for the past two years and having testers and samplers in my purse, and people asking me, 'Oh, I love your highlight, what are you wearing?' And me being like, 'I don't know', sweating," Grande told Allure in a new cover interview. "It was so hard to keep a secret for this long."
R.e.m. Beauty is still in its formative stages, and the singer has used her village of backup dancers, close friends, and family members to help her test out the products. When the brand does officially launch, the products will come out in stages beginning with the eyes and drawing inspiration from '50s, '60s, and '70s glamour.
"I've always pictured myself in a different time period," she said. "I've always wanted to wear that makeup, wear that hair, wear those outfits, be those performers."
As for joining the ranks of successful celebrity beauty brand owners like Rihanna, Kylie Jenner, and Jennifer Lopez, Grande isn't worried about the space becoming oversaturated because "you can never have enough makeup, just like you can never have enough music."
"I wear my peers' makeup as well, just like I listen to their music," she said. "I'm not going to say, 'Oh, there's too many female artists.' I love and I'm [a] huge fan of my peers that do both, and I think that it's just another way to tell stories."
Original post: If you're an Ariana Grande stan, you should probably start making some room on your vanity, because the singer is gearing up to launch a beauty brand soon. The Positions singer raised more than a few eyebrows over the last week when — following some award-worthy sleuthing — fans discovered a new Instagram account called r.e.m. Beauty that included a link to a website of the same name. The Instagram page isn't following anyone and currently has no posts, but as of right now, it has nearly 68,000 followers. Similarly, the website features nothing but an email signup box opposite the brand's logo.
According to E! News, billboards of the r.e.m. Beauty logo have been displayed in New York City's Times Square recently, and Grande's close friend shared a photo of one with an eye emoji sticker to his Instagram Story earlier this week. It also appears she has trademarked the name and design, listing concealers, eyeshadows, lip products, hair extensions, and more as a few of the star products.
"R.E.M." is the name of one of the singles featured on Grande's 2018 album (and arguably one of her best projects to date), Sweetener. It's also the name of one of her wildly successful fragrances — all of which are named after some of her most popular singles — which is currently available at Ulta and Target.
This wouldn't be the first time fans have speculated that Grande is launching beauty products outside of the fragrances she already sells. Back in 2019, the singer's company GrandAri, Inc. filed a trademark for "Thank U, Next" for fragrances, body lotions, bath gels, shower gels, body scrubs, body powders, body soufflés, and body mists.
The singer, of course, has yet to confirm herself that she's delving deeper into the world of beauty, but the evidence that's come out so far is hard to ignore. We're hoping it'll only be a matter of time before she clears things up so we can be first in line to shop those hair extensions.