See Ashley Benson's Dainty Tattoo Collection
Ashley Benson may have over 25 tattoos, but they're pretty easy to miss if you don't know where to look. She's been growing her collection of tiny ink for years, sometimes getting more than one design in the same sitting. Most of her body art is by tattoo artist JonBoy, who she visits regularly in New York City.
Almost all of Benson's tattoos have a special meaning. She has ink to honor the people she's closest with, like her grandmother, friend's daughter, and long-time bestie — not to mention two tattoos for her ex-girlfriend Cara Delevingne. She's also not one to shy away from getting matching tattoos with her friends. Back in 2016, all "liars" from "Pretty Little Liars" got the first initial of their character's name on their index finger — otherwise known as their "shh" finger — after filming the final episode.
Most of Benson's tattoos are located on her arms and rib cage, but she also has a hidden smiley face and heart on her middle finger and a "13" on her hip that's rarely photographed. Keep reading to see Benson's delicate tattoos and learn their meanings.
01
Ashley Benson's Silhouette and "Cold Love" Tattoos
In December 2022, Benson visited tattoo artist Daniel Winter for a new fine-line design of a woman's silhouette on her upper arm. "A SILHOUETTE. Great idea for a rainy day tattoo!" reads Winter's caption in part. The new ink sits above Benson's milkshake tattoo.
Below the silhouette design is another tattoo in capital letters that reads "COLD LOVE." It's unclear exactly when she got the design or what it means.
02
Ashley Benson's Cowboy Boot Tattoo
On Aug. 15, 2022, Benson added a tiny cowboy boot tattoo with a hat sitting on top of it to her collection. She got the ink in memory of friend Heath Freeman, an actor who died in November 2021 from an overdose. "You're always with us @heathmonster," her caption read in part. "@remi.franklin love you," Benson added, in reference to Remington Franklin, who got a matching design.
03
Ashley Benson's "California" Tattoo
In February 2020, Benson got "California" tattooed on her mid-back by New York City-based tattoo artist JonBoy. She got the matching ink with her close friend as a nod to her hometown.
04
Ashley Benson's "Pommes Frites" Tattoo
The same day in February 2020 she got her "California" tattoo, Benson also got "pommes frites" tattooed on her inner arm to show her love for french fries.
The former "Pretty Little Liars" star got the matching tattoo with a close friend, because all great friendships blossom over french fries, right? It's a pretty unique way to express your love of your favorite food, but considering that a french fry is always dependable, we definitely understand her decision.
05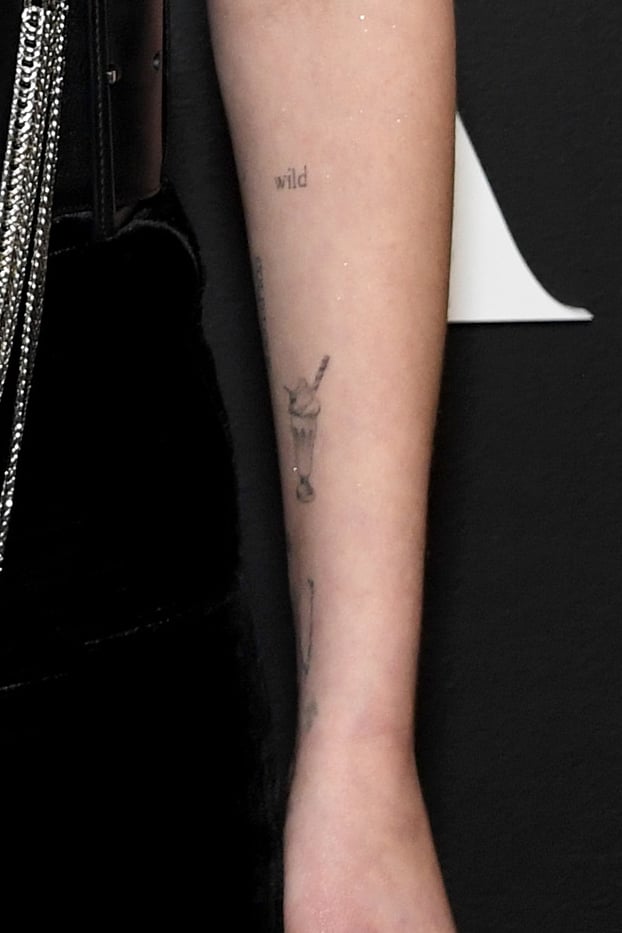 Ashley Benson's Milkshake Tattoo
To add to her collection of food-themed ink, Benson got a tattoo of a milkshake on her arm in August 2020 by California-based tattoo artist Nene. The tattoo sits on the inside of Benson's arm and shows a milkshake in a classic soda glass with whipped cream and a cherry on top. Benson shared a photo of the design on her Instagram Story, and while she didn't detail what exactly inspired it, we'll say her love of food and desserts is probably inspiration enough.
06
Ashley Benson's "Squish" Tattoo
07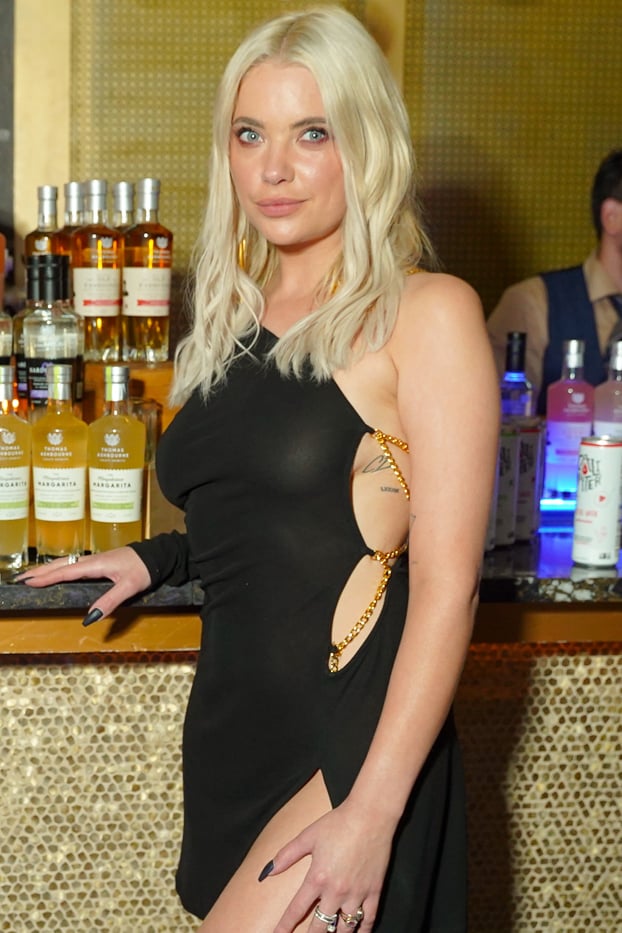 Ashley Benson's CD Tattoo
Benson has a tattoo on her left side that reads "CD" and is rumored to be the initials of Cara Delevingne. Delevingne has similar ink on her side of an "A."
08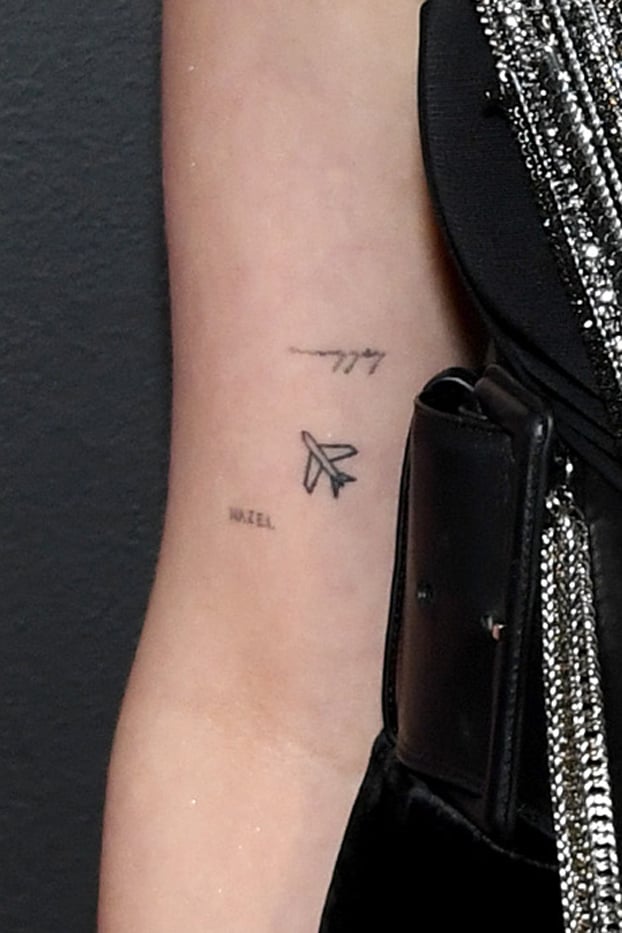 Ashley Benson's Airplane Tattoo
Benson has an airplane tattoo above her right elbow. The black-ink design is a few years old and may be a nod to her love of traveling.
09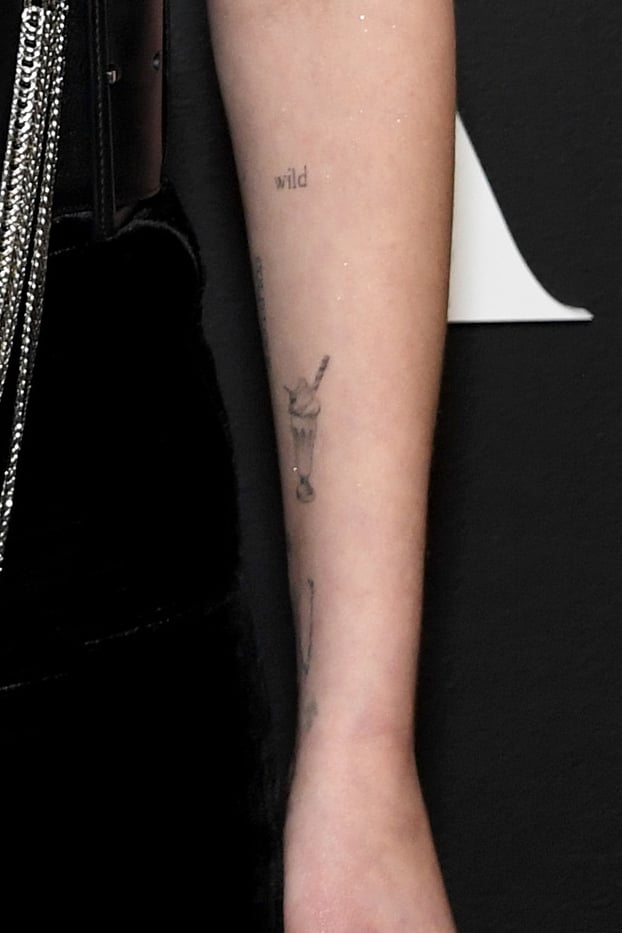 Ashley Benson's "Wild" Tattoo
Benson has the word "wild" tattooed in delicate letters on her left forearm.
10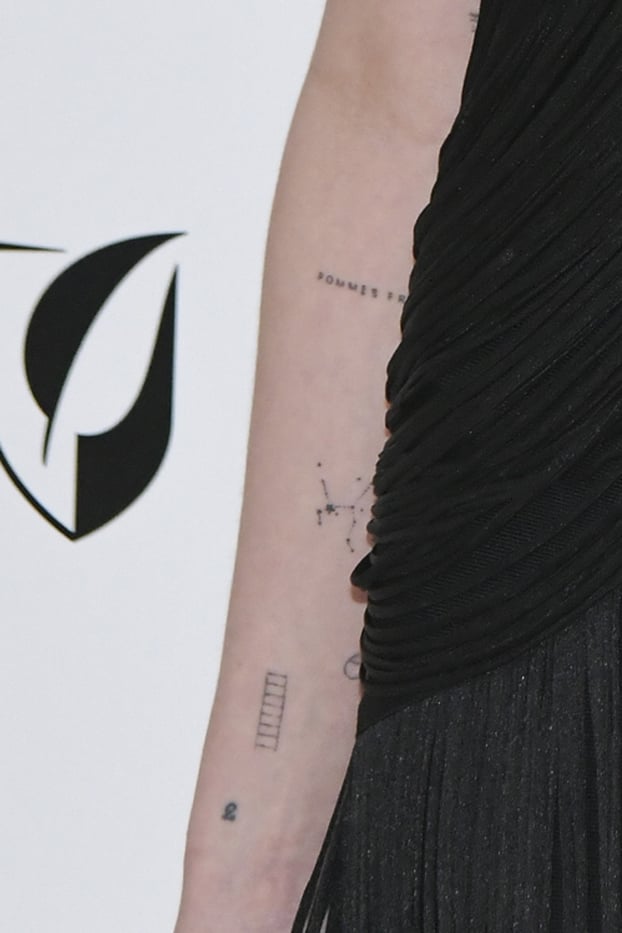 Ashley Benson's Constellation Tattoo
On her right arm, located below her french fry tattoo, Benson has a constellation design. It's unclear exactly what the ink means, but the beautiful artwork is done in black ink, like the rest of her tattoos.
11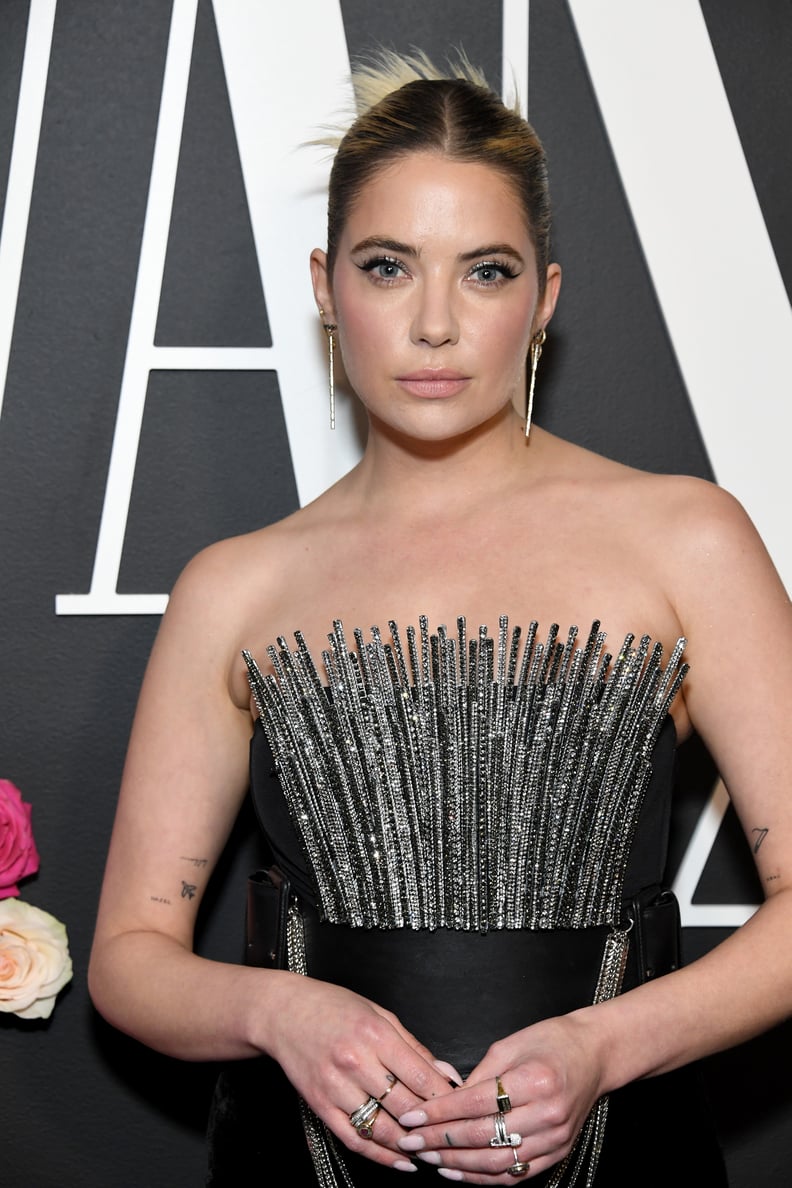 Ashley Benson's Finger Tattoo
Benson has an assortment of finger tattoos on both her left and right hands. She's gotten the designs gradually over the years.
12
Ashley Benson's Cigarette and Arm Tattoos
In 2021, Benson shared a closer look at her right arm tattoos, including a tiny lit cigarette, which hasn't been seen before. Other designs on that arm include a couple of words that are hard to read.
13
Ashley Benson's "Muggsy" Tattoo
Benson has the word "muggsy" tattooed on her right arm in cursive. She got it in 2017 by JonBoy.
14
Ashley Benson's Heart Tattoo
Benson has the outline of a heart with the cursive initials "ny" tattooed in the middle of it on her right forearm, which is rumored to be a nod to New York City, where she has an apartment.
15
Ashley Benson's "Grammy" Tattoo
In 2018, Benson got the word "Grammy" tattooed on her wrist by JonBoy in honor of her grandmother.
16
Ashley Benson's Star Tattoo
During that same visit to JonBoy in 2017, Benson also got a tiny outlined star tattoo on her left arm.
17
Ashley Benson's Anchor Tattoo
If you look closely at Benson's wrist near her "Grammy" and star tattoo, she also has a faint anchor.
18
Ashley Benson's LXXXIX Tattoo
Benson's roman numeral tattoo LXXXIX on her left rib forms the number 89, which is said to represent the year she was born, 1989.
19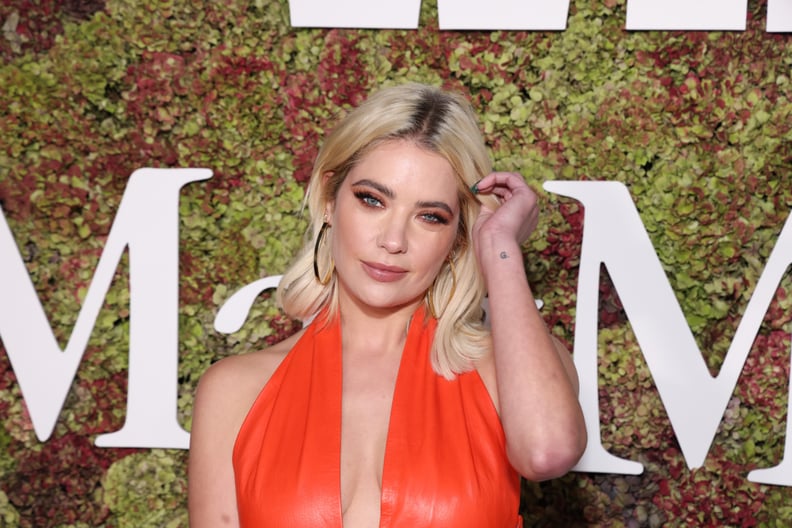 Ashley Benson's "G." Tattoo
The "G." tattooed on Benson's left wrist is in honor of her friend's daughter Georgia Veach who suffers from a rare brain disorder.
20
Ashley Benson's "3" Tattoo
A small number "3" is tattooed on Benson's inner right wrist, which dates back to at least 2017. She has not shared the meaning behind this ink.
21
Ashley Benson's "H." Tattoo
All six of the stars from "Pretty Little Liars" got matching tattoos after filming the final episode in 2016. Benson got the letter "H." for her character Hanna Harin.
22
Ashley Benson's "We're All Mad Here" Tattoo
The writing on Benson's right side reads "We're all mad here" from her favorite book, "Alice In Wonderland."
23
Ashley Benson's Cross Tattoo
Benson has a tiny cross tattoo on her right wrist that dates back to around 2014. It represents her faith.