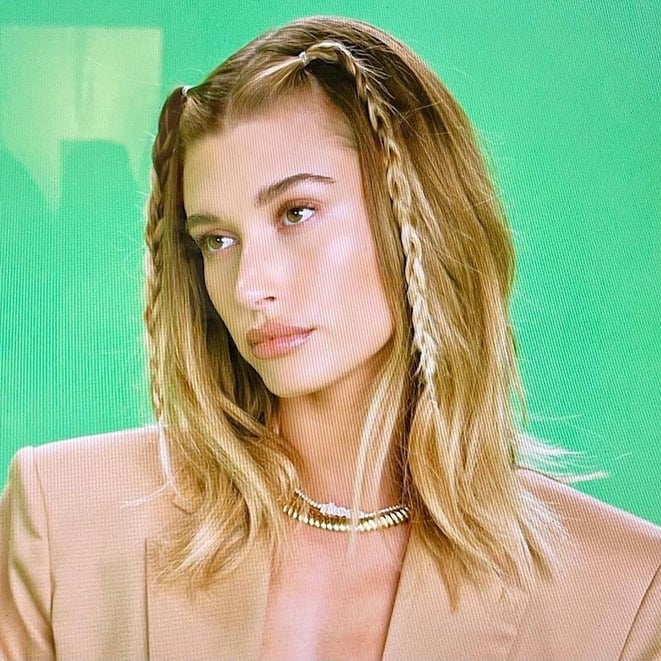 Face-framing "baby braids" are the answer to all of your quick, at-home hairstyle needs. Just take a cue from celebrities like Hailey Bieber, Madison Bailey, Charli D'Amelio, and Bella Hadid. If their recent Instagrams are any indication, the fun, flirty, and easy-to-re-create hairstyle is going to be a huge trend in 2022.
"I love baby braids framing the face," celebrity hairstylist Laura Polko told POPSUGAR. "Some of my clients like Hailey Bieber have been requesting this look." It's hard to scroll through Instagram or TikTok without seeing '90s-inspired styles like pigtails, claw clips, and these face-framing pieces of hair. Even though baby braids have an element of nostalgia already, adding accessories like butterfly clips, bright-colored elastics, and snap clips only increases that vibe.
To create the look at home, simply grab two small sections of hair from the front of your head and braid the pieces into two identical, tight braids. Then, secure the ends with clear elastics for a minimal look or reach for something with a bit more color to dress it up. "Colored elastics are a great way to add some dimension with pops of color to your hair look and can be done in an easy couple of minutes," Polko said. Nate Rosenkranz, New York City-based celebrity hairstylist, said, "Butterfly and mini claw clips are back in a big way. These little clips pack a big punch."
Keep scrolling for more baby-braid hairstyle inspiration.