Why Balayage Is Perfect For Bob Haircuts, According to a Top Colorist
Just because you have a bob or a lob, doesn't mean you can't get in on the balayage game. Balayage got its name from the French word for "sweeping," since with this hair color technique, dye is strategically hand-painted by the colorist, "giving softer, less noticeable re-growth lines, unlike traditional foil highlights that can typically be uniform and stripy," said Jack Howard, balayage expert and educator at Paul Edmonds salon in London.
Balayage has long been associated with long, beachy hair, but "balayage is for all hair lengths, textures, and colors — not just for blondes or long hair," explains Howard. In fact, the balayage technique is ideal for people with a bob due to its ability to frame the face and add dimension to the haircut. It's also an incredibly low-maintenance way to color the hair, and who doesn't want that? Ahead, Howard breaks down exactly why balayage is a great option for those with a shorter haircut.
For short hairstyles, often lighter pieces of balayage is applied as it complements the cut rather than competes with it.
How Does Balayage Application Differ For Bobs?
"For bobs — which are just so on trend — the placement of your balayage will be dictated by your cut. Typically, with longer hair, balayage is applied through the mid-lengths and ends of the hair, which means slightly different rules apply when it comes to hand-painting shorter haircuts.
For example, if you have blunt or invisible layers, you can add some pieces of balayage throughout with a few face-framing sections (also known as money piece) closer to the roots, which not only keeps it light and fresh, but also means it's easy to maintain with regular trims. "For wavy bobs and lobs with heavier layers, I like to add a full head of micro balayage and small face-framing pieces to give the same impact, which is still softer than foil highlights," said Howard.
Face-framing is a key aspect of applying balayage with a bob or lob. Howard explains that heavier application is typically used for longer hairstyles. However, for short hairstyles, often lighter pieces of balayage is applied as it complements the cut rather than competes with it. "On longer hair it's all about the saturation of the ends to give a hit of color," Howard added. "But with bobs, it's more about defining the shape of the cut to add dimension." It can also have the added benefit of making it look like you have more hair. POPSUGAR UK editor Ange Law loves to get balayage while having a bob because she feels that it gives the illusion of "fuller" looking hair, particularly in the front sections.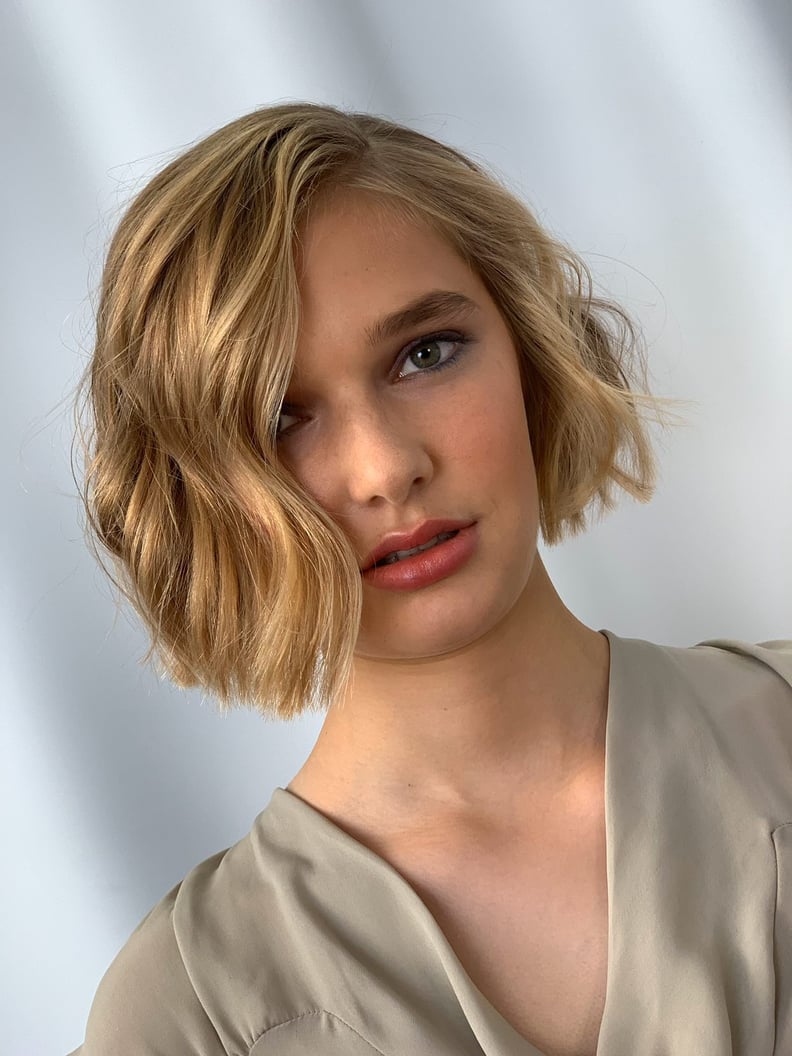 How Does Having Balayage Affect Your Regular Trims?
The reality for people with shorter haircuts, especially if they're blunt, is that they need to get their hair trimmed more often. This is another reason the balayage application differs for people with a bobs and lobs. "On a bob, I to take my balayage application higher, towards the roots, otherwise it gets cut out quicker and doesn't look as "'lived in'", said Howard. Application closer to the roots is crucial if you want that "undone and relaxed" vibe.
Balayage For Brunette Bobs
Balayage isn't just for blondes, either. Howard is on a mission to prove that balayage is a technique that can (and should) be used on brunettes, too. Often, it's barely noticeable, and that's exactly the point. Chocolate-toned brunettes can get balayage to add very slightly lighter (think: chestnut colored) pieces throughout the hair, which adds dimension to the hair without totally changing the shade of it.