Beauty Brands Covering Abortion Costs For Employees
The Beauty Brands Covering Travel Expenses For Abortion Care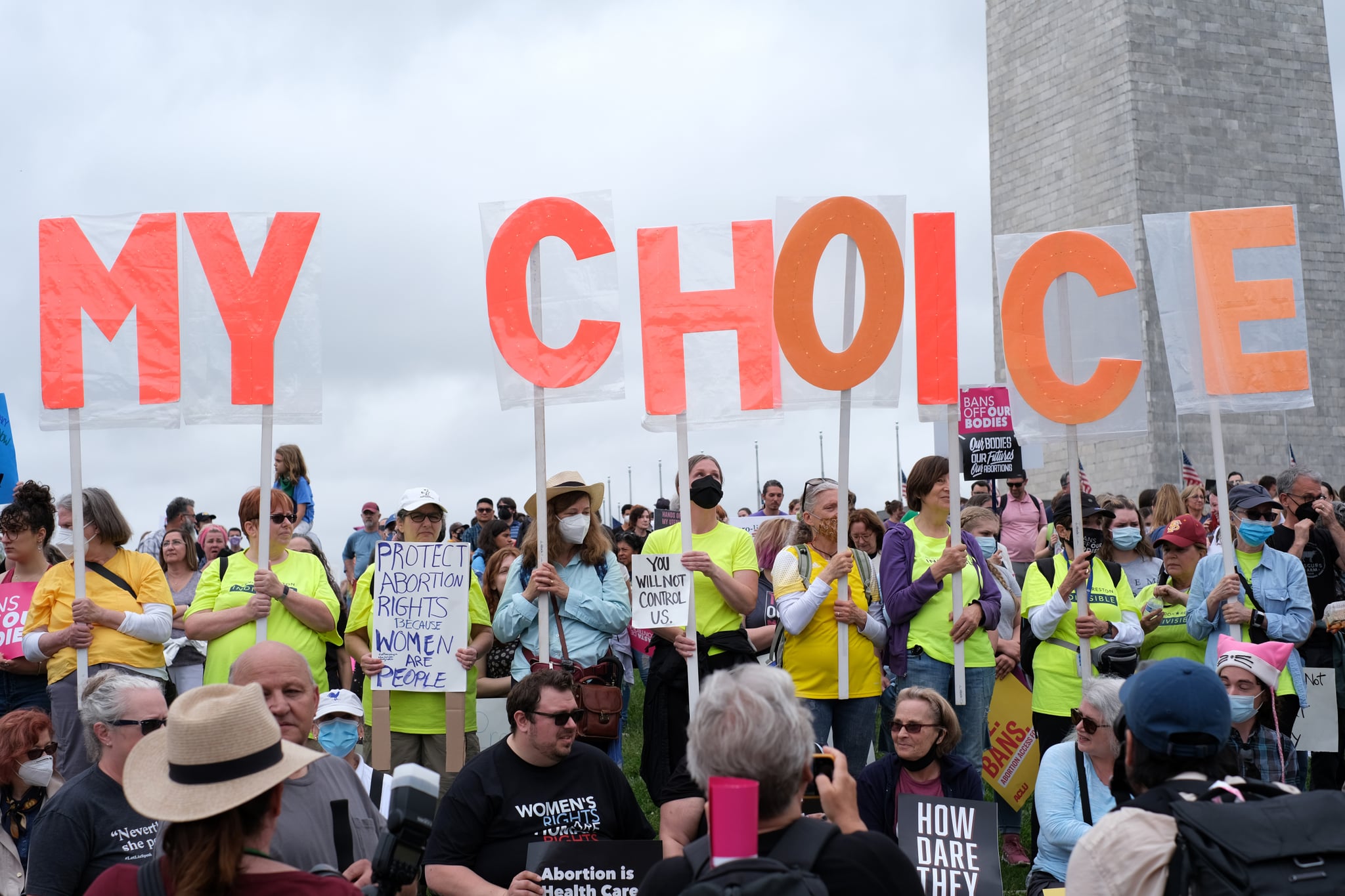 On June 24, the Supreme Court overturned Roe v. Wade, the 1973 case that protected a pregnant person's right to choose to have an abortion, in a 6-3 vote. In doing so, abortion access has been left up to the individual states, effectively enacting trigger laws in 13 states — Arkansas, Idaho, Kentucky, Louisiana, Mississippi, Missouri, North Dakota, Oklahoma, South Dakota, Tennessee, Texas, Utah, and Wyoming — that make abortions in most cases illegal.
In the hours and days following the news, many celebrities, politicians, and large companies have taken a stand on the issue and shared their support for the right to choose. In addition to many beauty brands joining forces with Don't Ban Equality, the largest network of businesses supporting reproductive rights, some have extended their employee benefits to cover travel and lodging or other expenses accrued to seek care in a legal abortion state.
Seeing companies stand up for their employees and a person's right to autonomy over their bodies is an important first step. However, this is by no means an all-encompassing solution, as covering the costs of an abortion only grants access to full-time employees, leaving out many people (including hourly workers) who may need the support.
Ahead, read the full statements from beauty brands who've pledged to help cover the cost of abortion in a legal state for their employees.
Ulta Beauty
"Ulta Beauty has long valued equality for our guests, our 40,000+ associates, and the communities we serve. We are committed to providing equitable access to quality healthcare options, and to ensuring those enrolled in our medical plan can access covered health care. Effective Friday, June 24th, this support was extended to include travel expense assistance for eligible reproductive health services where access to care is restricted. While the Supreme Court's ruling directly impacts women and families, we continue to closely monitor the situation and will continue evaluating how we can best support our associates should other issues impact communities within the Ulta Beauty family. As always, we encourage our teams and our guests to learn more and act on issues important to them by making their voice heard and their vote count."
Amika
"Amika's policy offers paid leave and additional support for any employee who experiences the loss of a pregnancy, including abortion. Amika will also reimburse travel and lodging expenses for those who need to travel to another state for healthcare services, including abortion."
Nordstrom
"We know that attempts to restrict access to quality healthcare will have far-reaching consequences for our employees, customers, and communities. We have created a new travel benefit to ensure that our employees have continued access to the healthcare they need."
E.l.f. Beauty (Including E.l.f. Cosmetics Keys Soulcare and Well People)
"E.l.f. Beauty stands with a woman's right to choose and supports reproductive healthcare access for all. As a company dedicated to empowering women, E.l.f. believes in protecting women's rights and are taking the following actions: E.l.f. will cover the cost of travel and lodging to provide their employees with full access to reproductive care services. E.l.f.'s reproductive care benefits – particularly their fertility and adoption program – have long been part of efforts to support the privacy, safety, and freedom of family planning for employees. E.l.f. supports employees using flexible time off to speak out and join non-violent demonstrations occurring around the country."
Eva NYC
"We will reimburse travel and lodging expenses for full- and part-time employees who need to travel to another state for healthcare services, including abortions."
Benefit Cosmetics
"At Benefit, we have been dedicated to making a difference in the lives of women and girls since we were founded in 1976. While the decision to overturn Roe v. Wade erases much of the United States' progress in those 50 years, our commitment to women's rights, and women's access to wellness, remains stronger than ever.
"Many of our US employees reside in states that will be directly impacted by this ruling and risk losing access to reproductive healthcare. We will cover travel expenses for any Benefit employee who needs access to safe healthcare options, when and where their reproductive rights are challenged."
Tatcha
"As a company that is female founded, run by a majority female employee base, primarily serves female clients, and is dedicated to improving the lives and equality for women through access to education, we are deeply disappointed by the unraveling of women's access to healthcare. This decision is a monumental setback for women's rights and reproductive rights. Every human has the fundamental right to make decisions regarding their own body and health. As a brand focused on well-being from the inside out, we support the right to choose how we care for our bodies.
"Tatcha is committed to providing our employees with comprehensive reproductive healthcare benefits, no matter where they live. As part of our health care benefits that give access to reproductive health, Tatcha will ensure travel costs are covered for U.S. employees if reproductive health care is no longer available in their home state."
The Body Shop
"At The Body Shop, we believe access to comprehensive reproductive health care is a basic human right, which is why we're deeply saddened by the US Supreme Court's decision to overturn Roe v. Wade. We have always believed in being a vehicle for challenge and change, and this decision is a setback in the fight for bodily autonomy.
"We have made an immediate $25,000 donation to @plannedparenthood of America as further support to our commitment to the Don't Ban Equality Coalition. Our priority is to provide support to employees affected by this decision –including any members of our US collective who may need expense reimbursement so they can secure safe care where it is legally available."
HydraFacial
"The decision from the U.S. Supreme Court is personal. The consequences of it most of all. It is a decision that takes away choice and power. But here's the thing, a woman's power is never to be limited or underestimated. As a female-majority community, we see firsthand every day the positive impact she makes when completely empowered: as our employees, our partner aestheticians, and our clients. We will always be on her side.
"We will support our employees and their families covered by our medical plan to access covered healthcare, including offering travel stipends for out of state care, when needed. We promise to always use our voice in support of women and their power."
Pacifica
"Pacifica will offer Critical Health Care benefits to our employees, ensuring that everyone has access to reproductive health services, no matter where they live. This includes travel to another state for essential care."
Shiseido (Including Drunk Elephant, NARS, Clé de Peau Beauté, Shiseido, and Tory Burch)
"Shiseido Americas supports all individuals as they make the best personal health decisions for themselves and their families – including when it comes to pregnancy and reproductive healthcare. Today, we are working to expand our employee benefits to cover travel and other expenses for those of our employees who seek certain reproductive health procedures which may not be available nearby."
Revlon
"As a Company, we strive to provide equitable benefits. Today Revlon's healthcare benefits cover reproductive health – and they will continue to. In addition, we are expanding this benefit to include up to $2,000 for travel and lodging costs to support those covered who live in states that will not provide access to certain services."
Estée Lauder Companies
"As a company, we provide comprehensive benefits to our full-time benefits eligible and part-time benefits-enrolled employees that enable them to make personal health decisions. These benefits extend to procedures related to women's reproductive health, and we will now include coverage of travel and lodging necessary to access reproductive healthcare in the United States that may not be easily accessible or locally available to employees and their dependents enrolled in ELC's medical plan."
We will continue to update this list as more beauty companies update their policies.