Beauty Needs Me Podcast Amplifies Beauty Founders of Color
Beauty Needs Me: The Women-Run Podcast Amplifying Beauty Founders of Color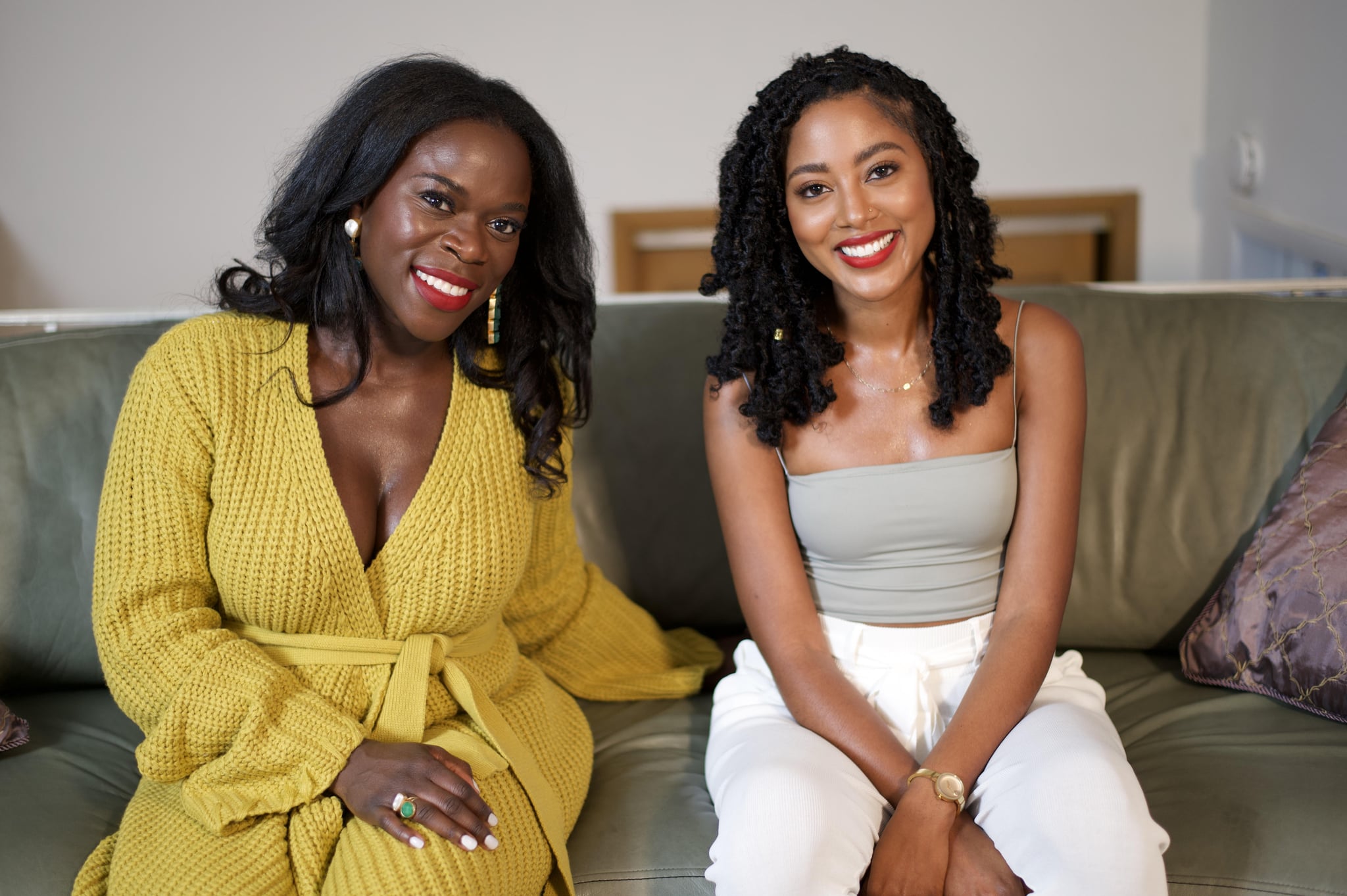 Too often, the best beauty stories go Untold, solely based on a person's skin color, religion, gender expression, disability, or socioeconomic status. Here, we're passing the mic to some of the most ambitious and talented voices in the industry so they can share, in their own words, the remarkable story of how they came to be — and how they're using beauty to change the world for the better. Up next: Taleah Griffin and Dunni Odumosu, cohosts of the podcast Beauty Needs Me.
DO: We met in Ghana in December 2019. I have a business that's focused on helping independent beauty brands break into Africa, so I was doing a launch for that, and I told Taleah about my work when she and I ended up being at the same event one particular night, and she was super interested in the concept of the business. When we got back, I was knee deep in doing stuff for my business, and then COVID-19 hit, which completely knocked everything off course, so I pivoted to doing a webinar last May, which Taleah signed up for.
After that webinar, she told me about her idea to do a beauty podcast. I wasn't interested because I thought that she just wanted to do product reviews. I listened to podcasts, but none of them centered on beauty. It wasn't until she explained that she wanted to interview brand founders and people who are doing things within beauty who typically don't get their voices amplified, and also that there aren't many Black women hosting beauty podcasts, that I was intrigued. Then she mentioned that no one's talking about African beauty, and that's when my ears really perked up, because I'm all about trying to bridge that gap between the global beauty world and Africa. I saw this as another opportunity to highlight what's going on in Africa, but I also started to reshape my thinking of what this actually meant in terms of storytelling and being able to bring these different stories to the forefront.
TG: I've been a professional model for the last 10 years — over the summer with a lot of my modeling jobs being postponed or canceled, I was looking for an opportunity to get into beauty in a real way. I very much felt like, as someone who does listen to a lot of beauty podcasts, a majority of the hosts are middle-aged white women, and that the majority of their guests reflect them, and I felt like I didn't hear myself on these shows as a guest or as a host. Given my background in entertainment, I know people who are doing dope things, and even the ones that I don't know that are indie brand founders, they need their stories told.
"One of the things we try to do is really push that conversation of beauty past what we look like physically."
One of my favorite guests so far was Teni Panosian. She's an influencer, but she also started a brand called Monday Born Beauty, and I found that her background was so interesting. There was this really good moment where she and Dunni realized that the name "Teni" is relevant in both her culture and Nigerian culture. It's moments like that — that's what Beauty Needs Me is about. It's about bridging that beauty gap to show that we're all so much more similar than we are different. I also loved Nana Agyemang. I felt like her career trajectory was really interesting, but again, we try to create this fun environment where everyone feels super comfortable, and she literally fit right in with us. You would've thought we had known her for years.
DO: I loved our discussion with Dr. Casey Means. She's a physician who started this company called Levels, a glucose-monitoring device, and she really broke down how food affects your body, how it can impact acne, and how it's the underlying cause of so many illnesses and disorders that people have. I thought it was fascinating because one of the things BNM tries to do is really push that conversation of beauty past what we look like physically. I thought this was a great example of that, and we got to do a deep dive into how beauty, wellness, health — all of that starts from within and with what you're putting inside your body.
TG: I'm a Black American from the south side of Chicago, so I grew up around a bunch of people — my entire family is of various complexions and various hair textures, and I grew up really seeing the vastness of beauty among Black women. I didn't meet a white person my age until I got to college, so my idea of beauty was always in reference to Black women. Even when I would see white images on television and in movies growing up, it was so far removed that it never really affected me.
The women in my family have very simplistic beauty and skin-care routines, and they focused more on skin health and hair health than having a beat face. They focused a lot on not focusing on your imperfections. I have an auntie who has dark circles under her eyes, but she's never tried to cover them up with concealer. It was a lot of that — whatever you come with is fine. Even though it may affect you in some way and you may struggle with it, don't feel like you have to cover up your imperfections.
DO: My earliest memory of beauty came when I told my mom that I wanted my name to be different because there was a white girl with a name I wanted. I can't really talk about beauty without talking about my identity because, from then on, my mother reinforced who I am as a Nigerian-American girl, and also who I am as a Black person, period.
I grew up fortunate enough to hear my mom literally tell me, daily, how beautiful I am. My skin is beautiful, my eyes are beautiful — that's really all I heard from her. I just always heard her tell me how pretty I am. I grew up knowing that I was pretty, but also, unfortunately, I had accepted at a young age that I wasn't the standard of beauty back then. So I knew that I was pretty, but I also knew that the world didn't necessarily value my beauty in the way in which I was being brought up to value it.
Image Source: Beauty Needs Me