8 Products to Help You Glow Harder IRL and on the 'Gram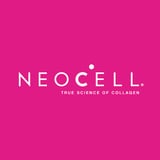 Beauty trends come and go, but a healthy glow is always in style. We've partnered with NeoCell to bring you the buzziest products to help you get your glow on for Fall.
We love trendy jelly nails and colorful eyes as much as the next beauty enthusiast, but there's something about a radiant, lit-from-within glow that always seems to transcend time and season. There's a reason the Paris filter is a mainstay on Instagram! Perhaps it's the versatility — the idea that glowing skin can work as both the starting base and the finished look — or the healthy lifestyle that glowing skin represents. Whatever the case, it's always a good look, and we want it.
Here, we're breaking down the products you need to get that Fall glow-up. From a brand-new limited-edition eye shadow palette to trendy collagen powder, these are the buzz-worthy products we're using to achieve the Paris filter IRL.