Every editorial product is independently selected by our editors. If you buy something through our links, we may earn commission.
The single most important aspect of a foundation is the pigment. With the correct shade, foundation helps to blur, cover, and smooth any imperfections on your skin. So when Becca Cosmetics launched the No Pigment Foundation as part of its new Zero collection, beauty lovers were equally confused as they were intrigued.
The new Becca Cosmetics Zero collection consists of two products: Becca Cosmetics No Pigment Virtual Foundation ($36) and the No Pigment Glass Highlighter For Face + Lip ($24). With the tagline "zero to hide," the collection aims to celebrate your skin for how it is, and to minimize imperfections rather than cover them up entirely. They were created after the Becca Cosmetics team found that its fans wanted "natural, achievable beauty that embraces skin" in addition to "products that are infused with skincare benefits."
For this collection, Becca Cosmetics' aim is for people to enhance their skin rather than cover it. That's definitely something we're all for championing, but how does that actually translate into two cosmetics products? Keep reading to find out.
Becca Cosmetics No Pigment Virtual Foundation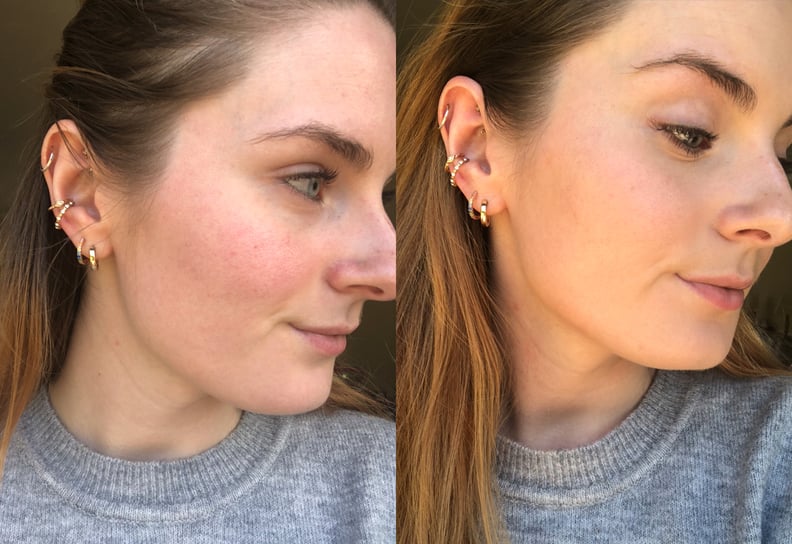 Left: No makeup. Right: Becca Cosmetics No Pigment Virtual Foundation with Sarah Chapman Skinesis Skin Insurance SPF 50 over the top.
Image Source: POPSUGAR Photography / Tori Crowther
Let's start with the star of the show: the Becca Cosmetics No Pigment Virtual Foundation. A zero-pigment foundation sounds weird, right? Well, it kind of is. The "foundation" promises to "smooth and blur imperfections" without pigment, using its "clear light blur technology." While I would agree it does smooth uneven texture and blur pores — so in that sense, it lives up to its claims — it has no traditional qualities of a foundation. I had high hopes it would tone down the redness caused by my mild rosacea, but found that it didn't have any effect on the redness; and I imagine this would also be the case if you have acne, eczema, melasma, or hyperpigmentation. I had to use tinted SPF over the primer to try and neutralize the redness in my skin. If this was marketed as a primer, it would have ticked every single box, but the idea of it being a foundation is confusing and a little misleading.
Similar to many "barely-there" products on the market right now, it seems that you already have to be super comfortable with your skin to use this. I personally prefer to cover up my redness; but if redness or uneven skin tone is something that doesn't bother you (and it shouldn't!) this this product is great as the No Pigment Virtual Foundation just makes you look like a more radiant version of your natural self. But the fact is, most people who use foundation are looking for a product to cover up blemishes and other imperfections. To me, this might be perceived as another of those "requires perfect skin before use" products, despite the brand messaging suggesting otherwise.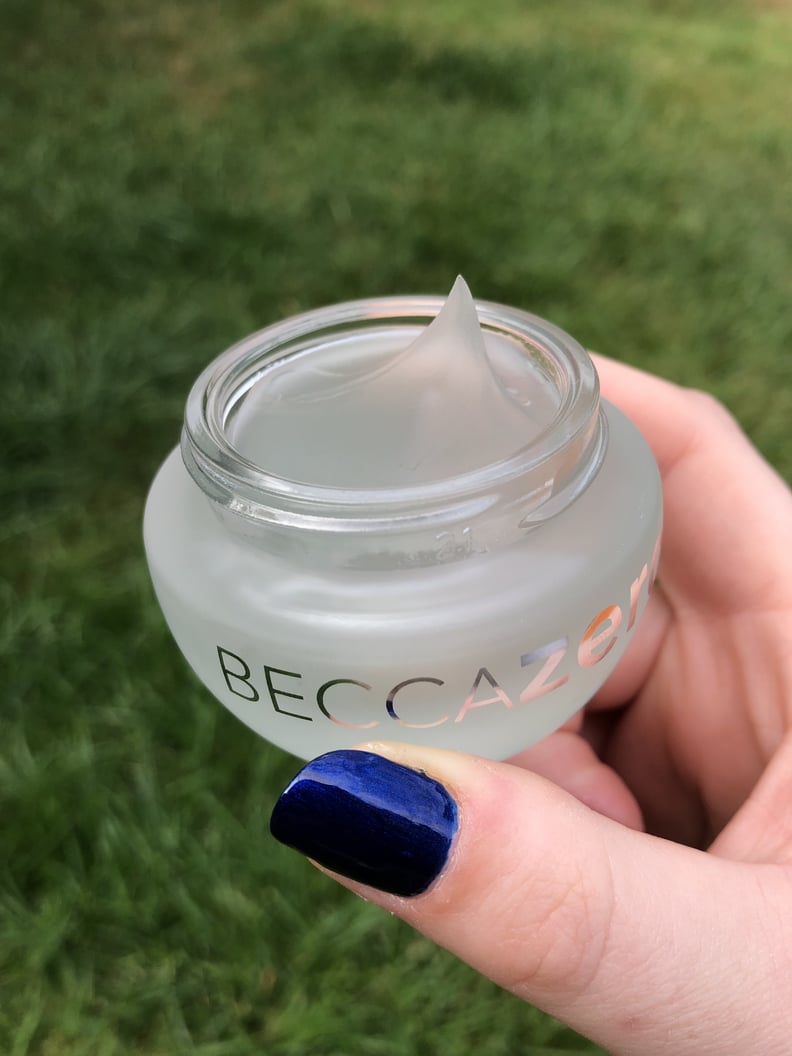 The thing is, I really did love the No Pigment Virtual Foundation as a skin prep before using my tinted SPF or foundation. The texture is a lightweight, whipped, and cloud-like. It's ideal for oily skin types that want to reduce shine without totally mattifying their face. I'm more on the drier side, so I typically tend to avoid primers as they make me even more dry, but this one didn't; instead, it helped make me look dewy but not greasy.
As far as the ingredient list, the formula is packed full of glycerin, hyaluronic acid, and butylene glycol, which gives excellent skin benefits (hydrating and soothing) and lives up to the aim of this collection being a skincare-makeup hybrid. The formula is also silicone-free, which is great news if you aren't a huge fan of the ingredient. Upon application, the foundation gives an instant cooling effect to the skin — ideal for a summer heat wave, which not a single soul in the UK can cope with. If you've also experienced irritation caused by wearing a face mask, you might like the cooling sensation. The foundation is easy to apply, leaves skin feeling silky smooth (much like a primer would), and it has no scent, which I personally love. Plus, a little goes a long way, which is great given the sizeable price tag.
In short: if you're someone who prefers a no-makeup makeup look and wants a primer-like base that controls shine but still leaves the skin looking dewy, you'll be all over this. If you're after a more traditional foundation that covers imperfections and reduces redness or pigmentation, however, you might want to look for skin tint, tinted moisturiser, or lightweight foundation to apply on top.
Becca Cosmetics No Pigment Glass Highlighter For Face + Lip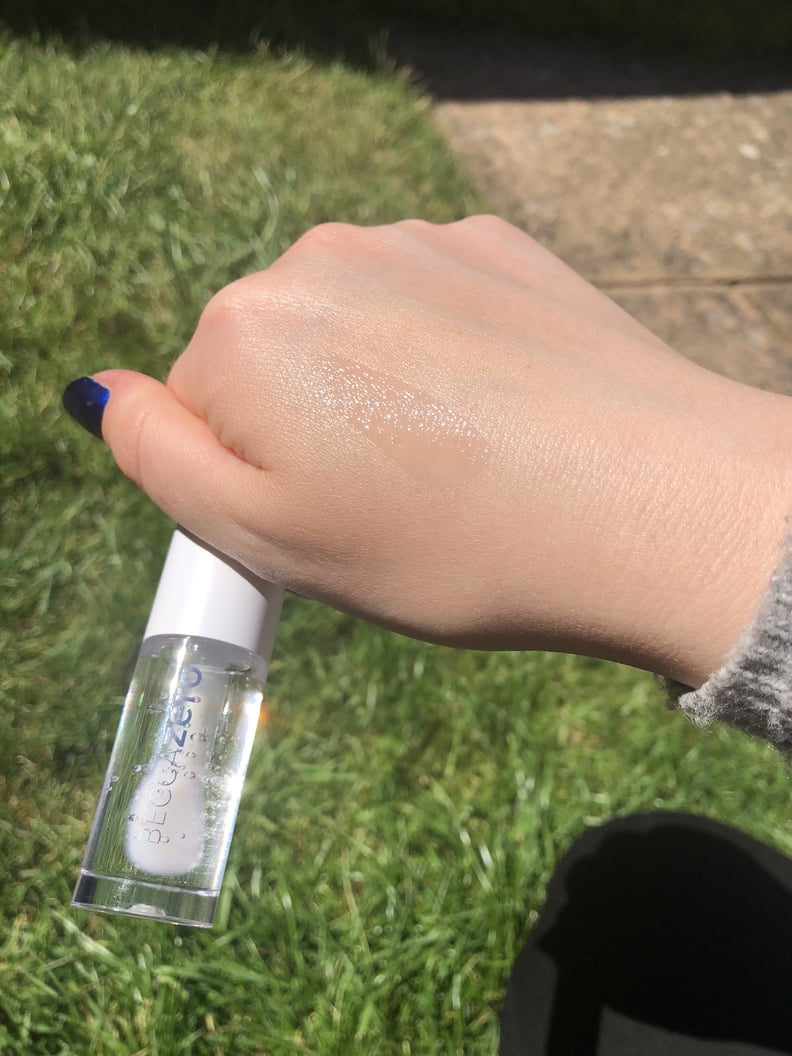 As someone who avoids very shimmery highlighters, I immediately knew the No Pigment Glass Highlighter For Face + Lip would be up my alley. It gives a truly lit-from-within glow, which I find a lot of highlighters don't always nail.
The clear tube looks exactly like your average lip gloss, but this has a bigger doefoot applicator than normal. Like the primer, it has no scent, which I like. Much like a traditional lip gloss, the formula is very wet and glossy. It's not sticky in the least, but the formula never completely dries down even if you work it into the skin. However, I found that a light dusting of setting powder over the top creates the most gorgeous, shimmer-free highlight — the kind you only have during a sunset dinner whilst on holiday in Greece (We can dream, can't we?). As far as how it performs as a lip gloss, it's pretty perfect. As I mentioned before, it's not sticky, which is the biggest pro. It gives my lips a noticeable shine, which slowly wears off to a lip balm sheen, and doesn't have a sickly sweet scent.
Whether or not you wear this on your lips or your cheekbones or both, if you're someone who prefers shine over shimmer, this is a great little product to invest in, and can be worn both on its own, or layered on top of any color cosmetics.